Courtland Ford, USC Offensive Tackle, Enters the Transfer Portal
2 min read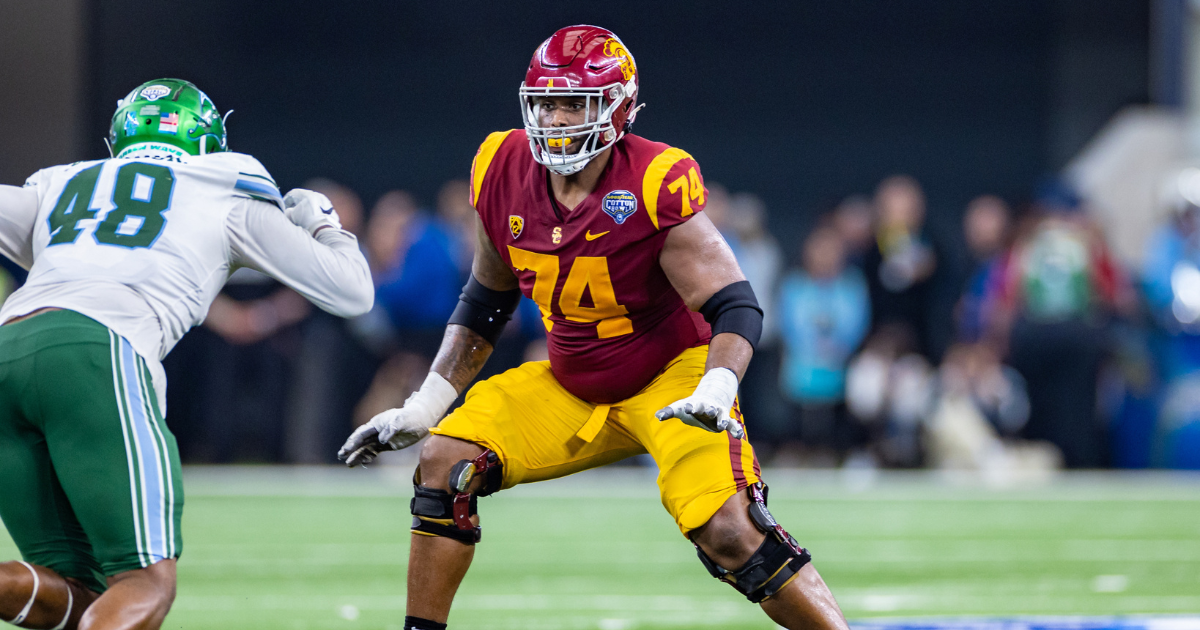 The second transfer portal window of the college football season is opening with a big name entering the mix early. Offensive tackle Courtland Ford has entered the transfer portal after three seasons at USC. With the COVID-19 eligibility waiver, he could play three more years of college football.
Ford is a 6-foot-5, 305-pound offensive lineman that appeared in 20 games over his three-year career and earned 12 starts. He played as a true freshman at left guard, before kicking out to left tackle in 2021. He started in the first eight games of the season before he was sidelined by a leg injury and mono for the rest of the regular season.
Upon Lincoln Riley's arrival last fall, Ford made three starts, the season-opener and the finale in the Cotton Bowl. He battled through injuries, paving the way for a transfer from Virginia to take his starting role for most of the season. Riley said earlier this week Ford had "really improved his body" this offseason, despite being limited by a minor offseason procedure.
Ford was a three-star prospect in the 2020 class according to the On3 Industry Ranking, a proprietary algorithm that compiles ratings and rankings from all four primary recruiting media services. He is a native of Cedar Hill, Texas, a Dallas suburb. The talented offensive tackle chose the Trojans over offers from Alabama, Georgia, Tennessee, TCU and Oregon, among others.
Courtland Ford will immediately become one of the most sought after offensive linemen in the transfer portal. Expect Kentucky to be in the race for Ford's services.
In 2022 Kentucky gave up more sacks than any other Power Five college football program. The Wildcats have already looked to the transfer portal earlier this offseason, adding Marques Cox at left tackle. There has been an open competition at right tackle — Jeremy Flax, Deondre Buford, David Wohlabuagh and Josh Jones have all been in the mix — but no one has seized the starting role. Courtland Ford could provide a solution to Kentucky's problem at right tackle.
The post Courtland Ford, USC Offensive Tackle, Enters the Transfer Portal appeared first on On3.