D2 F Jonathan Pierre has become one of the hottest names in the transfer portal
4 min read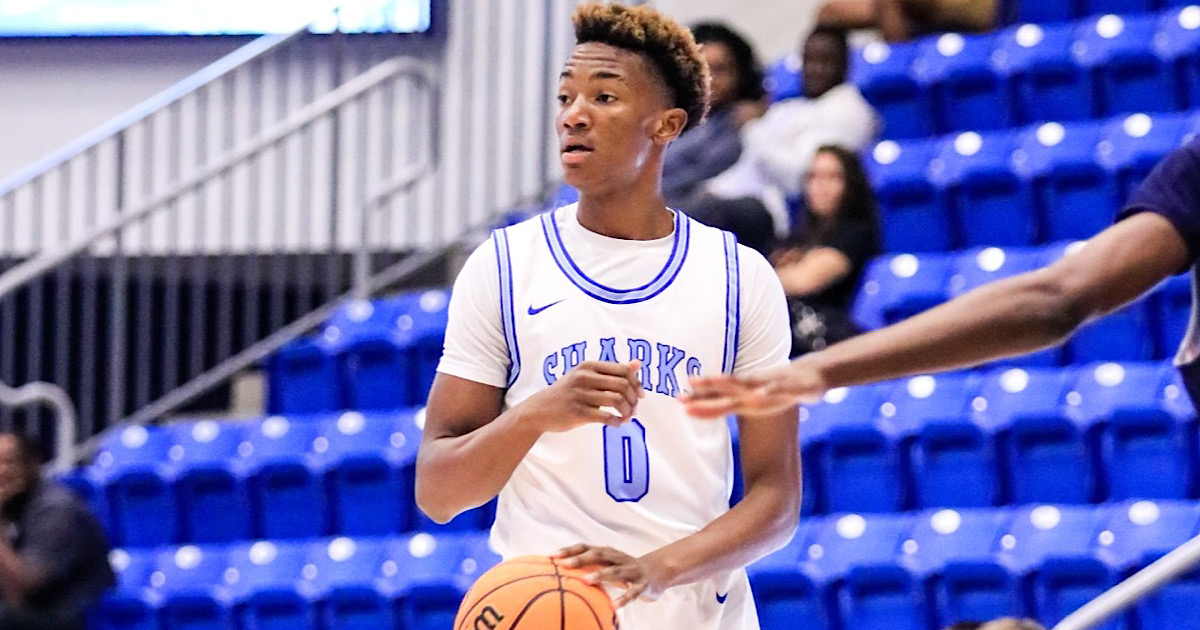 Jonathan Pierre has quickly become one of the hottest names in the transfer portal. The sophomore forward entered his name on April 3, and within 48 hours, over 120 programs had reached out. 
This is the type of love you would expect of a lengthy 6-foot-10 player who averaged 14.5 points, 3.4 assists, and shot 40.5 percent from three this season. The fact that Pierre is coming from a D2 program makes the situation unique.
Pierre just finished his sophomore year at Nova Southeastern, the D2 power in Fort Lauderdale, Florida. In Pierre's two seasons with the Sharks, they amassed a 67-1 overall record with an Elite Eight appearance and a national championship. 
2023 On3 Transfer Portal Ranking
Nova Southeastern was Pierre's only scholarship offer coming out of high school.
On3 was able to speak with Pierre in between Zoom calls with potential suitors. He has already met with Oklahoma and the College of Charleston. Later in the day, Pierre would meet with Memphis and LSU. During the call, he was working to schedule something with Auburn and Duke. 
Where did Jonathan Pierre come from?
Jonathan Pierre started playing basketball at three years old. He grew up playing with the Broward Stars travel program with coach Francis Bornelous. He grew up as a guard who always had a love for the game. 
Pierre entered high school as a 5-foot-10 guard. He played junior varsity as a freshman at Hollywood (FL) South Broward High. He grew to 5-foot-11 as a sophomore and got his teeth wet with the varsity team. 
Pierre transferred to Hallandale (FL) Hallandale Charter before his junior season and played his junior and senior season's there. Pierre started his senior season at 6-foot-2, he was still not getting any recruitment, and then something happened; he grew a lot.
"I kid you not, I grew from like 6-foot-2 to like 6-foot-7 in a month's time," Pierre told On3. "It was hard for me to walk. I had to re-teach myself how to do everything in my new body. It was a struggle at times."
Pierre, who grew up a guard, was all of a sudden in a wing's body. His high school season was just starting, and he was growing. Still no offers. 
"I kept my guard skills," Pierre said. "But I was very skinny. Nova Southeastern saw me at a local tournament my senior year. I averaged close to a triple-double, and they saw the potential in me. They offered me my only scholarship offer, and I took it."
Nova Southeastern
In Pierre's first season at Nova Southeastern, the school made a run to the Elite Eight, finishing 31-1 on the season. It was a learning curve for Pierre; he was now 6-foot-9 and still rail thin figuring out how to best utilize his new frame. 
Pierre averaged 4.1 points in 27 games. He worked himself into the rotation. He was good, but he felt he needed to be better. 
"I needed to work on my body," Pierre said. "I had the skill, I could do everything on the floor, but I needed to get stronger, get better on defense, and that would come with getting stronger."
Pierre started his sophomore season coming off the bench. He started the season off strong; ten games into the season, Pierre was averaging 15.2 points. He moved into the starting lineup for game 11. 
Over the next couple of weeks, Pierre had games of 17, 23, and 26 points. He started 21 games on the season, including throughout the playoffs and in the national championship win. 
Pierre's portal process
Jonathan Pierre entered the transfer portal on April 3. Within two days, he says over 120 schools had contacted him. 
"I want to play in the NBA," Pierre said. "I felt the best way to do that was at a D1 program. When I put my name in the portal, I thought someone would take a chance; I mean, I had just won a national championship. I had no idea this many programs would be interested in me."
Pierre says he is taking the process as it comes. He did not get to experience a recruitment the first go around, but he is not overwhelmed with things and knows what he is looking for in a program.
"I'll look at the experience of the staff and their development of players like me," Pierre said. "I want to play for a school that has had a draft pick at my position. I'll be looking for a program where I can play and a system that will showcase my skill set."
The sophomore says he has a timeline for his portal process as well. He is going to take Zoom calls and get to know programs for the next few days. He looks to narrow his list to a top five early next week and then take official visits to those five programs. 
"I plan to have my visits done and a decision made by the end of April," Pierre said.
The post D2 F Jonathan Pierre has become one of the hottest names in the transfer portal appeared first on On3.