Dan Hurley reveals plea to officials, criticizes team despite lead
2 min read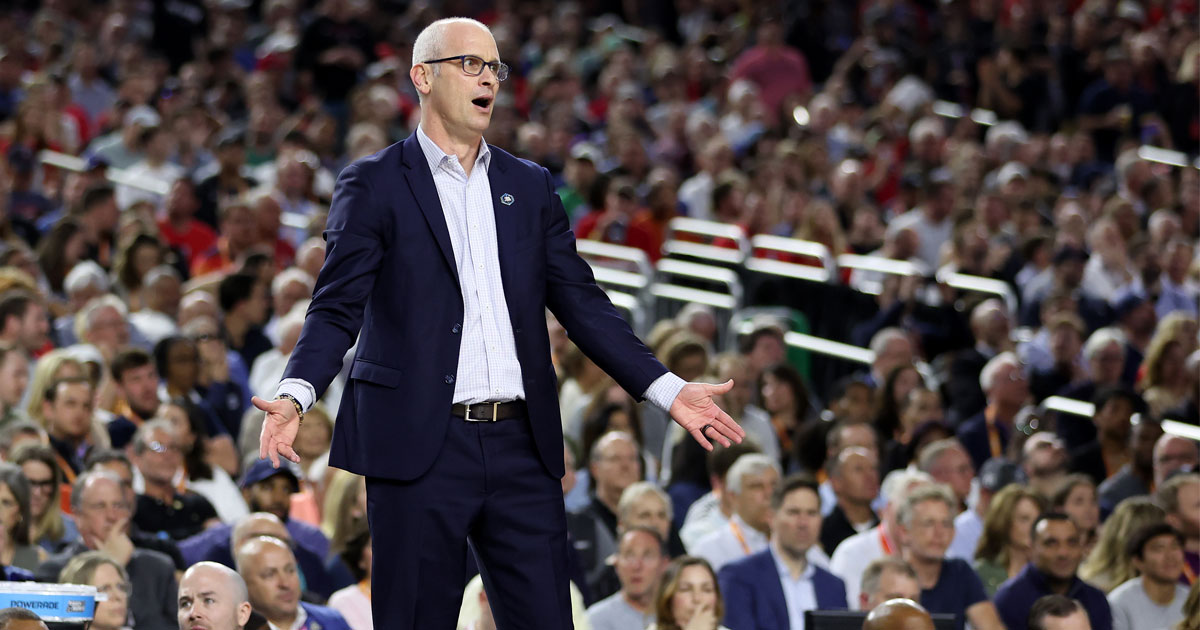 In the first half of the national championship game, UConn broke an early back-and-forth by tightening up its defense and holding San Diego State without a field goal for more than 11 minutes.
But a few late misses by the Huskies and some physical play that left UConn coach Dan Hurley frustrated with the officials allowed things to tighten up to 36-24 UConn at the break.
CBS sideline reporter Tracy Wolfson noticed Hurley's frustration and an extended chat Hurley had with the officials before heading into the locker rooms, asking Hurley about it in a brief halftime interview.
"They're being very physical, but they're three incredible refs," Dan Hurley said. "I love those three guys."
UConn took control of the game early in the first half.
After San Diego State took an early 10-8, UConn put the clamps down defensively. An 18-5 run came with San Diego State unable to hit a field goal for an 11-minute, eight-second stretch.
Though he was pleased with a few areas that he noted to Wolfson, Hurley was frustrated because the Huskies missed some buckets around the rim that could have turned the lead significantly larger before halftime.
"I think our defense and then just what we're doing on the glass (were good), we seem to be beating them to every basketball," Dan Hurley said. "I'm a little bit frustrated, we should probably be up 20. We've missed three to four layups at the rim and we should be up 20."
Some Statistical News & Notes
UConn has hit at least nine 3-pointers in each of its five NCAA Tournament games to date but hit only three in the first half, finishing 3-of-8 from beyond the 3-point line.
Tristen Newton was the leading scorer for UConn in the first half, contributing nine points by going 4-of-7 from the floor. Newton did have three turnovers in the half.
The Huskies had a well-rounded scoring effort in the first half, with eight different players scoring in the contest. That was all eight players who hit the floor in the first half.
Each of San Diego State's starters scored in the first half, but the Aztecs did not get any scoring from the bench in the first half, with the four players who checked in failing to score and going 0-for-10 from the floor.
The rebounding battle was fairly even in the first half, with UConn claiming a 20-17 edge. Turnovers were also fairly even, with San Diego State having nine and UConn having eight.
The post Dan Hurley reveals plea to officials, criticizes team despite lead appeared first on On3.