David Spaulding eager to make his return for South Carolina
3 min read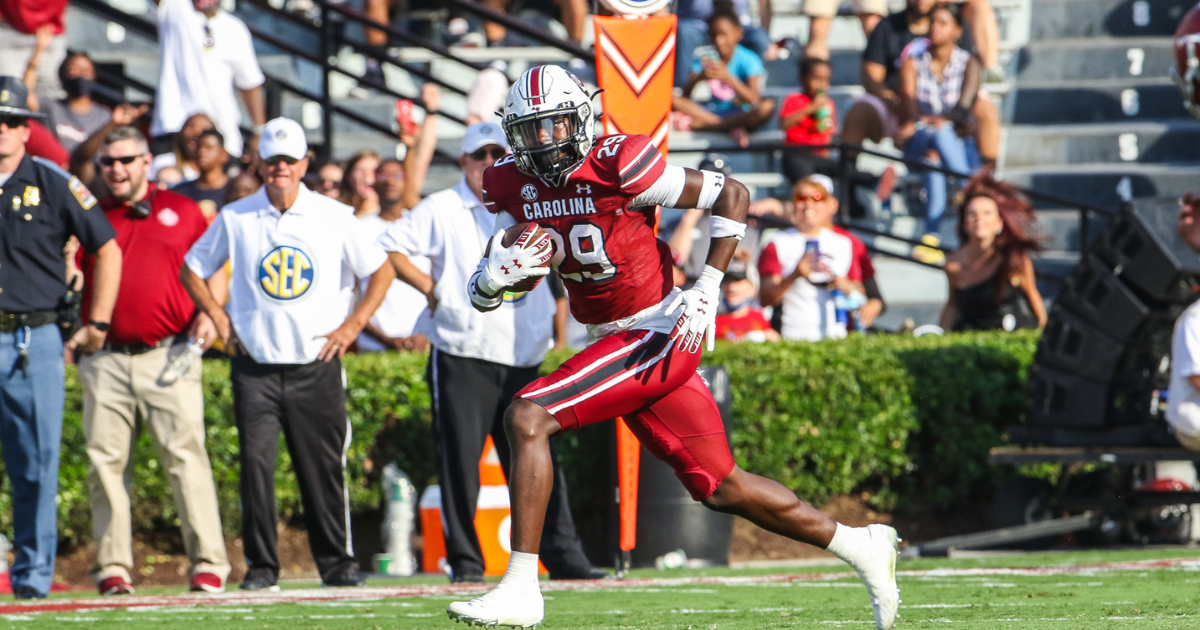 David Spaulding might take a few days off during the next few weeks, but more than likely he's going to be at his second home in South Carolina doing everything he can to get healthy. 
The good news for him is he won't have to worry about working toward a degree during that time. 
Spaulding graduated a few weeks ago. This means now can focus his whole energy this summer on getting healthy and being ready for the Gamecocks this fall. 
[Subscribe to Gamecock Central until Aug. 31 for only $29.99!]
"It's a milestone and feels great that education is a core value," "I feel good about it and know my parents and my whole family are proud I kept what they installed when I was younger about how important education is. That correlates on the field. If you can't do things off the field you won't be able to do things on the field."
Spaulding had time to focus on a lot of school work and rehab during the season having missed nearly all of the 2022 season dealing with an ankle sprain then a foot injury. 
As he gets into the summer months, he's confident he'll be back and ready to go for the season opener against North Carolina. 
"I'm coming along pretty well. I'm getting better every week and on track to be back this fall. The training staff did a great job. Every day I'm getting better," Spaulding said. "I would say my health is pretty good and I'm on track to be back in the fall."
And the Gamecocks are going to need him. 
[Become an NIL supporter of your South Carolina Gamecocks!]
South Carolina is losing two starters at cornerback–Darius Rush and Cam Smith–while Devonni Reed is out of eligibility and RJ Roderick entered the transfer portal. 
There's some young talent in the program, but Spaulding brings some experience and an older body to the room when healthy. 
He's got a chance to play all three positions in the defensive backfield, primarily the nickel or safety spots. 
[Get South Carolina football news and analysis via email]
Over the course of his career at South Carolina, he's played the majority of his snaps at nickel (almost 300 in his fully healthy year). Spaulding did play some at the free safety position for the Gamecocks.
"Coach Gray he emphasizes we learn all the spots and be versatile on the back end. It helps with all the other spots. Playing nickel, safety and corner really anything and where the coaches put me is where I'll play," Spaulding said. "I like being versatile. I love the back end, really. If you know one spot you can help at another. It makes the whole defense better as a unit to communicate presnap."
[Subscribe for free to Gamecock Central's YouTube page!]
Spaulding was insanely productive in the limited snaps (149) he played last season. He finished with two quarterback pressures and allowed just four receptions on 12 targets last season for 30 yards. 
He had one interception, a pass breakup and a big forced fumble in a win over Kentucky. So while it can be frustrating for him to miss last season, he's eager to finally get a chance to play next year.
"I looked at it as a positive mindset. I'm grateful for the games I did play. And (I) look at it as an opportunity with another grind and reset my mind," he said. "Patience is a virtue. It might be hard but it's about your mindset and perspective." 
The post David Spaulding eager to make his return for South Carolina appeared first on On3.