Deep Dive: Spring practice No. 5
3 min read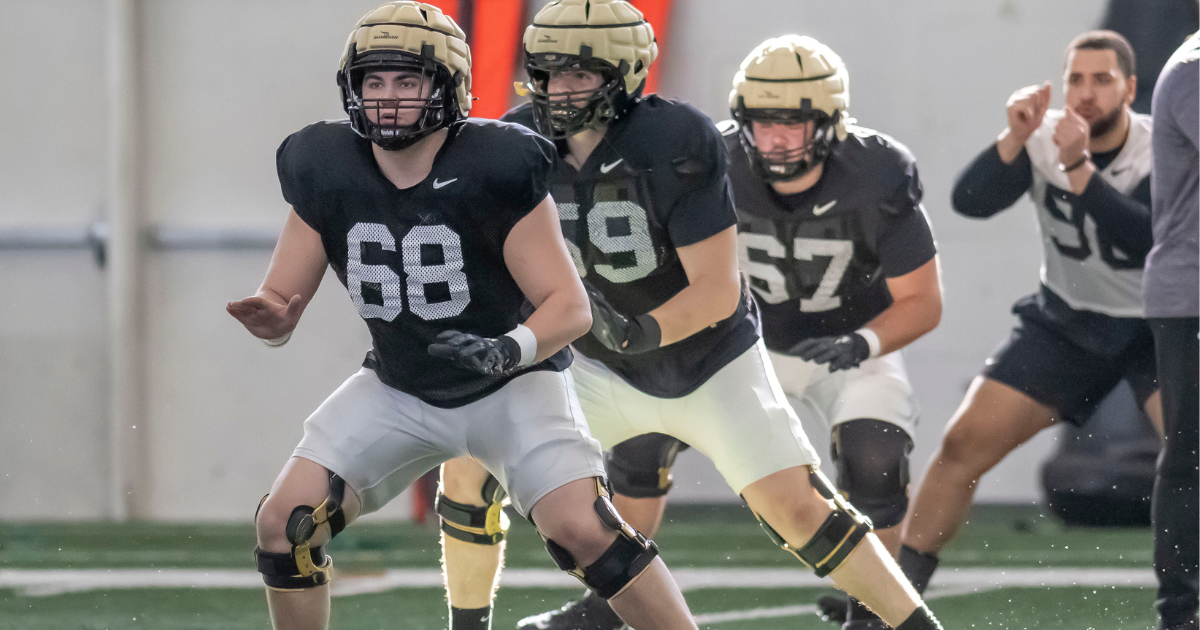 Purdue held its fifth practice of the spring on Thursday. Let's take a Deep Dive.
NOTE: Purdue opened only the first four periods (roughly 20 minutes) of practice today. The Boilermakers next hit the field on Saturday for their first scrimmage.
1 – Still many of the same players missing on Tuesday remained absent: OLB Scotty Humpich, OLB Kydran Jenkins, C Gus Hartwig, OT Daniel Johnson, WR Broc Thompson, TE Garrett Miller, NT Damarjhe Lewis, NT/DE Isaiah Nichols, OT Nalin Fox, OL Cross Watson and DE Prince Boyd. Also didn't see S Anthony Brown and DEs Sulaiman Kpaka and J.P. Deeter. NT/DE Isaiah Nichols and NT Jamarrion Harkless were out early, but not in full gear.
2 – RB Addai Lewellen is an interesting walk-on. He's just 5-8, 170, but he can scoot. The redshirt freshman from Pioneer High was on the Purdue track team last year as a jumper and joined the football program in the fall. He had a carry for seven yards in the Citrus Bowl. Lewellen has a great personality.
He has a twin brother, Ezra, who is on the Purdue track team. The brothers were adopted by Ryan and Stephanie Lewellen from the West African country of Liberia. Lewellen will be a fun walk-on to keep an eye on. He played on some good Class A teams at Pioneer, where current Notre Dame LB Jack Kiser also played.
3 – I would characterize the transfer today of G Sione Finau as a surprise. No one saw it coming. I didn't. I believe this all bubbled up today. He was likely in line to start at one of the guard slots. No doubt, Finau probably already has a destination. Word is, he may want to be closer to home, which is Texas.
4 – Sounds like Bowling Green transfer Jalen Grant has been working a lot at center with Gus Hartwig out. Have to think Grant could assume a starting guard spot opposite Marcus Mbow with Finau gone.
5 – Purdue has recruits on campus each day, regardless if there is a practice. Today, Valparaiso OT Matt Hofer was on campus, as was committed Illinois TE Eric Karner and Speedway OT Adedamola Ajani. Karner has a Michigan State offer he supposedly is still contemplating. There also were some young prospects from Trinity High in Harrisburg (Pa.) here.
6 – Purdue also had two big-time prospects from Catholic Memorial in suburban Milwaukee (Waukesha) here: RB Corey Smith and OT Donovan Harbour. That duo is from the same high school as Purdue LB Ben Kreul.
7 – ESPN.com writer Adam Rittenberg was at practice. He had an interview with Ryan Walters earlier in the day. So, a piece should be forthcoming. Rittenberg passed along this tidbit: Walters rebuffs requests from other schools who want to come study his defense.
8 – Tyrone Tracy says the idea to move to RB was his and the staff's. Coach Ryan Walters asked him what he wanted to do when he took the job: Play RB or WR. The arrival of Lamar Conard as RB coach sealed it for Tracy. He knows Conard well. He coached Tracy's brothers at Miami (Ohio).
9 – Tee Denson typically is a cornerback, but he was with the safeties today. Again, the staff likes to cross-train their DBs to play both spots.
10 – "Simple" is a word you hear often from players when they describe the schemes on both sides of the ball. Sounds like it's all about being basic/not complex, so the players can play fast without thinking too much.
Purdue will have its first spring scrimmage on Saturday from 11 am-1 pm. Ryan Walters will be made available afterward.
Thanks for reading!
MORE: FaceTiming with Drew Brees helped sell QB Hudson Card on Purdue | Deep Dive Spring Practice No. 4 | Spring football photo gallery practice No. 4 | Anchored by T Eric Miller, Purdue O-line may be A-OK | Precocious Nic Caraway eager to improve, dominate at new position in new defense
The post Deep Dive: Spring practice No. 5 appeared first on On3.