Dusty May recalls process of taking Florida Atlantic job
2 min read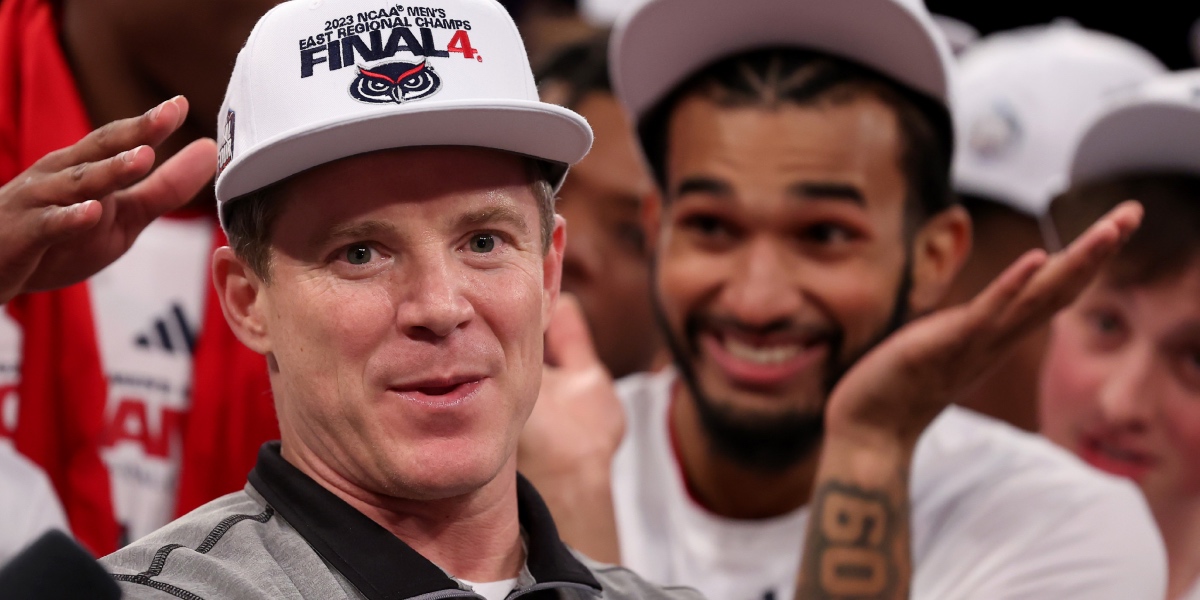 Dusty May chose to takeover Florida Atlantic as his first head coaching gig in 2018, and what a decision it's turned out to be.
Before being chosen by the Owls as their leader, May spent a decade as an assistant coach. He began his journey at Eastern Michigan in 2005, and it took him to Murray State, UAB and Louisiana Tech before spending 2015 to 2018 with the Florida Gators. That's what helped lead him to the biggest opportunity of his career, one that he's made the most of.
After four seasons of rebuilding the program, Florida Atlantic's patience and May's prowess has paid off handsomely with a 35-3 record, a sweep of C-USA's regular season and tournament titles, and an unforgettable run to the Final Four in Houston.
Speaking with the media ahead of a golden opportunity to make the championship game, May elaborated on his feelings when he was first hired by Florida Atlantic, and how the fit just felt right.
"Well, I've bought a lot of homes in this profession. I've had buyer's remorse before. I don't think it was buyer's remorse," started May. "It was a lot that went into it. Number one, I was incredibly happy at Florida working with the staff I was working with, coaching the players we were coaching. My family was ingrained in that community. I had moved my kids all over the country. So there were a lot of external variables. And then the people, the area, the campus at FAU, it blew me away how impressive it was. And then when we went to the other side of the campus, at that time, it was the complete opposite end of the spectrum.
"I think it's just a lot of raw emotions and variables went into that moment. And fortunately my wife is tough as nails and she said, You'll figure it out, get to work, or something along that. You made the decision, it's now time to live with it. At that point it was take a deep breath, refocus, figure out what was next."
Evidently, Florida Atlantic fans can thank May's wife for the assist, helping him to keep his mind straight and laser-focused on building the Owls into a contender.
Dusty May's done a tremendous job for the program, but they're not done yet in the public eye, as they'll face San Diego State in the Final Four on Saturday. Two victories are all that stands between Florida Atlantic and being crowned national champions, and nobody is counting them out any longer.
The post Dusty May recalls process of taking Florida Atlantic job appeared first on On3.