Emptying The Notebook: G-Day has arrived
4 min read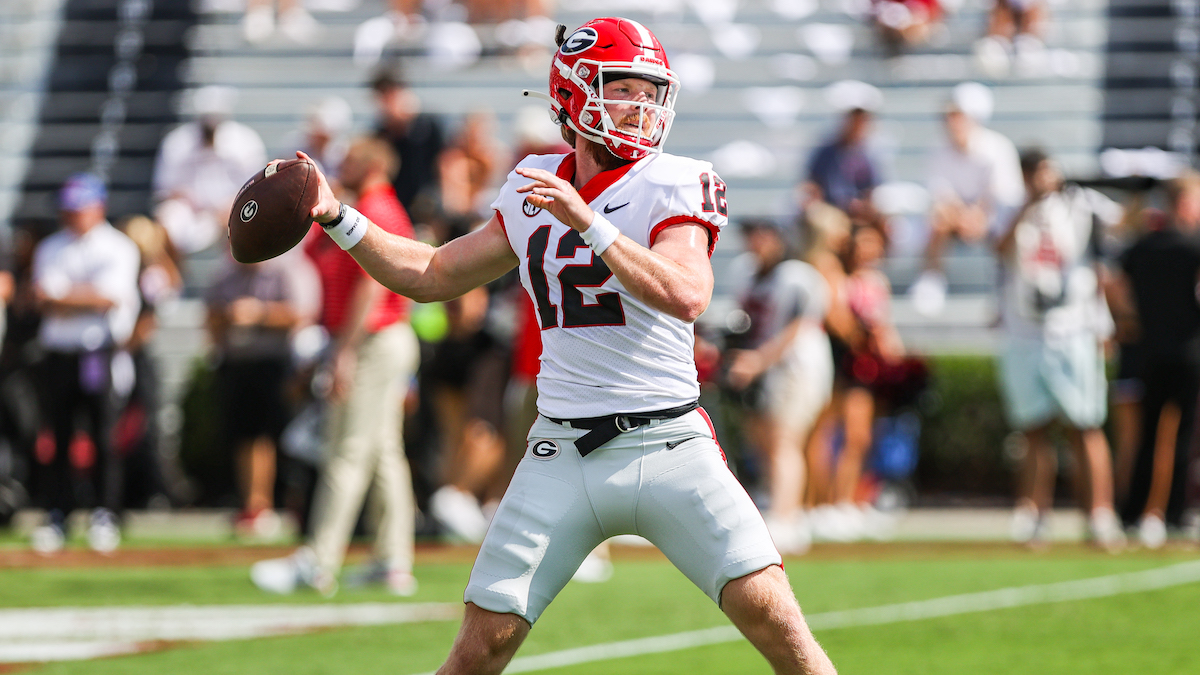 Well, spring practice at Georgia certainly flew by. The Bulldogs have completed all but one workout from the five-week improvement journey and it'll culminate on Saturday with the G-Day spring scrimmage.
As we do every day in the fall, DawgsHQ is holding the notebook upside down and we're giving it a shake to see what falls out.
No matter what happens at G-Day, what happens with the quarterbacks is going to be over emphasized by the Georgia fan base. Carson Beck, Brock Vandagriff, and Gunner Stockton are battling for the job and if one of those guys clearly looks the best, the talk on message boards will be about how that guy should be the starter.
While I believe the coaching staff will pay extra attention to the G-Day game, here's why I think there's a good chance things get blown out of proportion. This scrimmage is not a game-like format. It has been and will likely continue to be an air show. None of the quarterbacks can really show what they can do as far as extending plays because the defense can kill the play by simply touching the quarterback. On the flip side, the quarterback doesn't have to worry about taking a shot. In short, and I'm sure many won't take my advice, don't get too high or too low about what you see on Saturday.
Now, with that said, a good source told me earlier this week that the genuine feeling in Georgia's building is that all three of those guys got significantly better this spring. They were put into some tough situations against some good players and they grew from it. Vandagriff, however, was the guy our sources tapped as the guy who made the biggest leap. Take that for what it's worth.
Make it three straight weeks that Branson Robinson has been praised by our sources. The Mississippi native apparently had another week of practices and one source told me that the offensive line loves blocking for the guy. I know this is probably not the thing some of you want to read in connection with Mike Bobo but Robinson brings an ultra-physical element to the Georgia offense. There have been some loud, violent collisions with him this spring per what I'm told and he doesn't lose many. G-Day won't be the format to him to show that off.
It was pointed out on The Dawg Walk this week but I wanted to mention it here too. Kirby Smart pumping the brakes on Lawson Luckie on 92.9 The Game this week was basically more good buzz for the freshman tight end. Smart would be praising the kid if he was struggling and the borderline criticism suggests the opposite is true. There's that plus we continue to hear that he's having a great spring.
Staying with the tight ends, I had a good source this week rave about the added strength and size from Brock Bowers this spring. It's a contract year for one of the top talents in College Football and I'm told that he focused on those gains because he wants to hold up physically even better than he has the past two seasons. I'm not going to talk about how many games he has played in. You can look that up. Don't come at me with any talk of hexes or jinks or whatever. With all of that said, I don't expect a ton of opportunities for him in the G-Day game.
I expect Georgia's top six offensive linemen to all be with the first team on Saturday. That means both Austin Blaske and Earnest Greene with the ones. A good source told me that those two have been alternating with the ones pretty heavily over the past few weeks and that if the season started tomorrow, both have earned a great deal of trust. The battle is ongoing but I'm growing more confident every day that Georgia is going to play three tackles and three guards (at least) this season with Micah Morris breaking through on the interior.
I checked in on Mykel Williams and his foot surgery earlier this week. I'm told that things are going really well there and he's expected to be back at full speed with enough time to get in shape for preseason camp.
I know everybody is fired up to see the quarterbacks at G-Day but my focus will be linebackers. I want to see how the young EDGE rushers look against experienced tackles. I hear Damon Wilson is clearly further along than the other first-year guys in that group with Gabriel Harris showing some flashes. I want to see what all the buzz is about with E.J. Lightsey, Raylen Wilson, and CJ Allen. I know I've said this a number of times over the past month but I have yet to go more than a few days without hearing something about Wilson and Allen since they enrolled.
While the youngsters will be watched heavily, [sarcasm font]the old men of that group [/sarcasm font] intrigue me as well. What will we see out of Darris Smith, who is clearly bigger this spring than he was during the 2022 season? What about C.J. Madden, who has done enough to get some mentions among those I speak with?
I'm almost as interested in the cornerback competition. Who is going to get the nod opposite of Kamari Lassiter? I want to say Daylen Everette but I keep hearing about how Nyland Green and Julian Humphrey have had great springs. I also had a good source tell me this week that Smoke Bouie has come on toward the end of spring and strung some good practices together. A.J. Harris also continues to impress.
The post Emptying The Notebook: G-Day has arrived appeared first on On3.