Examining Penn State basketball's potential coaching targets 5.0
10 min read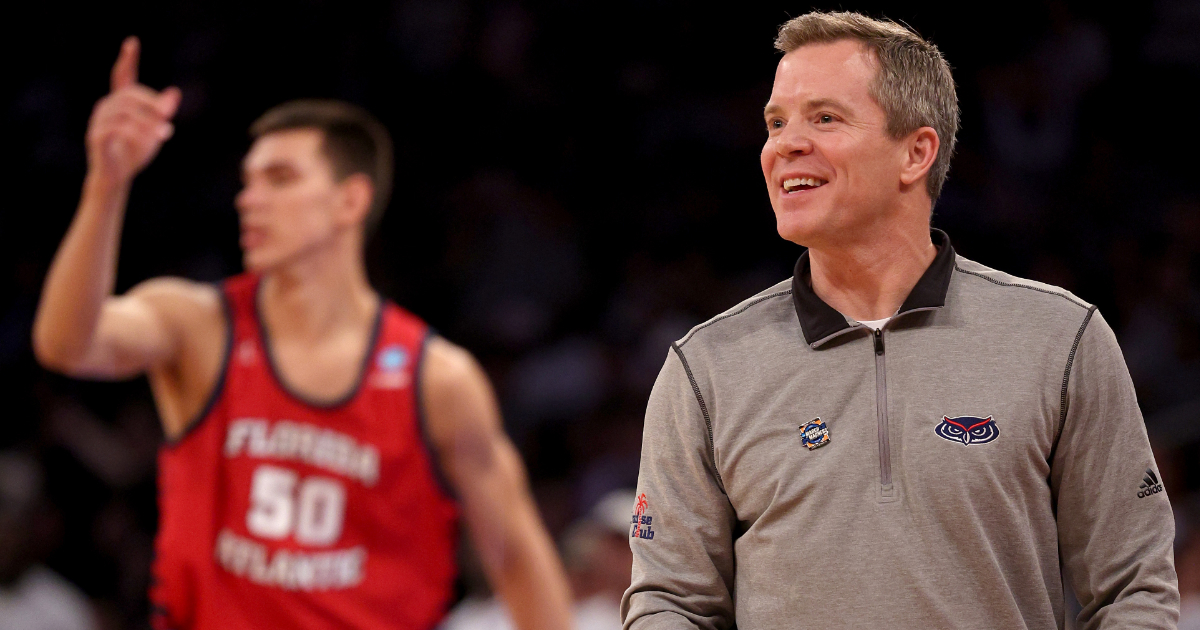 Penn State basketball has entered its sixth day searching for its next head coach. Following the departure of Micah Shrewsberry to Notre Dame last Wednesday, athletic director Patrick Kraft announced a search to "identify and appoint a tremendous coach, teacher and person, who will take us to unprecedented heights."
Is Kraft close to identifying that target and making a deal?
We're back with a fifth update to our coaching board examining the program's potential targets, with new intel surrounding three names. For earlier updates, check out version 4.0, version 3.0, version 2.0, and the initial board.
Update Tuesday, March 28
Following a Sunday evening when Penn State appeared to have zeroed in on its top choice, on Monday, that conversation quieted somewhat. Though different narratives have emerged from different places, a fairly consistent tone has emerged on Tuesday.
Effectively, Penn State is confident in its relationship and pursuit of VCU's Mike Rhoades. Should the Nittany Lions formally extend an offer, with agreed upon terms, the Rams' head coach would be expected to accept at take the reins at Penn State.
But, also, Kraft hasn't quite reached that point. Instead, buzz persists that Florida Atlantic's Dusty May is still on the radar. Having already spoken with May, with the Owls' now reaching the Final Four under his leadership and set to face San Diego State on Saturday evening in Houston, Penn State hasn't stopped shooting its shot.
Meanwhile, Penn State's current associate head coach, Adam Fisher, is in play at Temple. He is a finalist for the Owls' head coaching vacancy and awaits a decision on the job.
As always, the original list, with additions noted, in alphabetical order:
Mike Boynton – Oklahoma State HC
Added 3/25: Young guy, considerable experience climbing the coaching ranks as an assistant, and a six-year run with the Cowboys. His record is 107-90 in that span, but Oklahoma State reached the NCAA Round of 32 in 2021, and have twice gone deep into the NIT. He's originally from Brooklyn and developed his chops working with Brad Underwood, both alongside and for.
Darian DeVries – Drake HC
Original: DeVries is a two-time Missouri Valley Conference Coach of the Year, now in his fifth season at Drake. The Bulldogs have gone 122-48 during his tenure in Des Moines, Iowa. They also have three NCAA Tournament appearances during that time, winning the MVC championship in 2019 and the conference tournament in 2023. A 12-seed in this year's dance, they fell, 63-56, to 5-seed Miami in the first round. He's from Iowa, played his college ball at Northern Iowa, and got his start working as an assistant at Creighton for 16 years before landing the Drake gig. 
Adam Fisher – Penn State associate HC
Update 3/28: As Penn State's coaching search has continued, and donors have sought insight into who and where Kraft is directing his attention, momentum and support have grown for Fisher. A finalist for the Temple job – opinion is split as to who (Rutgers assistant HC Karl Hobbs, Vermont HC John Becker, and Missouri assistant HC Charlton Young) and how many (3 or 2?) the Owls are considering – but Fisher is firmly among that group. Given the possibility of Fisher's departure to an in-state competitor on the recruiting trail, and Fisher's established track record, the notion of not only losing him as a viable HC candidate, but having to battle with him for quality prospects, has intensified that urgency from the heights of the donor class at Penn State as it lobbies for him.
Updated 3/24: Fisher interviewed for the head coaching position at Temple on Thursday. The buzz is that Fisher was very well received by the Owls' search committee as it works to fill its vacancy.
Original: Fisher returned to Penn State with Shrewsberry ahead of the 2021 season as his top assistant. The move brought Fisher back to the Nittany Lions after graduating in 2006, having spent four years as a manager. He then worked as a grad assistant at Villanova with Jay Wright and traveled from the Main Line to Boston University with Patrick Chambers. After a short stint returning with Chambers to Penn State as a video coordinator and director of player development, he joined Jim Larranaga's staff at Miami, where he climbed into an assistant coaching role and was considered an integral component to the Hurricanes' successes. They included 20-win seasons every year between 2014-2018. 
In the immediate aftermath of Shrewsberry's exit on Wednesday, Fisher was the subject of a Twitter campaign by current and departing Penn State players urging him to be hired as the program's next head coach.
Matt Langel – Colgate HC
Added 3/24: Langel's name circulated Friday in Penn State circles as a potential candidate for the vacancy. Nothing substantial to report beyond it, only that there has been chatter that there is some mutual interest, as well as potential interest from him toward the Temple job. 
Spending five years with Fran Dunphy at Temple as an assistant, Langel parlayed the effort into his first head coaching gig at Colgate in 2011. He's been there ever since. While his first six seasons all finished with losing overall records, one included a second-place finish in the Patriot League. The program eventually turned the corner, though, reeling off five straight winning seasons. Among them, Colgate has won the league in three of the past four seasons, and reached the NCAA Tournament the same number of times. Along the way, in his 11 years at Colgate, he's won the conference's coach of the year honors four times.
Pat Kelsey – College of Charleston HC
Added 3/24: Kelsey also was a name drawing some buzz on Friday. He's young, he's energetic, and this could be the jump up to the next tier. His name has circulated for a few days now, but no interview has yet been identified. 
Original: Making his name at Winthrop, Kelsey averaged nearly 21 wins a year for nine seasons, four times winning the Big South, and earning the conference's coach of the year honors in 2021. Before his time in South Carolina, he worked as an assistant at both Wake Forest and Xavier. 
Now at the College of Charleston, he's delivered a CAA regular season and conference tournament win to reach the NCAA Tournament in his second season at the helm. The Cougars lost to San Diego State in the first round of the dance this year, 63-57, as the 12-seed.
Dusty May – Florida Atlantic HC
Update 3/28: The only name emerging as a road block to Rhoades' hiring right now is this man in Boca Raton, Fla. Having already made contact and established a pursuit of May, the Nittany Lions haven't given up hope that he'll make the jump. To Penn State's potential benefit, with Texas and Rodney Terry coming to an agreement, and Jon Rothstein reporting Utah Valley's Mark Madsen likely to Cal, the Nittany Lions and Texas Tech are the last power conference vacancies left to be filled. To Penn State's detriment, waiting for May to finish out his Final Four and potential National Championship run at FAU would be a risky move. If the feedback has been receptive enough, maybe they'll do it, but there has been no real buzz one way or the other to that end beyond Rhoades' stagnation for the past 36 hours.
Added 3/24: May emerged Friday as another possibility coming off FAU's NCAA Tournament run. May's Owls just knocked off another monster, this time 4-seed Tennessee, in the Sweet 16. They'll now take on Kansas State in the Elite Eight on Saturday. The Owls are 34-3 on the season. 
May has only been a head coach for the past five seasons, previously working as an assistant at Louisiana Tech and Florida before landing at FAU. A point of interest: His alma mater is Indiana, having graduated in 2000. Penn State AD Pat Kraft was a walk-on linebacker with the Hoosiers from 1997-99. 
Greg McDermott – Creighton HC
Added 3/25: McDermott's Bluejays are, once again, headed deep into the NCAA Tournament. His eighth time taking the program to the dance, it's also the sixth time they're reached at least the Round of 32. Now, after topping Princeton on Friday night, they're back into the Elite Eight. Creighton will face San Diego State on Sunday afternoon with an opportunity to advance to the Final Four.
Can Penn State pull him away? He's from Iowa and has a deep and established reputation and life in the region, now in nearby Omaha, Neb. A power play in the broadest sense, he fits the bill as a "swing for the fences" hire that Kraft has established as an MO in this search. And, given what Penn State brought to the negotiating table with Shrewsberry down the stretch, the budget could be a deciding factor.
Wes Miller – Cincinnati HC
Update 3/25: Miller would fit the bill as a high major head coach, but his name has not been circulating the past 24 hours. Smoke and mirrors, or locking him down? One thing to consider, Miller just signed an extension with the Bearcats in December. From Cincinnati, announcing the extension running through the 2028-29 season:
"The extension adds two years to his current contract and increases his average annual salary to $2.95 million per year, keeping one of the best young coaches in the country in Cincinnati for the next six years."
Original: Miller has been the head coach at Cincinnati for the past two seasons after guiding UNC Greensboro for 10 years previously. He's considered a top young coach in the game, having notched 185 wins before arriving with the Bearcats, all before his 40th birthday. He helped deliver three Southern Conference championships during the 2017, 2018, and 2021 seasons, reaching the NCAA Tournament twice in 2018 and 2021, to go along with 2012 and 2018 conference coach of the year honors.
Now at Cincinnati, he's produced a 41-28 record over two seasons. The Bearcats finished 23-13 this past season, finishing fourth in the American Athletic Conference with an NIT Quarterfinals, before losing to Utah Valley on Wednesday night.
Mike Rhoades – Virginia Commonwealth HC
Update 3/28: The ear-to-the-ground message has not been consistent with Rhoades since Sunday night. So, take this update with an understanding that multiple things can be true at once. Following Sunday night's update, some buzz developed that VCU had come back with enough to dissuade Rhoades from making the jump to Penn State. But, later on Monday evening, a separate sentiment emerged that Penn State had not yet formally offered Rhoades, and if that offer had been made, Rhoades would agree to it. Maybe semantics, maybe a decision for Rhoades to make, maybe both. That said, the sense internally is again one of confidence – which has been consistent throughout the process, dating back to the belief that Shrewsberry would remain Penn State's head coach – that Penn State can and will make a splash with Rhoades if and when it makes that commitment.
Update 3/26: All buzz points to Mike Rhoades. Multiple independent sources indicate to Blue White Illustrated that Penn State has targeted Rhoades as its next head coach, but has not yet reached an agreement as of Sunday evening. No one has confirmed or suggested the ink is dry, but all signs internally – and externally – are that the two sides are very much in the process. But, reading between the lines, there is some sentiment that VCU will have an opportunity to match before this deal is done.
Original: Having played for Pat Flannery at Lebanon Valley in the early 90s, Rhoades worked his way up the coaching ranks at Randolph-Macon and VCU, where he worked alongside Shaka Smart between 2009-2014. Moving from there to Rice for three seasons, Rhoades made his way back to the Rams in 2017 when he was named as the program's next head coach. 
In his time since then, he's produced a 129-80 overall record in Richmond, Va. The Rams have reached the NCAA Tournament in three of his six seasons at the helm, winning the A10 twice.
Dwayne Stephens – Western Michigan HC
Original: The head coach at Western Michigan this season in his first year at the helm, Stephens guided the Broncos to an 8-23 overall record. But, his record as an assistant coach at one of the game's most dominant programs, was excellent. After helping to guard Marquette to the Final Four in 2003 as Tom Crean's assistant, Stephens bounced to Michigan State to join Tom Izzo's staff. 
At MSU, where he'd played in the early 90s, Stephens climbed into an associate head coach role in 2012. He then remained with the Spartans until his opportunity to become a head coach this past season. Stephens' calling card with the Spartans included the player development. It includes Draymond Green, Adreian Payne, Branden Dawson, Miles Bridges, Jaren Jackson, and Xavier Tillman, among others. He's also considered one of the nation's top recruiters.
Rodney Terry – Texas interim HC
Update 3/28: Terry has agreed to terms with Terry to become its head coach.
Added 3/24: Terry is trending, and deservedly so, thanks to Texas' run to the Sweet 16. Tonight, the Longhorns get 3-seed Xavier with a trip to the Elite Eight at stake. Initial intel suggested feelers to Terry were met with a tepid response. We left him off our original list because of it. But, the name cycled back on Friday outside of direct Penn State circles as a candidate.
Terry has been Texas' interim HC since Chris Beard was relieved of his duties on Dec. 12. He helped lift the Longhorns to a 28-8 overall record this year and a second-place finish in the Big 12. The Longhorns also, of course, just knocked off Penn State last Saturday to reach the second weekend of the dance.
His file includes assistant coaching stops at Baylor, UNC Wilmington, and Texas, before head opportunities at Fresno State and UTEP. He returned to the Longhorns staff as associate head coach ahead of the 2021 season.
The post Examining Penn State basketball's potential coaching targets 5.0 appeared first on On3.