Expect Kentucky to evaluate these 4 positions in upcoming transfer portal window
5 min read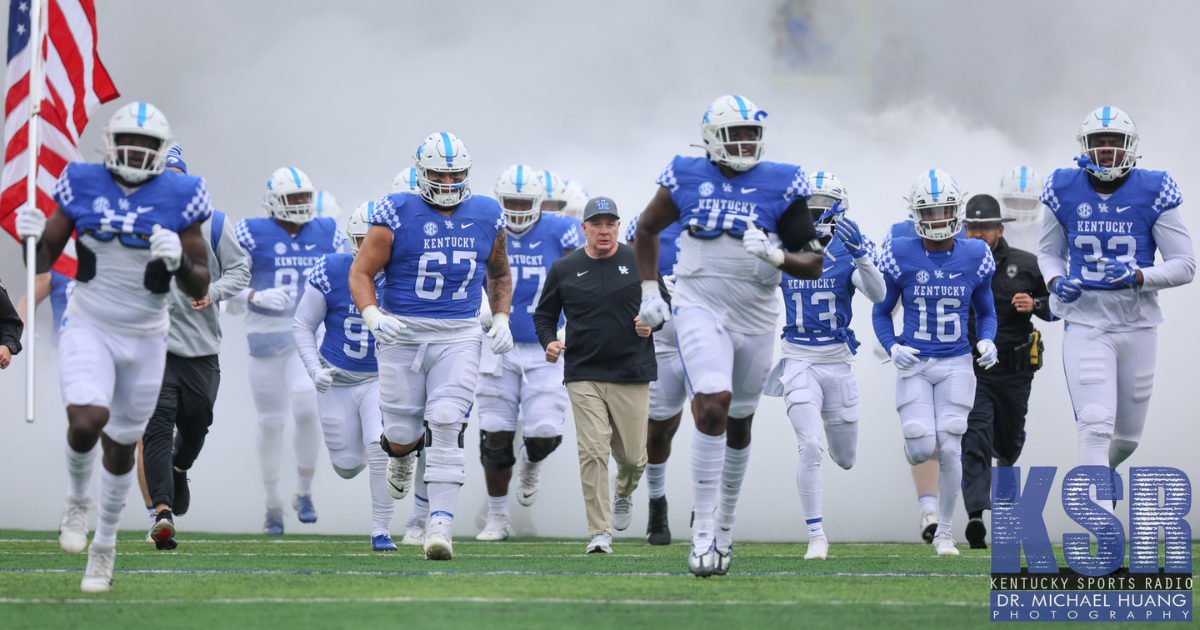 Kentucky hosted fans on Saturday when the football program conducted a full practice with an extended 11-on-11 scrimmage. A few more practices remain this spring, but roster-building season is quickly approaching.
The coaching staff is currently working to build Kentucky's 2024 recruiting class while progressing relationships with class of 2025 prospects. None of those recruits will be on the roster this fall while one more opportunity to add to the 2023 roster.
On May 1, the transfer portal will re-open for two weeks as players throughout the college football landscape will have one more opportunity to switch schools. At Kentucky, there is some scholarship wiggle room, and head coach Mark Stoops has confirmed that the Wildcats will be active shoppers in the next transfer portal window.
"I would like to make some additions still and I would like the current guys to stay intact," Stoops told Matt Jones on Kentucky Sports Radio.
"That is something that is strange and it's difficult to work with, to have two options at the portal. Because when we come back, you go through the bowl season and you come back in January, you'd like to know what the heck your team is going to be as you roll into the fall of '23. You'd like to know exactly what you have with the addition of your guys you already signed that are reporting in the summer. Hopefully, our playmakers, our guys will stay intact and then because it's available, sure, we can add some. The rules are what they are. So you'd like to add a few as well."
In the first transfer portal window, Kentucky added seven scholarship players to the roster with Marques Cox, Devin Leary, and Ray Davis appearing to grab starting roles this spring. Meanwhile, the other additions are expected to contribute snaps this season.
Kentucky is not done constructing its roster yet. There could be some attrition when spring camp concludes this month, and some positions are standing out as a need for the program after nine practices. Before names start to emerge later this month, KSR+ is diving into the four positions Kentucky could look to address in the upcoming portal window.
Can Kentucky find an upgrade at right tackle?
Last season was a bad one for the Big Blue Wall and first-year offensive line coach Zach Yenser. The Wildcats ranked No. 128 in sack rate (12.3%) and No. 104 in stuff rate (20.3%) as the offensive line struggled to block opposing defensive fronts. Kentucky's attempt to run outside zone was thrown out the window early in the campaign again. The line unit struggled to create movement in gap schemes and owned some woeful inefficiency in pass protection.
Part of the problem was needing players to play out of position. Eli Cox switched from right guard to center, and Kenneth Horsey slid outside to play left tackle. Kentucky's starting guards in 2021 are back in their natural positions this spring, and early returns have been good for redshirt sophomore Jager Burton at center. At left tackle, Kentucky added Northern Illinois transfer Marques Cox to fill a hole. However, right tackle has not been addressed.
Kentucky had a revolving door at the position in 2022 with three individuals playing a combined 837 snaps at right tackle. The results were not great.
Jeremy Flax (696 snaps): 51.2 PFF grade (50.7 run, 65.3 pass), 5.9% pressure rate allowedDeondre Buford (130 snaps): 57.0 PFF grade (69.0 run, 45.5 pass), 8.9% pressure rate allowedDavid Wohlabaugh Jr. (14 snaps): 57.9 PFF grade (66.7 run, 50.8 pass), 12% pressure rate allowed
All three players have returned to the team this spring with Jeremy Flax getting the snaps with the ones while Deondre Buford and David Wohlabaugh Jr. work with the twos. There have been some struggles in open practice settings as this appears the weakest link on the offense.
Expect Kentucky to leave no stone unturned when it comes to evaluating prospective tackle transfers this spring. Offensive tackle is typically not a position with a lot of quality depth in football. The good tackles are usually hard to find. Kentucky needs a solution, and a transfer might have to provide the answer.
Don't be surprised if the Wildcats decide to take a swing on an FCS transfer with some upside.
Multi-year addition at off-ball linebacker makes some sense
Kentucky does not have many front-seven questions to answer heading into the season. The defensive line has playmakers and experience with the bodies to have a potential nine-man rotation. J.J. Weaver has a chance to make an All-SEC run at EDGE, and more subpackages could be used due to a deep safety room. At off-ball linebacker, D'Eryk Jackson and Trevin Wallace are penciled in as starters.
Jackson led the team in tackles (67) last season and excels as a run defender. Wallace might be the top havoc creator on the defense (5.5 tackles for loss, 2 interceptions last season) while being an excellent zone coverage player at Will linebacker. These two South Georgia natives complement each other very well.
Despite having two quality starters, the linebacker room is very thin.
The Wildcats are currently scheduled to have just five scholarship players for linebackers coach Mike Stoops this season, and there is limited experience behind the starters.
Kentucky could use another body at the position. Off-ball linebacker is a physically taxing position that the Wildcats have needed good depth at in the recent past. There needs to be a solid backup plan.
Similar to the Zion Childress addition last season, Kentucky could benefit from adding a transfer with multiple years of eligibility remaining. Finding a Group of Five transfer who is looking to make a jump up a level could be the answer here as the Wildcats have playing time to offer.
Does adding a quarterback make sense?
Devin Leary answers Kentucky's question at quarterback in 2023. However, the super senior is entering his final season of eligibility. The Wildcats do not have a locked-in plan of what to do at the sport's most important position in 2024 despite some good recruiting buzz with some class of 2025 prospects.
During spring practice, redshirt sophomore Kaiya Sheron emerged as QB2, but offensive coordinator Liam Coen gave both redshirt junior Deuce Hogan and redshirt freshman Destin Wade reps with the twos in the scrimmage on Saturday. Wade had the best results leading the offense on a touchdown drive making some small window throws.
Does Kentucky feel now is the time to add another transfer quarterback? Leary's injury history looms large here as the Wildcats need to have a solid plan in case something happens to QB1. A Power Five backup or a Group of Five quarterback looking for a new home could be something to look at.
A transfer similar to Sawyer Smith when the quarterback decided to leave Troy could make some sense for the Wildcats.
Evaluating the kicking game
Mark Stoops hired former Oklahoma and Texas assistant coach Jay Boulware this offseason to come in and run the kicking game. So far, we've seen some changes in practice, but Boulware's most important job is to find a new placekicker.
Super senior Chance Poore is being given a chance to secure the starting position this spring with the transfer portal still being an option for the Wildcats at this position. Expect the coaching staff to take a long look at some free agent placekickers in May.
Kentucky's starting kicker might not be on the roster right now.
The post Expect Kentucky to evaluate these 4 positions in upcoming transfer portal window appeared first on On3.