Fast-rising 2025 QB Carter Smith talks Miami visit: 'It definitely opened up my eyes'
3 min read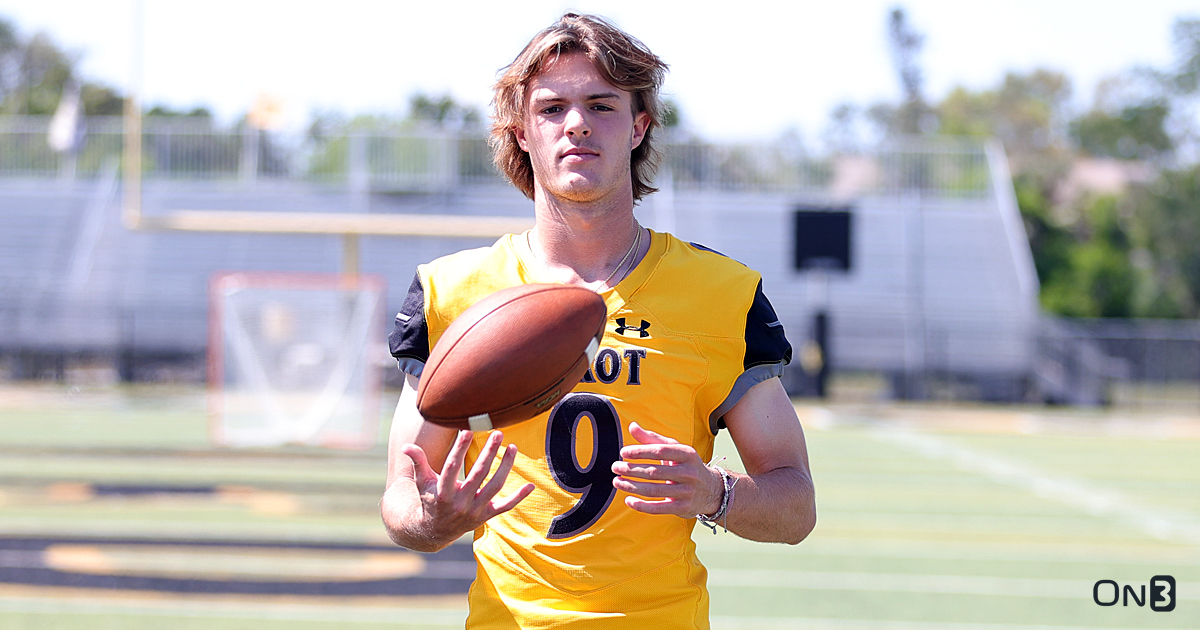 Following his first visit to the University of Miami this spring, Fort Myers (Fla.) Bishop Verot 2025 quarterback Carter Smith believes the Miami Hurricanes have solidified themselves as one of his top programs early on.
The No. 14 overall prospect in the 2025 cycle according to the On3 Rankings took the two-hour trip from Fort Myers to Coral Gables, where he had the opportunity to take in a spring practice and much more.
"I honestly didn't expect anything of that sort, but being able to walk through and look at everything was awesome," Smith told CaneSport. "It definitely opened up my eyes a little bit and definitely pushed them up on my school list. This visit completely changed my view of Miami. They're one of the top programs in the country, and I can definitely see myself going there."
One of the major things that struck the 6-foot-3, 170-pound signal-caller was how warmly the Miami staff greeted him from the moment he set foot on campus.
"Just everyone being so welcoming," Smith said. "Everyone I talked to and everyone I was around, from coaches to the head coach to player personnel, they were all so welcoming, and it honestly made me feel like I was at home. For it being my first time there, that was pretty special."
During his time on campus, the No. 2 quarterback in the 2025 class according to On3, had the chance to watch and break down new Miami offensive coordinator Shannon Dawson's offense and was impressed with what he saw.
"He's awesome, and he's got his stuff together, which is really good to see," Smith said of Dawson. "It was a good experience seeing how they operate, what they do with their reads and the plays that they run. He's definitely someone that I would like to play for and be able to work with because of his demeanor."
Smith says that Ole Miss, LSU, and Miami are the three programs that currently have his interest the most, but other programs like Florida and Florida State are also very much in the mix.
According to the On3 Recruiting Prediction Machine, Florida is currently tabbed as the favorite to land Smith, leading all programs with a 58.7%, followed by Miami with a 26.9%.
As far as the Hurricanes, Smith is extremely excited to see what Miami can do in the coming years and believes head coach Mario Cristobal and his staff have what it takes to turn the program around.
"It's special, and it's going to be special," Smith added. "I'm excited to watch what they do these next two to three years until I possibly get there. They're going to build this program back up again, so it's going to be exciting to watch."
CaneSport's take
Since the beginning of the year, Smith's recruitment has exploded, going from being a relatively unknown name at the start of his sophomore season to a blue-chip talent. Miami is early in the race for Smith and has already made an enormous impression. Although the rising sophomore has a while to go before his signing day, Carter Smith is a name to know in the 2025 class.
The post Fast-rising 2025 QB Carter Smith talks Miami visit: 'It definitely opened up my eyes' appeared first on On3.