Favorites are emerging for 4-star DL T.A. Cunningham
3 min read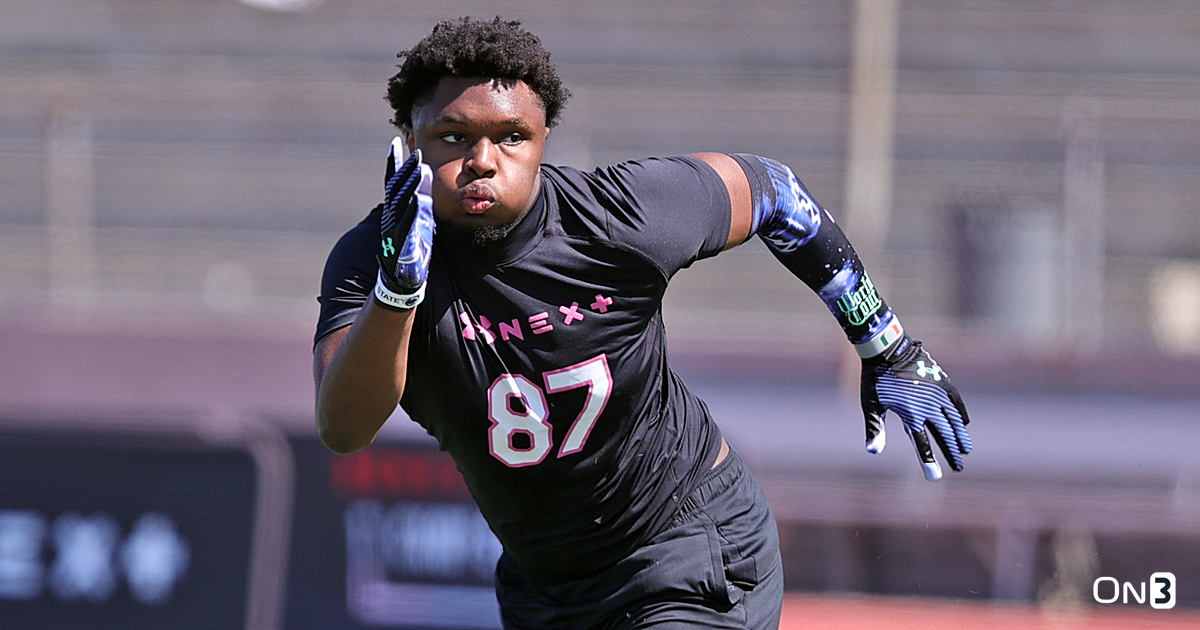 Los Alamitos (Calif.) four-star defensive lineman T.A. Cunningham had a busy March. During that month, he took unofficial visits to Miami (March 4), Penn State (March 18) and Ohio State.
The Hurricanes, Nittany Lions and Texas A&M are currently standing out to Cunningham. The 6-foot-6.5, 275-pound defender is not rushing a decision, as he hopes to commit before his senior season.
"I'm aware that I'm going towards the end of it and eventually, I will be narrowing down my list," Cunningham told On3. "But right now, I'm really enjoying it. My recruitment is still open, I'm still open to everybody that trusts in me. That's really the way it works. I'm interested in those who are interested in me. If a school shows love, I'm gonna show love back."
Cunningham expects to have a packed April. He hopes to see Georgia, LSU, Michigan and Michigan State among others.
Even though Cunningham has some time before his commitment, he already knows what matters to him in the recruiting process. According to the four-star, it is more than just the attention a coaching staff shows him.
"It's more about who's the most straight up with me, who's the realest and who sees me with the most potential on the defensive line and who's gonna get me prepared for the next level" said Cunningham, the No. 72 overall prospect and No. 10 defensive lineman in the 2024 On3 Industry Ranking.
Cunningham discusses his interest in Miami and Penn State
When asked about his Miami visit, Cunningham shared that he "really liked" his time in Coral Gables. Multiple things stand out to him about the Hurricanes.
"They made me feel like family the second I got on campus," Cunningham said. "The environment, you can't be mad in Miami. It's a beautiful place to be, it's a beautiful place to play, and really, it's a great place to go and get developed. Coach Joe (Salave'a), I've got a great relationship with him. They've got Jason Taylor there, a Pro Bowler as defensive ends coach. I don't see any reason why they can't compete with anybody else in my recruitment."
The four-star is aiming to return to Miami in the coming weeks, and may take an official visit there. A key reason for his interest in the Hurricanes is head coach Mario Cristobal.
Cunningham called Cristobal an "amazing" person. He added that they speak "every now and then" and have a good relationship.
"It's really all good things when I talk to him," Cunningham said. "We talk about the practices. He catches me up on how their practices went, so I'm aware of what's going on at the program."
Penn State has also impressed Cunningham. Like Cristobal, the top-100 recruit believes head coach James Franklin is an "amazing" guy.
"Listening to him talk to all the recruits, he speaks with no caveats or contingencies," Cunningham said. "He talks to you real. Everything he says is the exact same thing he'd say to a player on campus. He's a real coach and obviously, he's been showing me a lot of love. I've been getting recruited by him since my sophomore year."
The post Favorites are emerging for 4-star DL T.A. Cunningham appeared first on On3.