Final Penn State wrestling superlatives for the 2022-2023 season: Top wrestlers, best highlight, and more
3 min read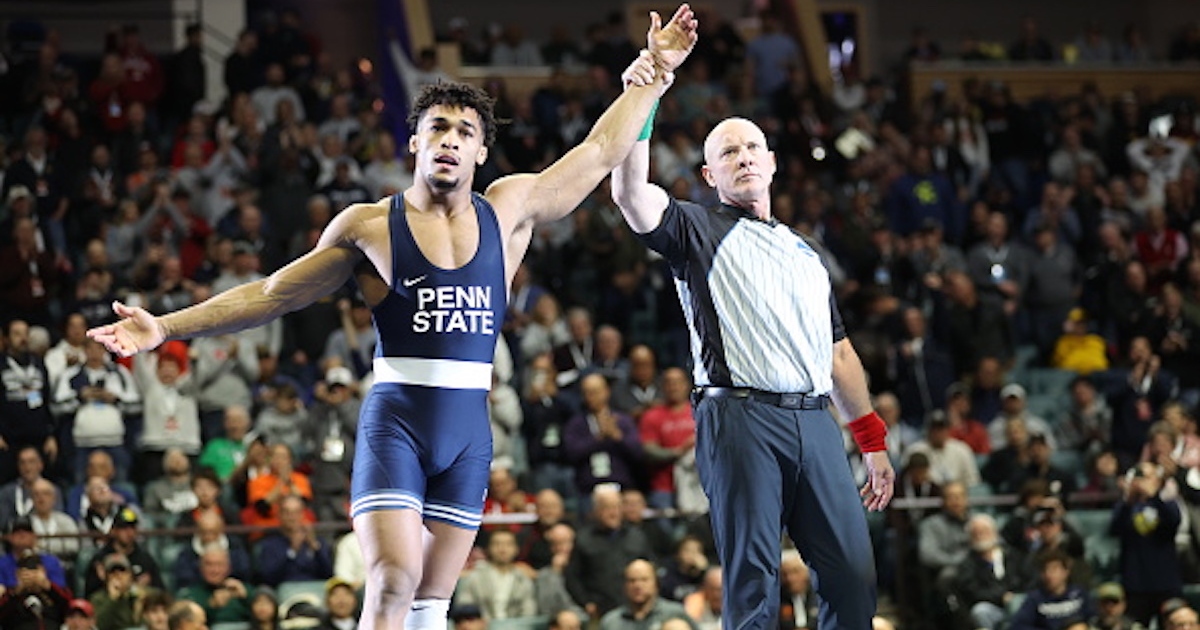 Penn State starts another off-season on top of the college wrestling world. The Nittany Lions crowned two individual national champions and also won the team title in Tulsa, Okla.
"We just gotta keep getting better, and we've got a lot of things we can work on moving forward," head coach Cael Sanderson said. "That's what you do. You come here and you've got to be quick to observe and figure things out, what can we do better. And that's what we'll do."
What we're doing now is closing out the season with our final superlative picks.
Three best Penn State wrestlers 
Carter Starocci | Jr. | 174 pounds
Starocci may feel like he was cheated out of the Hodge Trophy, which is given annually to the nation's best wrestler and went to Michigan heavyweight Mason Parris this year. He will not be stubbed at the top of our list, however. The multi-time national champion pinned Nebraska's Peyton Robb in the finals. He finished his junior season a perfect 24-0, a mark that included four pins, a massive 82-2 takedown advantage over his opponents, and a team-high nine major decisions.
Aaron Brooks | Jr. | 184 pounds
Brooks received the third seed at the NCAA Tournament in part because he did not wrestle as many matches as his peers did this season. That said, when he was on the mat, few in any weight class were as good as the Nittany Lions junior was during the 2022-2023 season. That was especially so at the NCAA Tournament, where Brooks racked up five wins, including a 7-2 decision over top-seeded Parker Keckeisen of Northern Iowa in the finals, to win another title. He surrendered just one takedown on the season while finishing 17-1.
Roman Bravo-Young | Sr.+ | 133 pounds
Roman Bravo-Young did not cap his super senior season with a final national title due to 10-4 loss to Vito Arujau of Virginia Tech in the NCAA finals. That does not take away from what was otherwise a spectacular season, however. The Nittany Lion finished fourth in FloWrestling's pound-for-pound rankings and was 20-1 on the year. He led all Lions during the dual meet season with four pins and 87 takedowns. 
What was the top key moment for the Nittany Lions?
We can't envision going anywhere else but back to Jan. 27, 2023 for this pick. Penn State hosted Iowa in the sport's premier dual meet of the season on that evening inside of the Bryce Jordan Center. Freshman Levi Haines had already put the nation on notice that he was ready to impress in year one. But, he was also still eligible to redshirt when that late January day began. By the time it ended, however, he had beat Iowa's Cobe Siebrecht by decision, 3-2. He became the permanent Penn State starter at 157 pounds from there and went on to finish second at nationals following a loss to top-seeded Austin O'Connor of North Carolina in the finals.
Picking the top highlight
There is an embarrassment of riches to pick from here. From an individual perspective, it's hard to overlook Beau Bartlett's takedown of Pittsburgh's Cole Matthews with one second left in sudden victory to win his 141-pound quarterfinal at the NCAA Tournament. It was a culmination of all the hard work the Nittany Lion junior has put in over the last three seasons. From an overall perspective, though, it's easily the group photo Penn State took in the center of the BOK Center mat after winning another team national title. 
Bold prediction moving forward
Penn State will lose at least one starter, and maybe more, to an Olympic redshirt. Carter Starocci has already hinted at that possibility. And, it's something Aaron Brooks must consider too. Either or both going that route would leave a massive hole in the Lions' upperweights. But, it seems like almost a certainty that at least one of them will choose to do so.
The post Final Penn State wrestling superlatives for the 2022-2023 season: Top wrestlers, best highlight, and more appeared first on On3.