Final Scrimmages Loom Large as USC Passes Spring Ball's Halfway Point
2 min read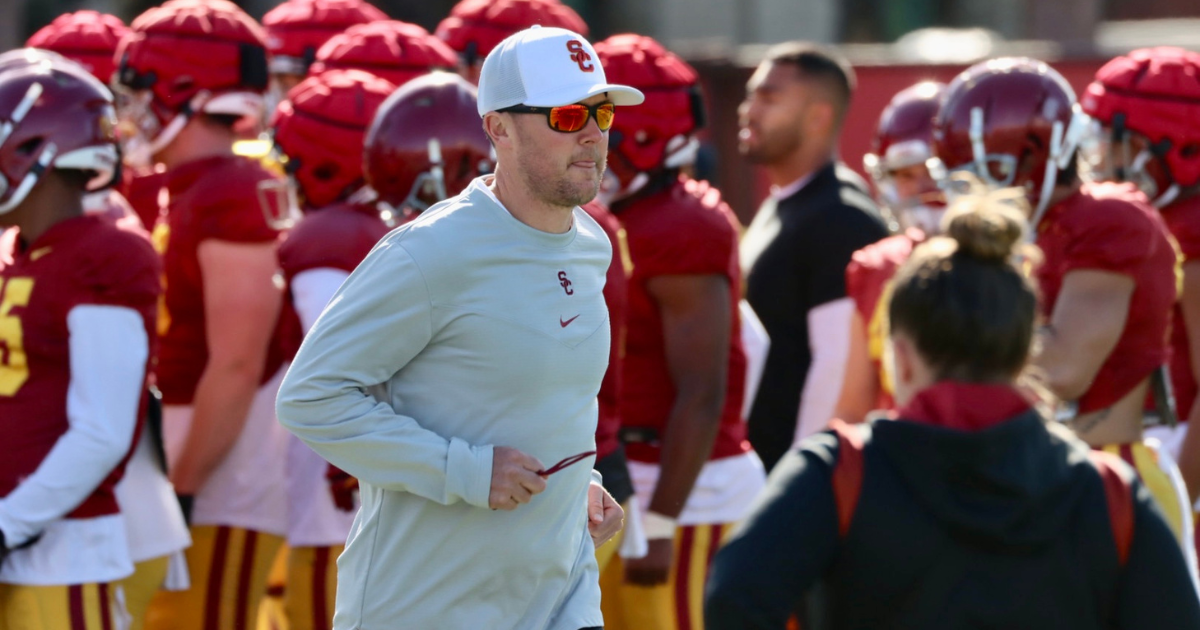 USC has six practices remaining including the Trojans' Spring Game on April 15 as Lincoln Riley's team hits the home stretch over these final two weeks. Following Tuesday's practice, Riley was asked if there were any position groups he'd like to see more from this spring.
Riley has been pretty upbeat about the trajectory of his team this spring. He consistently preaches the need for improvement in all things every day. But he's been direct in saying this roster and program are in a much better place now than they were 12 months ago. He said similar about the position groups.
"It's the middle of spring, there's so much to get better," Riley said, before offering the positive side. "There's a ton to be excited about. There's not a position group right now that I'm not really excited about. Which, I don't know that I could have honestly said last year. If I said it, I lied well."
Riley doesn't appear all that concerned about results at this point. What's on the field, both physically and mentally, won't be exactly what suits up for the Trojans this fall.
"There's a lot to unfold," Riley said. "There's going to be so many more position battles. There'll be a lot of different ebbs and flows with this group through the spring and obviously into the fall. It'll be really interesting to see it all play out."
The fall roster will include the rest of the 2023 high school recruiting class. And Riley said the Trojans will bring in "probably a couple more transfers before it's all said and done."
Instead of position groups, Riley breaks things down now by levels of experience on the field and in the program. He called the early enrollee freshmen "promising." But like all freshmen, they'll need to show they can contribute consistently at this level. Riley wants to see the returners continue to show the improvement they've flashed early in spring. And the transfers fit "somewhere in the middle."
What will matter most going forward is what the players are able to show in the scrimmage settings. Riley said they will scrimmage this coming Saturday and then for the spring game.
"Those will be, I think, the two things we'll be paying attention to most as a coaching staff," Riley said.
And the USC head coach wants to see his Trojans finish on a physical note.
"Kind of the bulk of our scrimmages left to be able to get into some of those live situations and really watch us tackle," Riley said. "Really watch us have the opportunity to run through tackles and finish blocks and get off blocks defensively."
The post Final Scrimmages Loom Large as USC Passes Spring Ball's Halfway Point appeared first on On3.