Five-star freshman Nico Iamaleava 'continuing to grow' during Tennessee spring practice
3 min read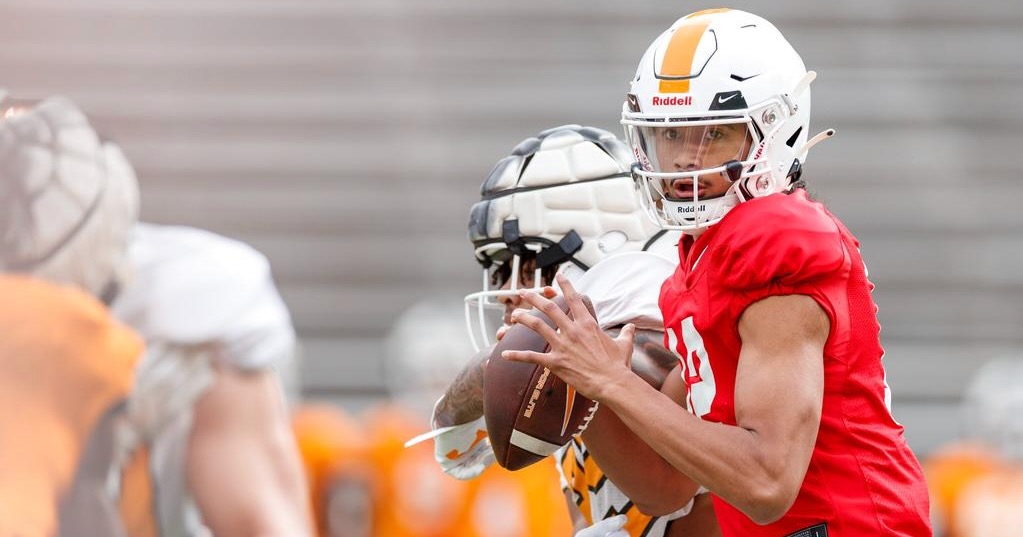 Nico Iamaleava was the headliner in Tennessee football's 2023 signing class. The five-star quarterback from California and, what's more, the No. 1 overall player in the class.
Still, Josh Heupel isn't in a rush to put his prized freshman on any kind of timeline. He's watching him develop as spring practices continues for the Vols, just like any other freshman.
"Continuing to grow," Heupel said Thursday after Tennessee's second spring scrimmage at Neyland Stadium. "A long ways from being where we need him to (be), but that's understandable."
The 6-foot-6, 205-pound Iamaleava, out of Warren High School in Long Beach, Calif., has been under a spotlight since he committed to Tennessee in March 2022. He signed with the Vols in December and went through bowl practices before Tennessee's 31-14 win over Clemson in the Orange Bowl at Hard Rock Stadium in Miami.
Josh Heupel 'really happy' with Nico Iamaleava's performance in spring practice
Now he's two weeks into his first spring camp with the Vols, working alongside redshirt senior Joe Milton III as Tennessee moves on from the Hendon Hooker era.
"Where he's at, this part of spring ball," Heupel said, "really happy with what he's done — his work ethic, attention to detail, ability to rebound and how intentional he is in the way that he works. He's continues to get better every time he gets on the field, which is what you want to see from your young guys."
Heupel described the Tennessee quarterbacks as playing "really well" in the second scrimmage. The Vols are off for Easter weekend, will have a team meeting Sunday night and will start the final week of spring practice on Monday, leading up to the Orange & White Game next Saturday at Neyland Stadium.
Up Next: Orange & White Game, April 15, 2:30 p.m. ET, Neyland Stadium
"We put them in some situations, game management, four-minute situation at the end of the game," Heupel said of his quarterback in Thursday's scrimmage. "There are a lot of things that we can learn in that. We've hit that the first two scrimmages. 
"I think there are some things we can get better at in that. Taking care of the football, being smart decision makers, handling communication, handling pace. Everybody has done a really nice job."
Milton took over for Hooker at Vanderbilt in the regular-season finale in November, a week after Hooker tore his ACL in the loss at South Carolina. Milton led the Vols to a 56-0 win at Vandy, throwing for 147 yards and a touchdown, and then had 251 yards passing and three touchdowns in the win over Clemson in the Orange Bowl.
"I think he's got really good command of what we're doing," Heupel said of Milton. "At the line of scrimmage, out on the perimeter, his eyes being in the right place to identify his keys and take him to the next progression. That's in the run game, that's in the pass game too."
The post Five-star freshman Nico Iamaleava 'continuing to grow' during Tennessee spring practice appeared first on On3.