Five-Star Plus+ EDGE Colin Simmons already plotting official visits
3 min read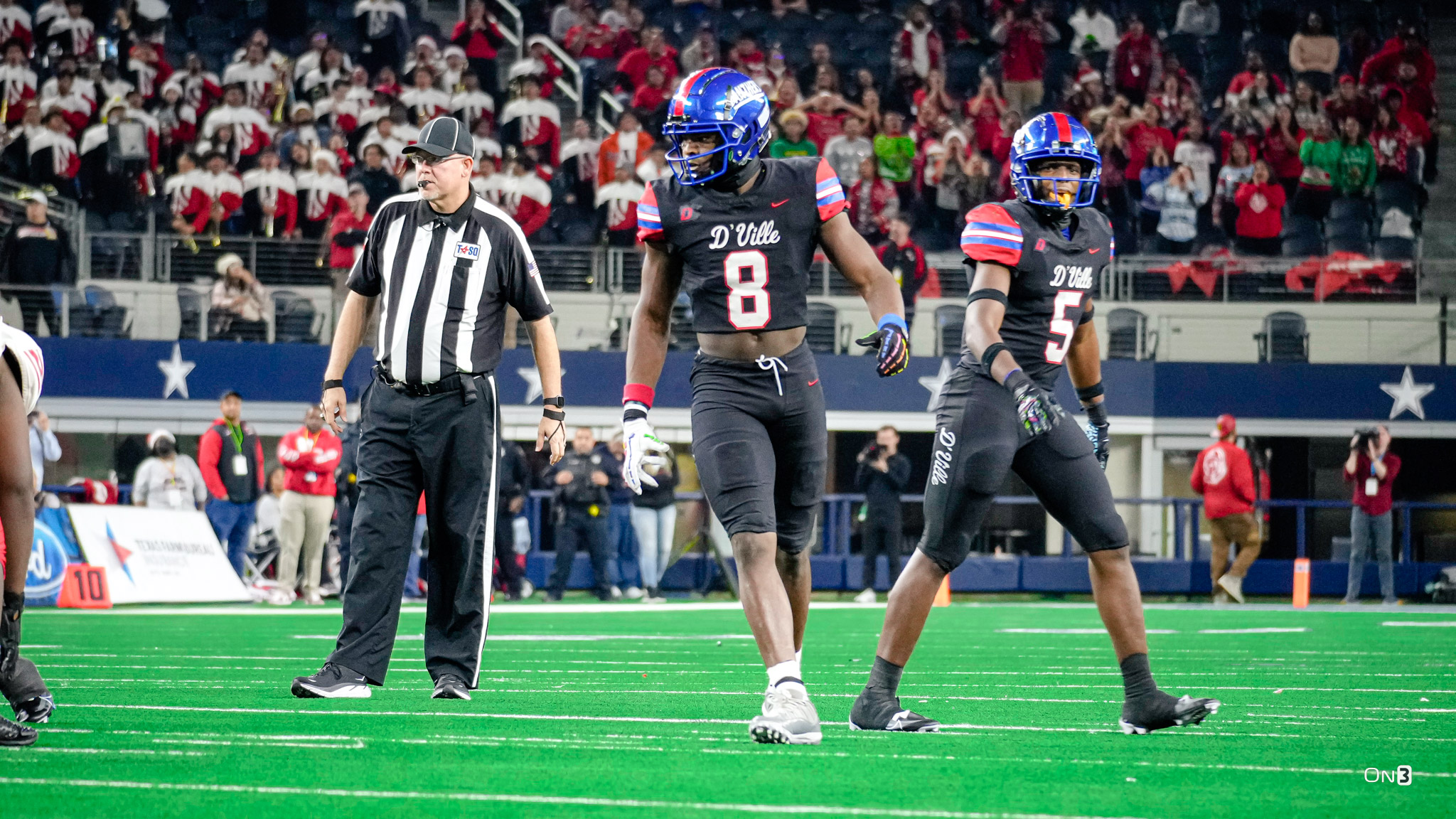 Five-star Plus+ EDGE Colin Simmons has stayed active this spring as one of the nation's best defenders in the class gets a look at some of the schools coming hardest in his high-paced recruitment.
So far, the On3 Industry Ranking's No. 1 EDGE in the nation has seen Georgia (Jan. 14) and TCU (Jan. 29), Arizona State (March 18) and Texas (March 25), and recently caught a spring practice at Texas A&M (April 1).
Next up for the elite Duncanville (Texas) High School EDGE is a visit back to TCU this weekend.
TCU is looking to continue ascending with Simmons, who already knows three official visits so far. That group includes Texas, Georgia and LSU, the current leader on the On3 Recruiting Prediction Machine.
LSU has hosted Simmons as much as any out-of-state school. While he has not been to campus in months, the Tigers have cemented themselves as contenders with staying power in the elite defender's recruitment.
"Obviously, it's a no-brainer," said Simmons, on an official visit to LSU. "LSU's got an official visit from me. They know what they're doing and where they stand, and they don't have to do too much because they already know how I feel about them. They always stay in contact with me."
The Tigers are trending for a visit from Simmons this summer. He's also eyeing a visit back to Athens.
Georgia made a major leap in the Five-Star Plus+ EDGE's recruitment and also trending for an official visit.
"They're definitely up there. They're up there for sure," Simmons said of Georgia. "I'm gonna get back up there, and they've possibly got an official visit fro me. They're definitely heading in that direction."
Texas visit moved the needle with Simmons
Simmons returned to Texas and Texas A&M over the past month.
Visits to the Forty Acres have been consistent under Steve Sarkisian's watch and the buzz around the Longhorns has heightened in recent months in spite of changes on the coaching staff.
"They're there," Simmons said of Texas, which will also receive an official visit from Simmons.
"When (Chris) Gilbert left (for North Texas) is was a little bit of a setback. I live in Texas, I stay in Texas, so they're always in my mind and they're always gonna be in my mind."
"It's a great school," he added.
Two more SEC teams to watch
After checking out the Trojans over the weekend (April 8), Simmons is scheduled to hit Florida (April 13) and Oregon (April 29).
Alabama and Tennessee are also working to get the Five-Star Plus+ recruit on campus.
For the Tide, it would be a visit back to Tuscaloosa. Simmons is interested in another sitdown with Nick Saban.
"Bama is Bama, and everyone says that, but I want to see and I want to hear from Saban again," Simmons said. "I need to see if he's right the coach for me."
The Vols were a team buzzing with Simmons during his spectacular junior season at Duncanville and in December were trending for a spring visit. The team has since picked up the pace with the elite EDGE in recent weeks.
"During the season they were trying to get me up there, trying to get me to catch a game, but it was hard," Simmons said. "They're trying to get me to Knoxville. They hit me up trying and they're trying to get me down there ASAP when it fits in my calendar."
The post Five-Star Plus+ EDGE Colin Simmons already plotting official visits appeared first on On3.