Five-Star Plus+ EDGE Colin Simmons visits Florida
3 min read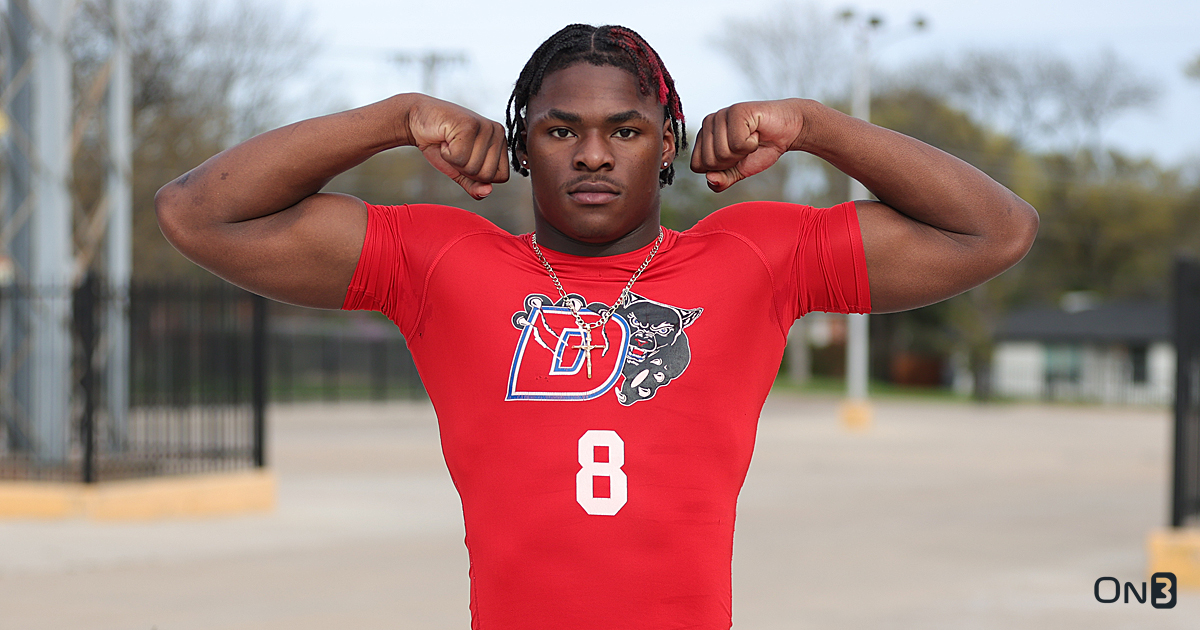 Florida is hosting multiple blue-chip prospects for its Orange and Blue Game on Thursday. One of them is Duncanville (Texas) Five-Star Plus+ EDGE Colin Simmons.
During his visit to Gainesville, Simmons spent time in the Gators' facility and tried on their home uniforms. One of the players Simmons met on his visit was Willis (Texas) four-star quarterback and Florida commit DJ Lagway.
Simmons is the No. 3 overall prospect and No. 1 EDGE in the 2024 cycle, according to the On3 Industry Ranking, a weighted average that utilizes all four major recruiting media companies. He is also the No. 1 player in Texas.
In addition to Florida, the 6-foot-2.5, 225-pound pass rusher has visited multiple schools. They include  Georgia (Jan. 14), TCU (Jan. 29 and April 7), Arizona State (March 18), Texas (March 25) and Texas A&M (April 1). He is also scheduled to see Oregon on April 29.
"Going on campus to those schools, I just want to see if I can stay there for the next three-to-four years, see if I'll actually have fun and enjoy myself out there rather than not feel the school," Simmons told On3's Chad Simmons on March 14. "I want to feel comfortable."
"Just whoever I feel comfortable with, whoever I feel like I can trust, whoever I feel like is going to have my best interest, who's gonna take care of me and protect me for the next three-to-four years," he added about what he looks for in a school. "I'm keeping a close eye on the coaching staff. Everybody tells you the same thing, so I want to see with my own eyes."
For more Florida recruiting intel, check out Gators Online.
Florida's 2024 recruiting class is led by Lagway and ranks No. 4 in the 2024 On3 Industry Team Recruiting Rankings, as well as No. 3 in the SEC. The Gators landed a commitment from McKinney (Texas) four-star safety Xavier Filsaime on the night of April 13.
Simmons discusses programs he is interested in
Simmons told On3's Sam Spiegelman on April 7 that LSU and Texas will get official visits from him. He discussed his interest in those two schools, as well as a few others, with Spiegelman.
Alabama: "Bama is Bama, and everyone says that, but I want to see and I want to hear from (Nick) Saban again. I need to see if he's right the coach for me."
Georgia: "They're definitely up there. They're up there for sure. I'm gonna get back up there, and they've possibly got an official visit fro me. They're definitely heading in that direction."
LSU: "LSU's got an official visit from me. They know what they're doing and where they stand, and they don't have to do too much because they already know how I feel about them. They always stay in contact with me."
Tennessee: "They're trying to get me to Knoxville. They hit me up trying and they're trying to get me down there ASAP when it fits in my calendar."
Texas: "I live in Texas, I stay in Texas, so they're always in my mind and they're always gonna be in my mind."
The post Five-Star Plus+ EDGE Colin Simmons visits Florida appeared first on On3.