Five-Star Plus+ EDGE Colin Simmons visits Texas A&M
2 min read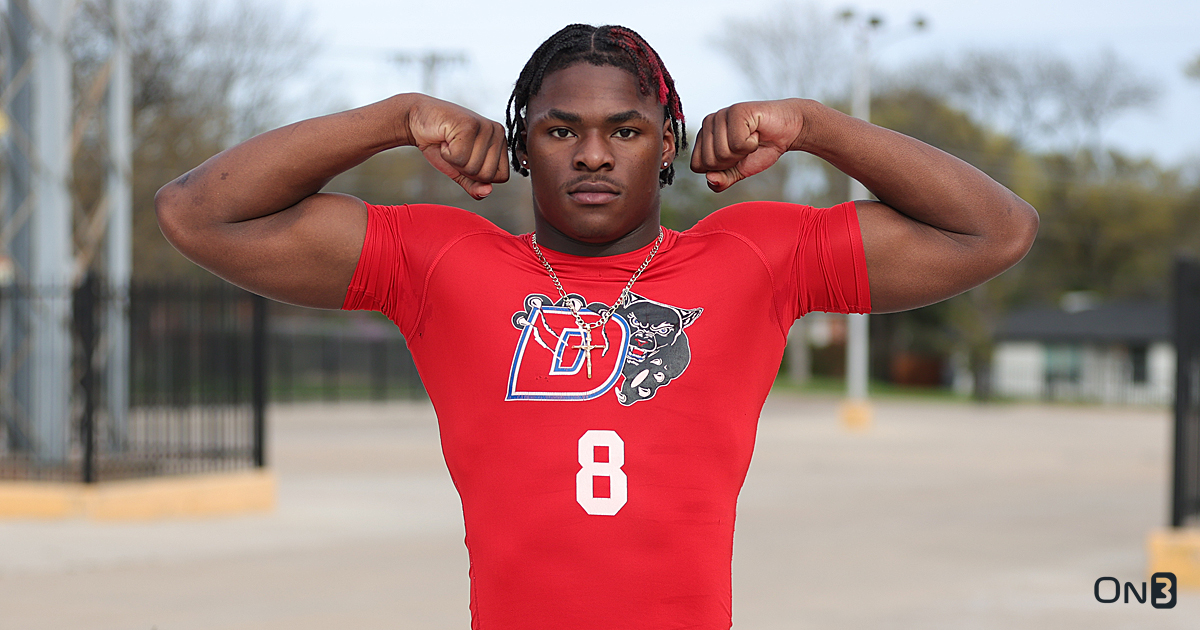 Duncanville (Texas) Five-Star Plus+ EDGE Colin Simmons returned to Texas A&M on Saturday. He last visited the Aggies in January.
Texas A&M is considered one of the contenders for Simmons, who has multiple visits scheduled for this spring. The 6-foot-2.5, 225-pound pass rusher told On3's Chad Simmons that the Aggies are one of his schools of interest from the SEC.
"They've got all the resources and the facilities," Simmons said on March 21. "A&M will get me and my body right."
Simmons is the No. 3 overall prospect and No. 1 EDGE in the 2024 cycle, according to the On3 Industry Ranking, a weighted average that utilizes all four major recruiting media companies. He is also the No. 1 player in Texas.
Texas A&M is the first of four April visits for Simmons. He will be at USC on April 8, Florida on April 13 and Oregon on April 29.
At the moment, Texas A&M's 2024 recruiting class ranks No. 15 in the 2024 On3 Industry Team Recruiting Rankings, as well as No. 8 in the SEC. It currently contains no EDGEs. 
Meanwhile, head coach Jimbo Fisher and his staff have pledges from four players. They are Longview (Texas) Pine Tree four-star defensive lineman Dealyn Evans, Katy (Texas) Tompkins four-star interior offensive lineman Ashton Funk, Hattiesburg (Miss.) On3 four-star Anthony Maddox and Alpharetta (Ga.) Milton three-star wide receiver Debron Gatling.
Simmons is considering top programs in college footbal
According to the On3 Recruiting Prediction Machine, LSU is leading for Simmons' commitment at 44.1%. In addition to the Aggies and Tigers, Simmons is looking at Arizona State, Texas, USC, Colorado and Florida among others. 
"Just whoever I feel comfortable with, whoever I feel like I can trust, whoever I feel like is going to have my best interest, who's gonna take care of me and protect me for the next three-to-four years," Simmons said on March 14. "I'm keeping a close eye on the coaching staff. Everybody tells you the same thing, so I want to see with my own eyes."
For more Texas A&M recruiting intel, check out Aggie Scoop.
Simmons visited Texas and Arizona State last month. He was originally scheduled to visit the Buffaloes on April 22 for their spring game, but decided to cancel that trip.
There are still many developments of Simmons' recruitment that have yet to unfold. However, the five-star already knows that he wants to use his official visits during the fall. 
"I want to catch them during the season, so I can feel excited to see how games are during the season," Simmons said. "And then, catch a homecoming because I feel like those are the best times to visit a school, to see if I'm really, really gonna love it there."
The post Five-Star Plus+ EDGE Colin Simmons visits Texas A&M appeared first on On3.