Five-star WR visiting Alabama this weekend
3 min read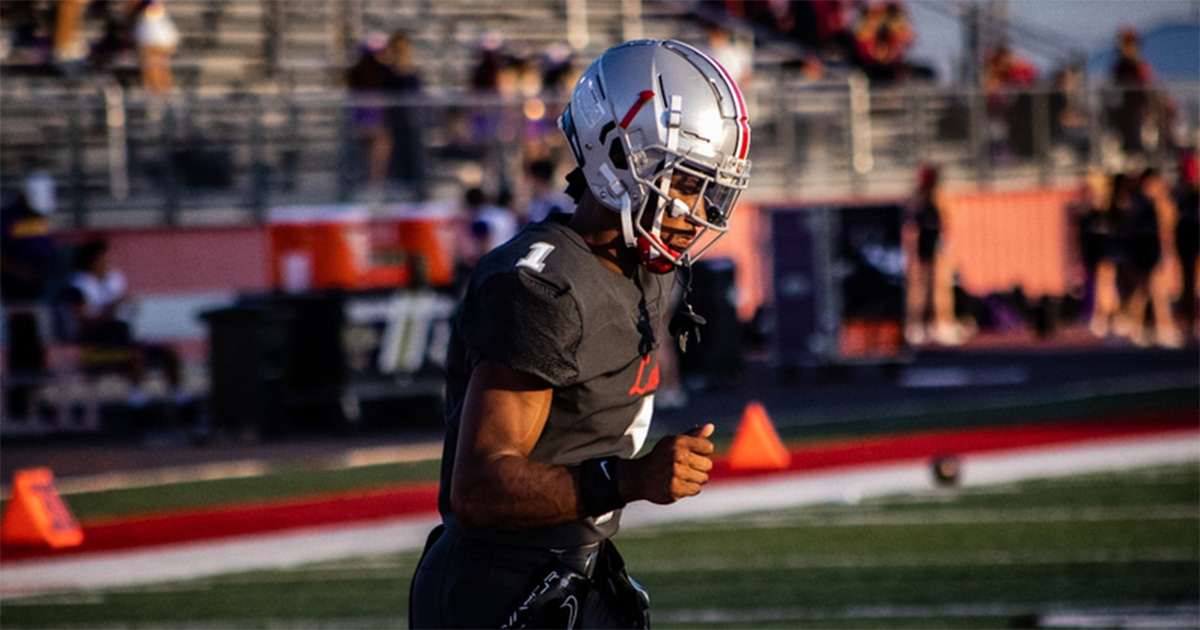 Alabama will host one of the nation's most sought-after recruits this weekend. Micah Hudson, five-star wide receiver from Lake Belton High School in Temple, Texas, will take his first visit to Alabama.
Hudson has been in regular contact with Alabama wide receivers coach Holmon Wiggins. He received the original offer from Coleman Hutzler, his area recruiter. Coach Hutzler informed Hudson last May he will still need to attend camp in order for Nick Saban to evaluate in-person.
Alabama has its own evaluation and recruiting process as outlined in the recent feature on the Tide's '24 class. Hudson didn't make it to Tuscaloosa last summer.
He may not need to attend camp to have a committable offer from Alabama. Hudson is a rare prospect who is viewed as one of the nation's top overall players regardless of position. The offer was extended prior to the start of his junior season. It's now more about Facetime with Coach Saban, new offensive coordinator Tommy Rees, Coach Wiggins and the entire staff.
Many expect Hudson to remain in Texas. The same was said regarding Alabama freshman Jalen Hale during the 2023 cycle. The Texas Longhorns were the heavy favorite for the Top 100 receiver prior to his late July visit with Alabama. It doesn't mean Alabama will have the same result in regards to Hudson.
ALABAMA BASKETBALL TRANSFER PORTAL CENTRAL: KEEP TRACK OF THE LATEST SCOOP!
Alabama pushing for the elite Texas athlete
The No. 2 receiver in the 2024 class, per the On3 Sports Industry Ranking, has visited Texas, Texas A&M and Texas Tech several times. Hudson recently told Inside Texas in regards to schools recruiting him the hardest, "Ohio State, Alabama, Georgia, Florida and Tennessee have hit me up lately. Obviously, Texas and Texas Tech are all over me."
A decision is not expected any time soon. Hudson is taking his remaining spring visits to Alabama, and also expected to visit Ohio State later this month. He start thinking/deciding official visits. Texas and Texas Tech will most likely receive two of the trips. The Longhorns currently have an 80% lead according to the On3 RPM.
Hudson is one of several recruits in the state of Texas recruited by Alabama in this recruiting cycle. BamaInsider recruiting reporter, Joseph Hastings, recently included Hudson in a feature on Alabama's top targets in the Lone Star State.
Hudson had a magnificent junior campaign amassing 65 receptions for 1,198 yards and 14 touchdowns. He was named District 4-5A D1 most valuable player.
CLICK HERE to keep track of more recruits visiting the Crimson Tide this week!
On3 Sports Analysis
Dynamic playmaker you can't take your eyes off of when you turn on the tape. Can go up and high point the football with ease. Turns hitches, swings and screens into touchdowns. Will run over, through and around defenders with the ball in his hands. Has every tool in the bag when it comes to route running. Ran 11.54 in the 100m, 23.26 in the 200m and jumped a 21'01" long jump as a freshman. Advanced well beyond his years and is one of the best receivers in the nation, regardless of cycle.
Hudson's compact build and ability in the route, catch and after catch phases reminds us of Ja'Marr Chase. Both are able to create separation, win at the catch point and make big plays with the ball in their hands. Chase was a more powerful player at the same stage.
The post Five-star WR visiting Alabama this weekend appeared first on On3.