Five Takeaways from the Indiana series with Coach Rick Heller
11 min read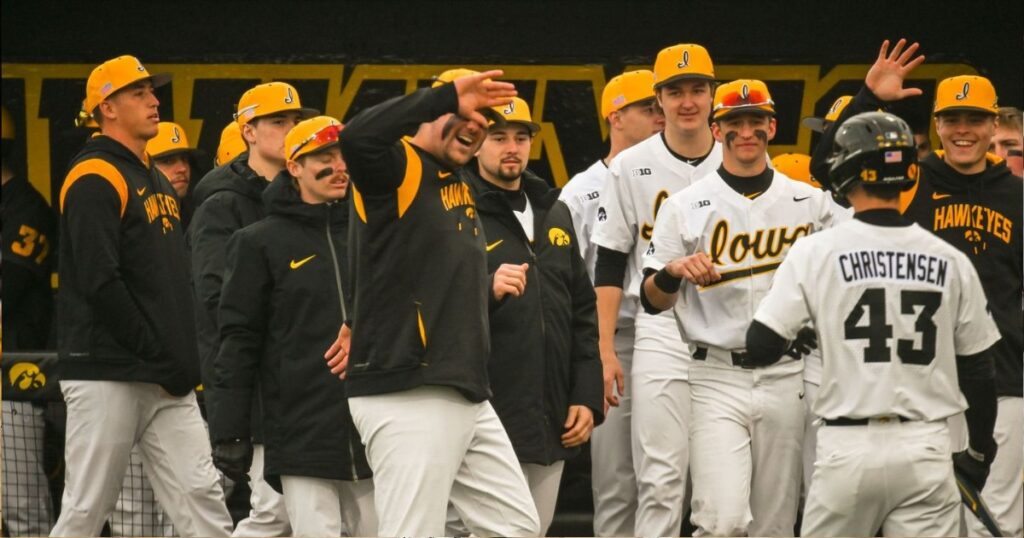 The Iowa Baseball team got off to a good start last week with a midweek win over Bradley and then a complete 7-1 series opening win against Indiana. The Hawkeyes could have very well went on to sweep the weekend, but instead, they lost the final two games of the weekend in the late innings. Morgan Colopy hit a walkoff two-run home run to give the Hoosiers a 2-0 win in 10 innings on Saturday. Then on Sunday, the Iowa offense could not buy a hit with runners on base and three eighth inning runs from Indiana game them a 4-2 series clinching victory.
"That's how things have been going the last couple of weeks…I talked about when we were on a good roll that I didn't feel like at times, we were playing as well as we should, but we were finding ways to overcome it," said head coach Rick Heller. "It kind of flipped on us. All the things that we'd been benefiting from, they kind of stopped. When it flipped, it flipped."
"I was not disappointed in how we played. I was disappointed in the results, but the process was good and I feel like we're making strides with our pitching and we've got to get a guy or two back to a good spot that will really help our bullpen late…If we can do that, I feel like we'll be in a good place heading down the stretch."
After the series in Bloomington, the Hawkeyes fall to 22-8 on the season and drop to #57 in the RPI. With that, we take a look at some of the biggest takeaways from the Hawkeyes series against the Hoosiers and get Heller's thoughts on the weekend.
1. The offense missed a lot of run scoring opportunities on Saturday and Sunday
The Hawkeyes had chances to win on Saturday and Sunday, but the offense was not able to get the job done. It was a mix of factors that led to just one run over 19 innings. The Indiana pitching staff made good pitches, their defense made good plays and the Iowa bats could just never come up with a clutch hit or two. While some of it can just be chalked up to the way baseball can be, the numbers are the numbers and they weren't great.
Luke Sinnard was about as good as you can be on Saturday for the Hoosiers. He struck out 12 and allowed just five baserunners over 6.0 innings. The Hawkeyes were 3/11 (.273) with runners on base and 0/6 with runners in scoring position. They strung together back-to-back hits in the tenth inning, but a 7-6-2 relay from the Indiana nabbed Brayden Frazier at the plate. Meanwhile, the Hoosiers were just 1/8 (.125) with runners on base, but the one hit was a walkoff two-run home run from Morgan Colopy.
"(Sinnard), he's got unique characteristics with his height and the down angle of his pitches and having a splitter," said Heller. "He throws six pitches and he was hitting with every single pitch. In all our scouting, we were thinking we would be able to sit on some stuff that he would not hit with, but he was hitting conrers, he was getting edges with every pitch and you tip your hat to him. He was really really good."
On Sunday, the Hawkeyes got on the board in the first inning, but were held to one run despite having bases loaded and just one out. It was good defense that cut the inning short. CF Bobby Whalen made a leaping catch against the wall on a Ben Wilmes fly ball to begin the game and then Devin Taylor robbed Kyle Huckstorf of a three-run home run to end the inning. That was the difference between 1-0 and 4 or maybe 5-0.
"The centerfielder steps on the padding in the middle of the fence and catches it to start the game off and then we got something going against their starter. We did score and then Kyle Huckstorf hits the ball into the wind and Taylor their leftfielder robs the home run. Those two plays don't happen there and you're looking at probably five runs in the first inning."
From then on, the Hawkeyes could not get the job done with runners on base. They were 1/23 (.043) with runners on base and 0/10 with runners in scoring position. The two out hitting, which had been so good in the early part of the season was just 1/21 (.048) over the last two days of the weekend. The Hoosiers were not much better, but three hits with runners in scoring position in the seventh and eighth inning got the job done. Despite the numbers, Coach Heller did not feel like they were getting themselves out.
"I don't see anything other than the fact that we've got to get a couple of guys back on track and get back with planning," said Heller. "We're home today and I know we'll have a really good practice and Marty (Sutherland) will get some stuff going with the hitters to try to get them cleaned up and get their minds right as we head into the midweek."
"I think the message was, hopefully can learn from what happened in those games that the opportunities are fewer and that emphasizes our having to be able to execute in whatever it might be. Get a bunt down or move a runner or make a productive out and not have a strikeout in that situation…Don't fail on the plan because that's what happens to hitters. When things go poorly, they try to change or try too hard or they press and that's the message."
2. Brody Brecht had another great start, but the entire starting rotation was good enough to win three games
Brody Brecht has been really rolling on the mound or the last few weeks. He was good, once again, on Saturday and it led to a 7-1 victory. Brecht got through a career-high 7.0 innings, allowing just one run on two hits, while striking out seven and walking four. He threw 57.6% of his pitches for strikes. While Brody continued his success on the mound, the rest of the starting staff on the weekend was good enough to get the Hawkeyes three wins.
"It was a huge step in the right direction and that's where the results (of the weekend) can hide the fact that there were a ton of positives. That was probably the biggest positive."
Heller and his staff have been searching for someone to fill the Saturday spot in the rotation, with several arms starting in that spot this season. This past weekend, Marcus Morgan came out and had the best start of his college career. He held the Hoosiers scoreless for 5.0 innings, including seven strikeouts to just two walks. He threw 58.2% of his pitches for strikes.
"I thought Marcus showed a lot of confidence and was really in control of himself his entire outing," said Heller. "Had he been going four or five innings the previous two weeks, we would have even left him in another inning, but the fact that it was so positive and we didn't want to run him up to 100 pitches with him not being stretched like that for a while."
"I was just super excited to see confident Marcus Morgan out there attacking hitters and getting after guys and pounding the strike zone will all of his pitches. It was a really positive step in the right direction."
Ty Langenberg came out on Sunday and had to battle through some baserunners, but threw 59.5% of his pitches for strikes en route to a scoreless outing. He was able to get four double plays by his defense and got outs despite only having two strikeouts. Langenberg allowed nine baserunners, but got four groundouts and two fly outs.
3. Injuries are causing some issues in the Iowa lineup
Injuries are a part of the game that you can't really control and for Iowa, their starting lineup has had a few injuries that have caused them to test their depth over the last couple of weeks. Chase Moseley had been working through some hitting struggles, but drew 11 walks over his last seven games to give him a .520 on-base percentage. He is out with a hamstring injury and Rick Heller says he is still going to be out for a considerable amount of time.
Sam Petersen had really got rolling with at least one hit in 11 of his last 12 games, including four home runs, but sustained a finger injury that has had him out for the last four games. He needed surgery to repair the injury and will miss a few more weeks. The Hawkeyes are currently playing without two outfield starters.
The newest injury was on Sunday to 3B Raider Tello. He was hit in the wrist by a 95 mph fastball and was forced to exit the game. Coach Heller did not have a timeline for his return, but said that he wrist was not broken. Tello being out for any amount of time would be a big blow for the Hawkeyes, as he leads the team with 40 hits. He has reached base in 27 of 30 games and has a hit in 22 games. Andy Nelson is already out for the season after getting Tommy John surgery, so he is not an option to fill in at 3B.
While the Hawkeyes await the return of a couple of their best hitters, the players that are in the lineup will need to step up and do the job to avoid a large letdown with the offense. With several starters out of the batting lineup, missed opportunities to score runs are magnified.
4. The pitching staff is a couple of arms getting back to normal from really getting rolling
The caveat here, is that this is assuming the starting rotation can build on this past weekend and start to get more consistent outings. If that can continue, the Iowa pitching staff just needs a couple of arms in the bullpen to get back to normal and they will be sitting in a good position.
"We're slowly working through and cleaning up a lot of the things that we were able to overcome early in the year and that will just make things way easier once we start getting guys back in the lineup and we clean up a couple of things offensively from the weekend."
Zach Voelker had a three week stretch where he was giving up some hits and walks, but the last two weekends has been better. Voelker has allowed three runs on seven hits over his last 9.1 innings, including four strikeouts to three walks. He has thrown 65.6% of his 125 pitches for strikes.
Next up, the Hawkeyes will be looking to get Will Christophersen, Jared Simpson, Keaton Anthony, Cade Obermueller and Jacob Henderson back to a consistent level. Henderson struck out six over 2.0 innings on Friday, but allowed three hits and a walk over 1.1 innings on Sunday.
"I believe that we'll get Jared back and we'll get Will back here soon to be in a good place. Being able to go out there and even if they don't have their best stuff, just being able to still find ways to get guys out and limit free bases. If we do that, we'll be in a good spot, but if not, it's going to be a little tougher."
Christophersen was nearly flawless over his first nine outings, but has allowed seven hits and six walks over his four appearances. His strike rate has dropped down to 50.0% over his last four outings. Jared Simpson got off to a really good start as well, but has allowed 11 runs on ten hits and six walks over his last 5.2 innings.
If the Hawkeyes can get some of those guys in the bullpen back to the level they were previously pitching at, then the pitching staff will be able to work around some hitting struggles, while the team awaits some players to get back from injury. Christophersen and Simpson, among others, need to reliable arms in Big Ten play.
5. The Hawkeyes are working from behind at 2-4 in the Big Ten standings
Through two weeks of the Big Ten season, Iowa finds themselves in a situation that they haven't been in for a while. Dating back to 2021, the Hawkeyes have won 14 of their last 18 conference series, including seven of eight last season. They finished with a 17-7 record in Big Ten play, which was good for a tie for second place in the standings.
Now, through just two weeks of the conference season, Iowa finds themselves in a tie for ninth place with a 2-4 record. Usually, the beginning of the season is where teams are able to work out the kinks, but this season, Iowa got off to a 19-3 record. Their best start in school history.
"We got off to the best start in school history and sometimes that can be a double-edged sword in the sense that if you do have a let down, the let down happens right when conference play starts."
The rest of the Big Ten slate is a balanced mix of series that Iowa should able to win or sweep, as well as tough series that will require good play to win the weekend.
"I would argue that in the six conference games that we've played, we've played as well as we have at any point this season," said Heller. "We just didn't get the results we wanted, so the message (to the team) is just keep playing hard. The game will take care of itself if you do that."
The Hawkeyes face Minnesota, Penn State and Northwestern; three teams with a combined 30-55 (.353) record. They also have series against Nebraska, Ohio State and Michigan State; three teams that have combined for a 52-35 (.666) record.
With an RPI in the high 50's and already four losses in Big Ten play, Iowa needs to take care of business and get a couple of sweeps against the easier competition, while taking 2/3 in the harder series is the goal.
Up next for the Hawkeyes…
The Hawkeyes return to Duane Banks Field tomorrow for a midweek matchup against the Milwaukee Panthers. The game is set to start with first pitch at 4:05pm on BTN+. It is the start of a six-game stretch, where Iowa can really try to get things rolling again. They travel to Minnesota for a three-game series against the Golden Gophers who are just 8-22 on the season. Iowa is 6-0 against the Gophers over the last two seasons. Next week, the Hawkeyes have a pair of midweek games. They travel to Illinois-Chicago on Tuesday and come back home for a game against Bradley on Wednesday. Best case scenario, Iowa takes advantage of some easier competition and they get the ball rolling before the Nebraska Cornhuskers come to Iowa City for a big series next weekend.
"That would be great and that's the goal, but the other team has a lot to say about that," said Heller. "Minnesota is a dangerous team. Their non-conference schedule was as tough as anybody, if not tougher than anybody in the conference, so they're not going to be intimidated by us."
The post Five Takeaways from the Indiana series with Coach Rick Heller appeared first on On3.