Florida State Defensive End Hot Board: Seminoles making strides with several pass-rushers
6 min read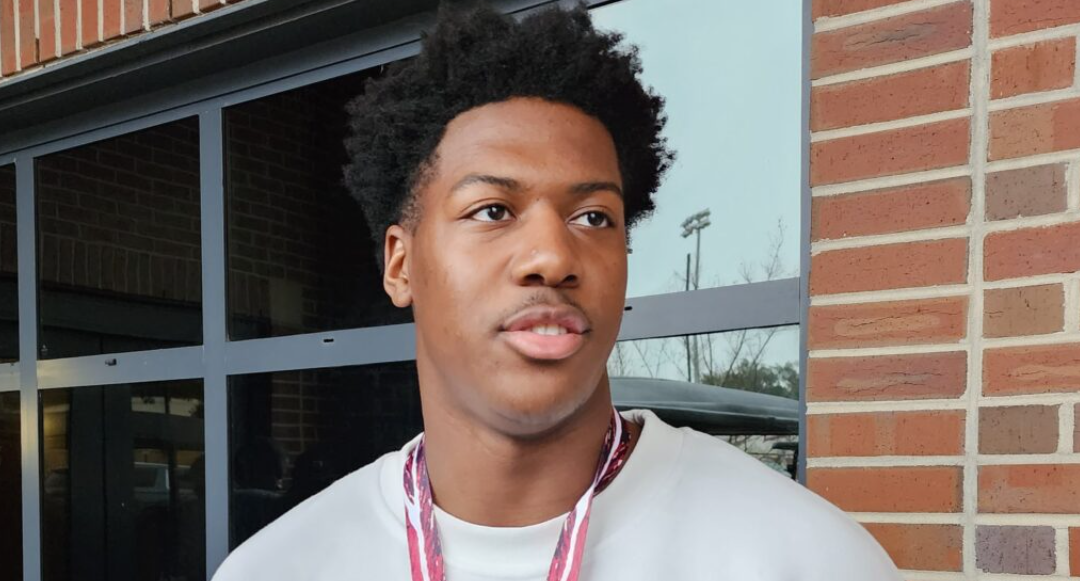 With the Florida State football team still riding the momentum of a 10-win season in 2022, the Seminoles are trying to capitalize on that success with victories in recruiting.
As we continue rolling out our latest Hot Boards for Florida State's 2024 class, today we focus on the Seminoles' top recruits at defensive end. We break down where FSU stands with each prospect and which schools will be the top competition.
Earlier Hot Boards: QB and RB | WR and TE | Offensive Line | Safety | Cornerback | Linebacker |
DEFENSIVE ENDS (FSU EXPECTED TO TAKE 2-3)
Four-star DL Kam Franklin of Mississippi
The Skinny on Franklin
We have mentioned Franklin as a name to watch for FSU for quite some time, and he has visited the 'Noles multiple times. The talented defensive end checked out Florida State again on the March 11 weekend for a multiple-day trip, and the vibe around Franklin and his recruitment is that FSU is now a major threat after this visit. Franklin is very captivated by the way the Seminoles' coaches work with their players and how direct they are.
This potential five-star prospect has a lot of suitors, with the main ones I've heard being Florida State, Tennessee, Ole Miss and Auburn. Ole Miss is likeliest the heaviest competition, but Franklin has taken several visits to out-of-state programs. I expect that to continue later this year with visits to Ohio State, Michigan and others. 
Despite all the competition, Florida State has done a good job with this recruitment, and I hear Franklin feels good about the Seminoles and the opportunity for playing time.
Four-star DE Dylan Stephenson of Miami
The Skinny on Stephenson
Stephenson is one of the top end targets for Florida State in this cycle, and he's visited FSU around five or six times already. He also is poised to come back yet again, from what we hear. Stephenson likes what Florida State does with its defensive ends, and he also likes the comfort he has with the program..
This feels like it's shaping up to be another FSU-Miami battle with both schools getting the top-tier end on campus multiple times in recent years. One thing to keep an eye on for is how the teams perform this season, as Stephenson wants to join a team with a winning culture. Michigan, Florida and potentially Southern Cal are teams that also have caught Stephenson's attention.
I'm expecting Stephenson to make another key visit to Florida State for the spring game next weekend.
Four-star DE Booker Pickett of Tampa
The Skinny on Pickett
Three schools have separated from the pack for Pickett, and those are Ohio State, Miami and Florida State. The Seminoles have the most momentum in this recruitment as of late with Pickett visiting FSU more than any of the three listed. It also was the school he loved most growing up.
Pickett visited Florida State multiple times last season for big games, and he has taken notice of FSU coming off a strong 10-3 season. I would not say there is a specific leader in that group of three, but Florida State has the momentum. Ohio State is another one to watch with its success in development of defensive ends. He plans to see the Buckeyes again later this spring or summer.
Four-star DE/LB Elias Rudolph of Deerfield Beach
The Skinny on Rudolph
This is a prospect that I'm not sure whether he projects most as a defensive end or linebacker. Regardless, it's clear he's very coveted by the Seminoles, and he visited Florida State recently this spring. He had very high praise for where FSU sits, and I feel that the 'Noles have locked up an official visit based on the intel I've received.
It's still fairly early in this recruitment, and Miami, Ohio State and Tennessee are some other schools I hear frequently to go along with the Seminoles. I think it's possible we see him come back to FSU around the time of the spring game or just after it. He also plans to visit LSU this spring.
Four-star DE DD Holmes of Washington, D.C.
The Skinny on Holmes
Holmes made a key visit to Florida State in early April, and it was a two-day visit with his family. So that trip was significant enough to move the Seminoles into the top group of teams in this race. I'm now hearing FSU and Penn State mentioned the most in this recruitment. I would not rule out other teams like Maryland and Auburn as well.
Holmes plans to officially visit Florida State and wants to take another visit to FSU this summer. He doesn't yet claim a leader, although you would think location is probably more of an advantage for Penn State compared to FSU. But the follow-up visit in the summer is going to be key for FSU's chances.
Four-star DE KingJoseph Edwards of Georgia
The Skinny on Edwards
Yet another top-tier end that has FSU high on his list and has visited Florida State multiple times. Georgia, as most might expect, is the team everyone seems to be chasing, with the Bulldogs being the defending national champs and the fact that he's an in-state prospect. But it's certainly far from a lock, and FSU and Florida are two teams to keep an eye on with this recruitment.
Edwards has been really impressed with what he's seen of the younger defensive ends for Florida State and how quickly their development has taken off. He also has a great relationship with FSU assistant coach Alex Atkins, who is the area recruiter, as well as head coach Mike Norvell and defensive ends coach John Papuchis.
Four-star DE LJ McCray of Daytona Beach
The Skinny on McCray
We have said many times that McCray is one of the top targets for FSU at the defensive end position despite him only being listed as a three-star prospect. Florida State has been on him from the start, and he has been on campus a lot. I would consider FSU the team to watch even though McCray is quiet about his leaders. The connection with defensive ends coach John Papuchis is very genuine, and staff member Ryan Bartow has done a very good job of keeping the relationships strong here with McCray.
Florida, Michigan and Auburn are some other threats in this one. The talented end was back at FSU for its big March 11 weekend, and he's expected back for the spring game next weekend.
Other defensive ends to watch
Four-star DE Kendall Jackson of Gainesville
Although he's certainly a Gator lean at this stage, the Seminoles have put themselves in the mix. Clearly there is work to do, but we are told that he is very intrigued by Florida State because of what they have done with developing pass-rushers in recent years.
Four-star DE Jaylen Harvey of Maryland
This is another new prospect that Florida State has caught the attention of. He's expected to take visits to Ohio State and Southern Cal this spring. Penn State is the rumored leader, as he has taken a few visits there already. But the good news is that Harvey intends on visiting FSU multiple times this year, and that includes an official visit, per Harvey.
Four-star DE Jeremiah Beaman of Alabama
Beaman has stated that he has a good amount of interest in the 'Noles, although Auburn and Alabama have been the teams that are mentioned the most when Beaman talks about top schools. I would also throw Tennessee in the mix. Beaman has indicated that he expects to see FSU late in the spring, but there's still a good amount of work to do here.
Three-star Dinellson Exume of Miami
This is yet another South Florida prospect that Florida State has kept tabs on. I would consider him in the next wave of prospects for FSU at the defensive end position though. I expect the Seminoles to check him out in practice in May.
DE Elias Williams of Hudson
This recruitment has a similar feel to Exume in that FSU is spending more time developing a relationship with him before making that big push. They will likely see both Exume and Williams in the spring before deciding where they fit on their board despite already offering both of these prospects.
**Final thoughts on the DE board**
This is a strong group of pass-rushers overall. It's pretty clear that Pickett, Stephenson and McCray are the really coveted guys here. That isn't to say the others aren't, but these are the ones where I feel there is a legit shot for the 'Noles.
***Discuss this article with FSU fans on the Premium Recruiting Board.***
The post Florida State Defensive End Hot Board: Seminoles making strides with several pass-rushers appeared first on On3.