Former Oregon forward Sedona Prince announces transfer to TCU
3 min read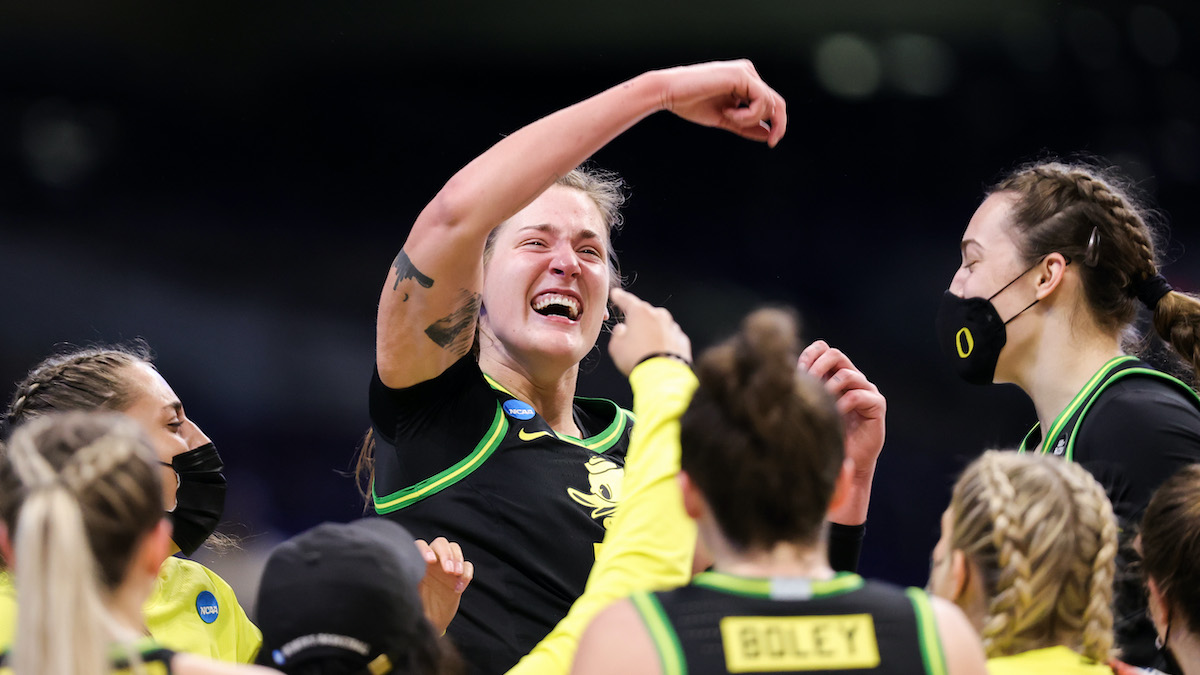 Former Oregon forward Sedona Prince, who made a big splash when she fought for a more equitable NCAA women's basketball tournament, made another big splash when she announced she would not be going pro but instead entering the transfer portal. And now she's found her destination: TCU.
Prince played in 30 games for Oregon in 2021-22, averaging 9.3 points per game. She had season-ending surgery in late October of 2022, effectively ending her 2022-23 season before it started.
Originally from Texas, Prince captioned her Instagram post announcing her transfer with a simple message: "Coming home."
Prince is also a star of the NIL era, using her platform to build a strong portfolio. She's No. 84 in the On3 NIL 100 with her $528k valuation and the holds the sixth highest valuation of any women's basketball player.
According to On3 sports business reporter Pete Nakos, Prince is one of the main drivers behind the massive growth in popularity for women's college basketball.
"Women's basketball is on the rise — last weekend's national title game brought in a record 9.9 million viewers. Arguably, Sedona has fast-forwarded the game's popularity. She used her social media during the 2021 NCAA tournament to show inequalities between the men's and women's game. That moment made her a social advocate. And thanks to NIL becoming legal a few months after March Madness, she was able to profit. She signed partnerships with Taco Bell, Dick's Sporting Goods and won the inaugural NIL Summit's Female Athlete of the Year. Her return is a win for both the sport and NIL," Nakos said.
Now Prince can spend another year in women's college hoops, growing her NIL profile and a TCU women's basketball program that just hired a new coach.
Transfer portal background information
The NCAA Transfer Portal, which covers every NCAA sport at the Division I, II and III levels, is a private database with names of student-athletes who wish to transfer. It is not accessible to the public.
The process of entering the portal is done through a school's compliance office. Once a player provides written notification of an intent to transfer, the office enters the player's name in the database and everything is off and running. The compliance office has 48 hours to comply with the player's request and that request cannot be refused.
Once a player's name shows up in the portal, other schools can contact the player. Players can change their minds at any point and withdraw from the portal. However, once a player enters the portal, the current scholarship no longer has to be honored. In other words, if a player enters the portal but decides to stay, the school is not obligated to provide a scholarship anymore.
The database is a normal database, sortable by a variety of topics, including (of course) sport and name. A player's individual entry includes basic details such as contact info, whether the player was on scholarship and whether the player is transferring as a graduate student.
A player can ask that a "do not contact" tag be placed on the report. In those instances, the players don't want to be contacted by schools unless they've initiated the communication.
The portal has been around since Oct. 15, 2018 and the new calendar cycle within the portal begins each August. For example, the 2021-22 cycle started Aug. 1. During the 2020-21 cycle, 2,626 FBS football players entered the transfer portal (including walk-ons). That comes after 1,681 entered during the 2019-20 cycle and 1,709 during the abbreviated 2018-19 cycle. In comparison, 1,833 Division I basketball players entered the portal during the 2020-21 cycle after totals of 1,020 in 2019-20 and 1,063 in 2018-19.
The post Former Oregon forward Sedona Prince announces transfer to TCU appeared first on On3.