Four freshmen who flashed with impressive spring-game performance
3 min read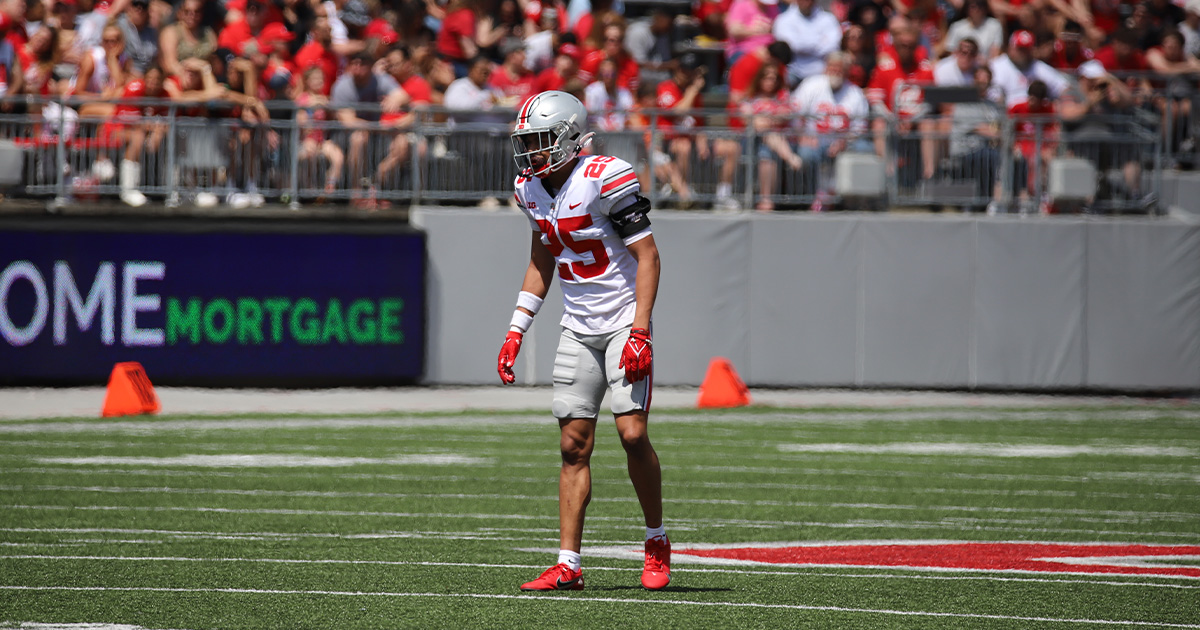 COLUMBUS — Ohio State saw flashes of what could be Saturday at the spring game.
Some of the Buckeyes early-enrollee freshmen were the stars of the Buckeyes spring game in front of more than 75,000 people. Two freshman receivers scored touchdowns and plenty of others made the most of their playing debut inside the Horseshoe.
Lettermen Row is breaking down four freshmen who caught our eyes at the spring game on Saturday afternoon. And we're taking stock of the Buckeyes youngsters who can use the spring game performance as a springboard into summer workouts.
WR Carnell Tate
Let's begin with the obvious answer here. Freshman Carnell Tate dazzled all spring as a true freshman wide receiver, and he ended his first set of Buckeyes practice periods with an impressive day at the spring game. Tate caught three passes for 45 yards and an incredible 37-yard touchdown catch from Kyle McCord on the first play of the fourth quarter. Of course, the Buckeyes were without three of their top four receivers this spring, so Tate took reps with the first-team and second-team offense on Saturday and throughout the last six weeks. But he impressed in those roles, and he is already making the push for playing time this fall. His spring game performance was another indicator of that.
CB Jermaine Mathews
One of the stories of the spring belonged to the secondary, where the Buckeyes feel they made major strides, especially at cornerback. Led by Denzel Burke and Jordan Hancock, Ohio State is confident that its cornerbacks will be much better than they were last year. Five-star prospect and early enrollee Jermaine Mathews is among the young cornerbacks making a push for playing time early in his career, and he had flashes in the spring game. Mathews broke up a pass and was active in pass coverage during his Horseshoe debut. He set himself up for a pivotal summer after a slow start to his spring. Now he has a chance to use the summer as a springboard into training camp — and give Ohio State depth at cornerback.
WR Noah Rogers
Another early-enrollee on the list of impressive freshmen: Noah Rogers joins Carnell Tate near the top. The five-star receiver from Rolesville, North Carolina, had one of the best moments of the spring game, catching a pass over the middle, breaking three tackles and scampering 57 yards for a touchdown on one of his three catches. Rogers has shown why he was a five-star player according to On3 throughout the spring, and it was on full display for more than 75,000 people to see inside the Horseshoe. Yes, Ohio State has plenty of talent at wide receiver. But Rogers can creep up the depth chart with more impact plays like he had Saturday. It may not happen immediately, but he is a name to watch moving forward.
SAF Malik Hartford
Maybe this one is more about the entire body of work this spring instead of the spring game, but Malik Hartford's name keeps coming up in conversations as a freshman to know. The Lakota West (Cincinnati) product plays much bigger than his current size, and he is working hard to continue adding weight and bulking up. He nearly grabbed an interception on the final play of the spring game from his deep safety position, another example of him making plays. Hartford lost his black stripe this spring and has already shown he belongs with the Buckeyes. This summer will be a big one for Hartford, who could be in line for a special teams role as a true freshman.
The post Four freshmen who flashed with impressive spring-game performance appeared first on On3.