Four-star QB Jake Merklinger talks weekend on Rocky Top spent with Josh Heupel, Joey Halzle
3 min read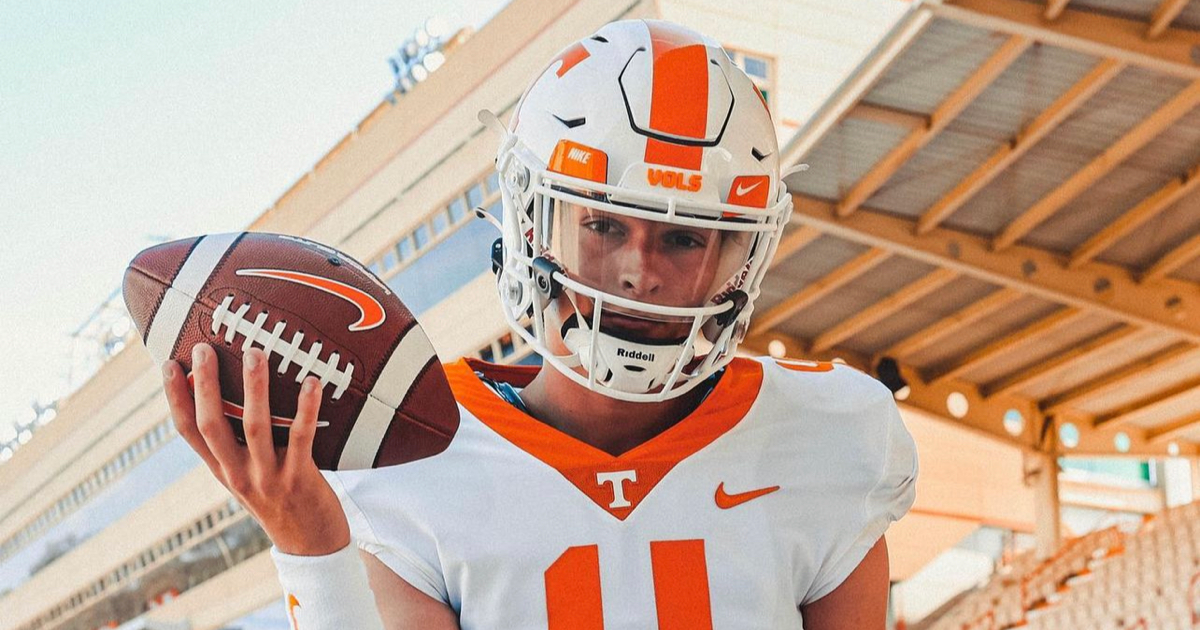 2024 four-star Calvary Day School (Ga.) quarterback Jake Merklinger made his way to Knoxville for a multi-day unofficial visit with the Vols. Following the trip, Merklinger discussed the "amazing" visit, his growing relationship with the Tennessee staff and more with Volquest.
Merklinger arrived to Knoxville on Friday and took in the baseball game against Texas A&M. He then spent Saturday watching Tennessee go through position meetings, practice and spending time with the coaches. Overall, the weekend went well for the Peach State signal-caller.
"Just the quality time that I got to spend with the people at Tennessee," Merklinger said of what made the weekend great. "Just the staff at Tennessee and getting to spend a lot of time with the coaches and being around the players, it was an amazing weekend."
The time spent with Heupel and Halzle was certainly a highlight for Merklinger, as he continues to have a strong rapport with the duo.
"It was just really genuine," Merklinger said of the time spent with Josh Heupel and Joey Halzle. "From talking about ball to life to my prom coming up this weekend. It was just really fun with them. Ending the day at Coach Heupel's house (on Saturday) was really sweet. That was a lot of fun to do."
Merklinger enjoyed taking in practice on Saturday morning as well as. He continues to see a lot of opportunity inside of the Tennessee offense.
"Just how efficient it all is," Merklinger said on what stood out about Tennessee's practice. "They go so fast, but they are still able to get so much done. Tennessee's offense I think is truly amazing, obviously. It is really fast, but it is really successful. I just feel like it would be a lot of fun to play in."
Merklinger paid attention to how Halzle coached his position and also keyed in on his new role as the offensive coordinator. Merklinger was excited when Halzle was hired as the offensive coordinator
"I think he is going to be a really, really good coordinator," Merklinger said of Halzle. "I think he is really personable and really genuine."
Merklinger is not sure of what is next for him at this point. He will return home with family and decide on if he will take more visits or start working towards a decision. As he does, the process remains the same for him, as he has to make sure he finds the right feel for himself.
"A place where I feel like it is family," Merklinger said of this. "A place where I can find that family feeling and a place that I can feel like is a home away from home."
Merklinger is currently rated as the nation's 66th overall prospect, seventh-best quarterback, and ninth-overall prospect from the state of Georgia in the 2024 recruiting class, according to the On3 Industry rankings. On3 rates Merklinger as the nation's 66th overall prospect, sixth-best quarterback, and twelfth-overall prospect from the state of Georgia in the 2024 recruiting class.
Jake Merklinger's On3 High School Scouting Summary
"Accurate, mobile passer with a strong feel for the game early on in his high school career. Among the more accurate top quarterbacks in the 2024 cycle, completing over 70 percent of his passes as a sophomore. Comfortable navigating the pocket. Sees the field well, finding open receivers while under pressure. Shows the ability to quickly react and escape from pass rushers. Functional mobility both in and out of the pocket is among the best among top 2024 quarterbacks at this juncture. Can pick up chunks of yards with his legs on designed runs and scrambles. Has shown a good arm to this point, but can continue improving his velocity as he gets stronger, in addition to tightening his release. A multi-sport athlete who also plays basketball and lacrosse."
The post Four-star QB Jake Merklinger talks weekend on Rocky Top spent with Josh Heupel, Joey Halzle appeared first on On3.