Four-star WR Chance Robinson commits to Miami, becomes Hurricanes' first receiver pledge in 2024 class
3 min read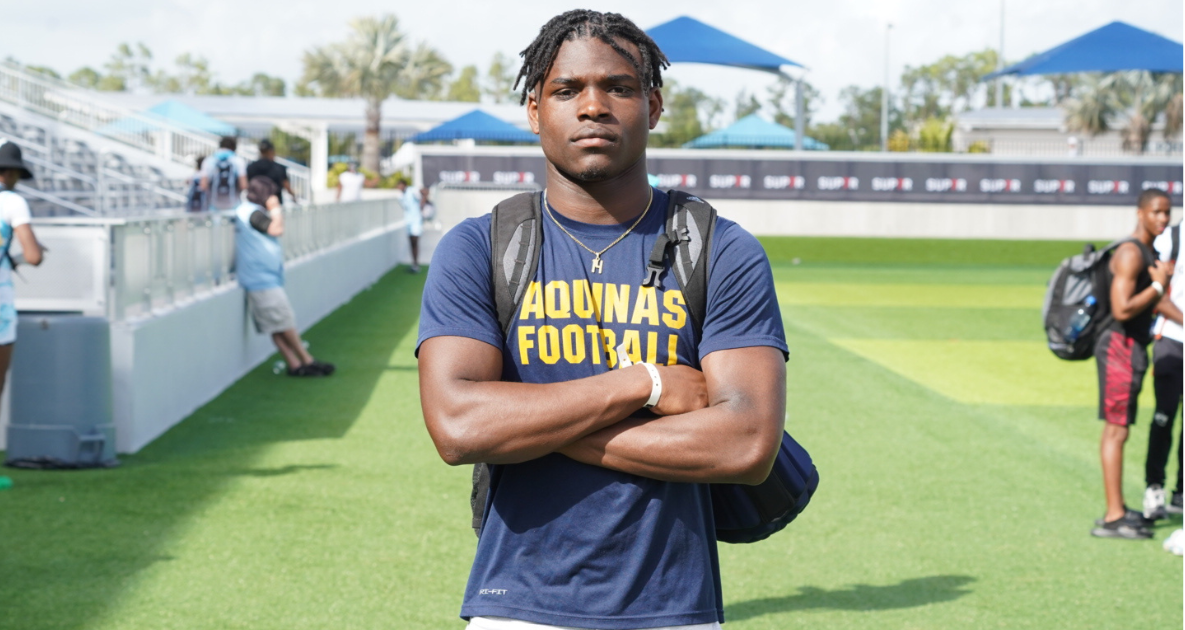 Fort Lauderdale (Fla.) St. Thomas Aquinas four-star receiver Chance Robinson has become Miami's first receiver commit in the 2024 class.
Robinson, the No. 150 overall prospect in the On300 and No. 25 receiver in the class, has been a priority Hurricanes target throughout his recruitment and one of the elite South Florida talents in this year's recruiting cycle. He announced his commitment on Twitter Friday night while attending Miami's spring game.
Robinson previously said playing for the Hurricanes would be a "dream come true," and Miami's coaching staff told the four-star prospect they "need dogs like him" as they continue to rebuild the Hurricanes. 
"They treated us like they needed us here," Robinson told CaneSport prior to his commitment. "It's just different from any other college I've been to. That's big to me, and that's everything you look for in a program. …It's honestly just the talk and the bond. I've been around a lot of these coaches for a long time throughout my lifetime. It's just great here. The conversations we have I've never had with any other colleges. It's just been good."
The Canes had been the On3 Recruiting Prediction Machine's leader for Robinson for much of the spring, although he also took visits to Auburn, Georgia and Tennessee. Robinson has now visited Miami six total times including his spring game visit.
The 6-foot-1, 180-pound receiver had also set official visits set to Penn State and Auburn this summer. He previously said he feels he can make a trip to Coral Gables whenever he wants with campus being within an hour's drive and wanted to use his five unofficial visits to see schools not within driving distance.
Robinson is now Miami's second position commit of the class after three-star Georgia quarterback Judd Anderson pledged himself to the Canes in early April. He is Miami's third 2024 commit overall, also joining three-star kicker Abram Murray, who has been committed since last summer. He is additionally the highest-rated of Miami's three commits.
CaneSport's Take
The timing of Robinson's commitment came as somewhat of a surprise. He previously told CaneSport during a March visit that he wasn't close to committing, but during early and mid-April he began posting tweets suggesting a commitment may be on the horizon (he tweeted out an hourglass emoji and a checkered flag emoji in the span of a few days).
Regardless, the weight of Robinson's commitment can't be overstated. His commitment should be one that gets the commitment ball rolling in Miami's 2024 class now that Miami (Fla.) Central four-star ATH Lawayne McCoy has committed to Florida State, whom the Canes were previously hoping to make the first position pledge in the class.
Miami still needs to land Hollywood (Fla.) Chaminade-Madonna four-star receiver Joshisa Trader, but Robinson's commitment should provide both Canes fans and the coaching staff major relief knowing the program snagged one of the top prospects in South Florida.
The post Four-star WR Chance Robinson commits to Miami, becomes Hurricanes' first receiver pledge in 2024 class appeared first on On3.