Four takeaways: South Carolina baseball's 2-1 week
3 min read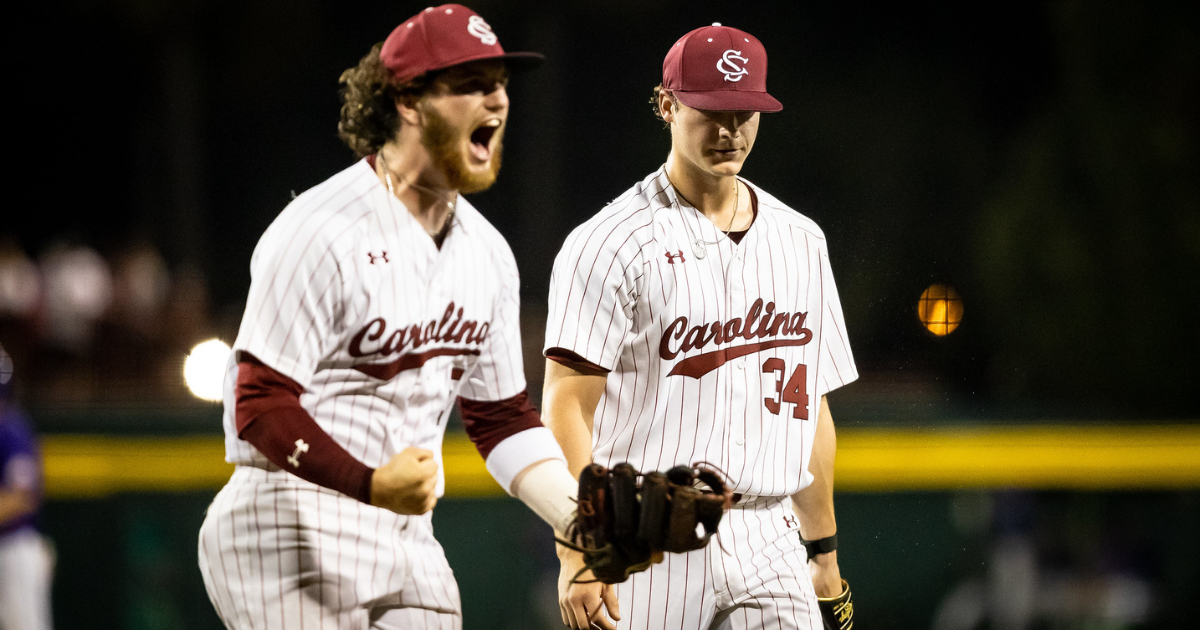 South Carolina navigated arguably its hardest week of the season to date well, exiting with a pair of wins over three games. 
The Gamecocks notched a midweek win over North Carolina and split a weather-affected series against No. 1 LSU. 
Before the No. 5/6 Gamecocks get going Tuesday and then at Vanderbilt, here's a look at what we learned this week.
[Become an NIL supporter of your South Carolina Gamecocks!]
This was an insanely successful week
There's no doubt the way Friday ended and Saturday's rubber match getting rained out leaves a bad taste in some's mouths, but it shouldn't take away from what was a highly productive week. 
Yes, the Gamecocks (28-4, 9-2 SEC) watched a series win over the No. 1 team in the country slip away late but still ended the week 2-1 in three games over top-15 teams. South Carolina got to starter Paul Skenes early, hitting more home runs off of him than the other 160 batters he faced prior to Thursday. 
South Carolina has two massively tough tests still to come at No. 4 Vandy and at home against No. 2 Florida, but the Gamecocks are still top five in the RPI and a top six team in every poll. 
So regardless of the series ending in a tie, this was a statement week for South Carolina showing it can go toe to toe with other Omaha-caliber teams.  
Sanders, pair of bullpen arms excel
Lightning ended a much-anticipated Skenes-Sanders matchup after just three innings, but it was a really good bounce-back start for Sanders after a week off.
Sanders finished with just one run (unearned) allowed over three-plus innings with just two hits allowed against one of the best offenses in the country. One really good sign was the no walks and four punch-outs. 
It certainly is a positive sign heading up to Nashville this weekend along with strong performances from James Hicks and Chris Veach. 
[Subscribe for free to Gamecock Central's YouTube page!]
Hicks started the game after the weather delay and immediately got a double play and a flyout to end the inning before four innings of two-run ball. He'd strike out three to no walks with LSU hitting just .154 against him. 
Veach was electric in three shutout innings, pitching around three walks with five of his nine outs recorded coming via the strikeout.
A talented bullpen faltered late against a really good LSU offense, but Hicks and Veach are certainly supplanting themselves as the top two options out of the pen. 
Have to capitalize on opportunities
It's not rocket science that South Carolina didn't take advantage of opportunities late against LSU Friday and lost. The Gamecocks did Thursday night, and the win-loss record shows. 
[Get South Carolina baseball news and analysis via email]
South Carolina loaded the bases twice over two innings–the sixth and seventh–with just one run to show for it. LSU loaded the bases in the eighth and took advantage in a comeback win.
South Carolina hit 9-for-33 (.273) with runners on compared to LSU's 7-for-33 (.212) but LSU had the same number of hits with runners in scoring position (4) in 11 fewer at-bats. The Gamecocks were 4-for-23 while LSU was 4-for-12. 
The Gamecocks are great about getting on base and when the big hits happen, they tend to win. 
Ethan Petry is a top-five player right now in baseball
It's really hard to ignore what freshman Ethan Petry is doing right now, and he is making a case as the league's player of the year right now along with a few other guys like Dylan Crews, Jac Caglianone and Wyatt Langford. 
Against top-ranked LSU, Petry became the first Gamecock ever to drive in eight against an SEC foe en route to a weekend where he went 3-for-6 with three runs scored, nine driven in, a pair of homers (one grand slam), a walk, two hit by pitches and a sac fly. He struck out once. 
In 11 SEC games (44 at-bats) he's slashing .477/.538/1.114 with nine homers, 27 RBI and three walks to 12 strikeouts. There will be weeks where he slows down, but his ascension to one of the best players in the SEC is remarkable. 
The post Four takeaways: South Carolina baseball's 2-1 week appeared first on On3.