Freshman QB Brock Glenn shines; observations, notes from Florida State's Tuesday practice
4 min read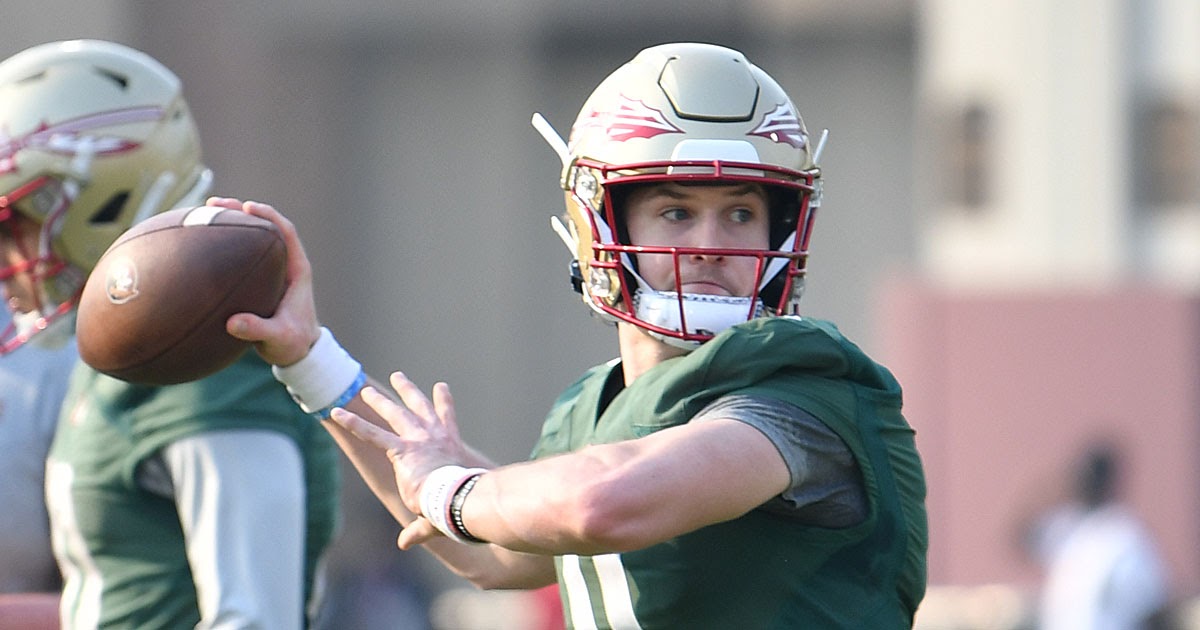 Florida State football coach Mike Norvell mentioned after practice on Tuesday that he thought it was perhaps Brock Glenn's best day of the spring.
The true freshman quarterback wasn't the best player at his position, of course. That honor still went to Jordan Travis. But Glenn did have some impressive moments, including a terrific 20-yard TD pass in 7-on-7 drills to highlight his afternoon. 
All in all, the offense would have had a very good day if not for a bunch of dropped passes. 
The quarterbacks mostly made good throws against the Florida State defense, but at least seven times — including a would-be touchdown pass to tight end Markeston Douglas from Travis — the balls were dropped. 
Douglas had two. 
Vandrevious Jacobs also had two, but the true freshman receiver did also have two apparent touchdowns in 7-on-7 — both on underneath throws from redshirt freshman QB A.J. Duffy. 
As Norvell mentioned after practice, several receivers were limited on Tuesday, so it wasn't a full arsenal of weapons at the disposal of the Florida State quarterbacks. And there still were some good moments.
Deuce Spann had a nice catch on a back-shoulder ball against Renardo Green in 11-on-11. 
Jaheim Bell had a long catch against Shyheim Brown in 1-on-1s, but Bell also appeared to drop a terrific pass over the middle from Travis in 11-on-11 later in practice. 
Douglas had a great one-handed, bobbling catch over safety Omarion Cooper, but Cooper than answered back with an interception in 7-on-7 red-zone drills. Kalen Deloach and Azareye'h Thomas deflected the pass up in the air, and Cooper dove and caught it in the end zone. 
Thomas had terrific coverage on a pass aimed at freshman Hykeem Williams, and he also broke up a pass intended for Kentron Poitier in 7-on-7 drills. But on the next play, Travis hit Poitier for a touchdown against Thomas. 
Poitier also had two drops on the day, but he had a 35-yard catch against Fentrell Cypress in the two-minute drill at the end of practice. 
Poiiter and Jacobs were the two best pass-catchers on the day for the Seminoles, but again, they also didn't catch everything they should have. 
"We had too many drops," Norvell said afterward. 
As for defensive bright spots on Tuesday, freshman linebacker DeMarco Ward had two really good run fits late in practice, one on a cutback from Rodney Hill and another that went for a tackle for loss. 
Green was once again outstanding for most of the day, allowing just the one completion to Spann in team drills. 
Glenn and Travis both got chances to lead the two-minute offense at the end of practice. And both worked the offense across midfield. But Travis' drive came up short at the 30, and transfer kicker Tyler Keltner's 47-yard attempt was wide right. And it might not have been long enough anyway.
Glenn's drive, which included a nice find of Hill in the middle of the field as well as a 15-yard pass-interference penalty on the cornerback trying to cover Jacobs, ended when his Hail Mary attempt was broken up by Cooper in the end zone.
Keltner also missed a 52-yard attempt during the special-teams portion of practice. It was hit poorly and barely made it halfway into the end zone. 
Meanwhile, returning starter Ryan Fitzgerald's 50-yard attempt was good. 
FROM THE TRENCHES (by Tom Lang)
Across either side of the line of scrimmage, tackle Bless Harris was Florida State's best trench player Tuesday. Harris won reps in 11-on-11 work and combo drills against defensive ends Jared Verse and Byron Turner. Harris then took more than his share of individual reps.
By the end of the linemen-only drills, Harris had Verse's full attention. The Seminoles' top pass-rusher bounced back and took control of a couple of one-on-one and group matchups.
Other notes:
One of the best battles of the day was a clash between defensive tackle Darrell Jackson and offensive lineman Jeremiah Byers. The two were locked in a force-filled stalemate before Jackson eventually wore the UTEP-transfer down.
Defensive tackle Ayobami Tifase was among the two biggest standouts on the defensive line. Tifase took over a pair of reps against guard Bryson Estes early on, then got the better of guard Thomas Shrader in individual work as well. When he gets going, Tifase looks shot out of a cannon coming off the ball.
Byers turned in one of the best individual wins of the day when he handled Patrick Payton in 1-on-1 work.
Though he looked solid in 11-on-11 drills, guard D'Mitri Emmanuel had a rough go of it against defensive tackle Joshua Farmer in 1-on-1s. A mainstay battle of practice in 2022, the Emmanuel-Farmer competitions look to be set for another seven months after the NCAA ruled Emmanuel eligible for the 2023 season. Read our Ira Schoffel's impact analysis on Emmanuel' return to Florida State here.
Freshman tackle Lucas Simmons had a solid day, winning reps against Byron Turner in 11-on-11 and individual drills before locking up freshman defensive end Lamont Green Jr. in one-on-one work.
UNDERCARD RACE: Though it won't get the billing that Norvell's pre-practice races do, Byers was spotted sprinting with an offensive staff member from one side of the practice fields to the opposite end zone ahead of head-to-head drills. The race was a dead heat and too close to call.
Talk about this story with other die-hard FSU football fans on the Tribal Council.
The post Freshman QB Brock Glenn shines; observations, notes from Florida State's Tuesday practice appeared first on On3.