Friday 5: Why Marcus Freeman is not in a rush to name Notre Dame starting QB
6 min read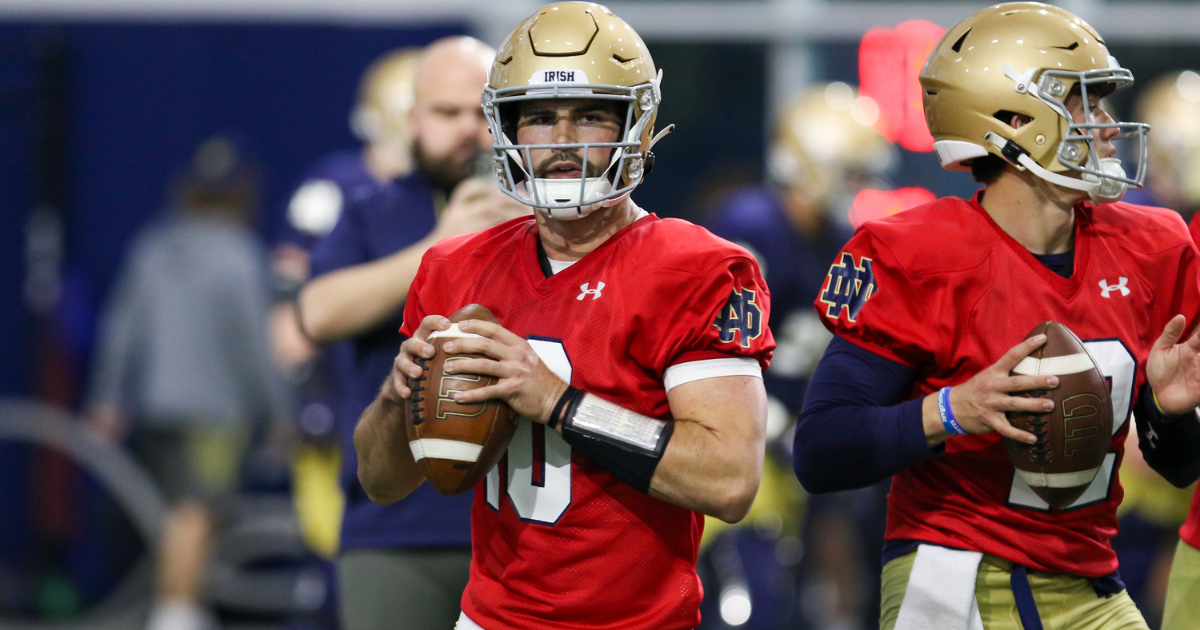 Marcus Freeman describing Notre Dame quarterback Sam Hartman as "like a freshman" was akin to a Fortune 500 CEO professing his newest C-suite hire as "like an entry-level analyst." Sure, Hartman is new to the program, just like some new COO might have been hired from another company. He hasn't yet been named the starter either.
Notre Dame is easing him into things, as evidenced by Tyler Buchner's place at the front of a stretching line and Hartman's somewhere behind the first group.
"It's new," Freeman said. "This is his sixth spring ball, but you're at a new place, a new system, still figuring out where to go, what a drill is called. You can see him at times saying, 'What's the drill, what are we doing, how many plays?'"
Hartman, though, is a soon-to-be 24-year-old who holds the ACC career touchdown pass record and has thrown for 12,967 yards. He's a former Wake Forest captain. An extensive résumé and accomplishments help settle a transfer quarterback in (or a new C-suite member), and often before too long. Freeman didn't discuss Hartman in the way that he did because he doubts Hartman, but to illustrate he's not in any rush to bring the quarterback situation to a resolution. In his own words, nobody is preparing to win a game this spring. That will come in August.
The five periods of Wednesday's practice open to media did not provide much room for judging Hartman against the rest of the quarterbacks. But Hartman did not look out of place. Notre Dame later released clips of practice that included a contested-catch deep ball touchdown pass from him to Deion Colzie in one-on-ones.
"He has natural ability when he throws the ball and plays the game of football," Freeman said. "You'll see the leadership traits he possesses grow."
A secondary piece of bringing in Hartman was his one season of eligibility. He's here for 2023 and 2023 only. Buchner could succeed him in 2024 with two remaining seasons of his own, but to do so, he must be better than he was in 2022. A year around Hartman can help. Right now, Freeman seems more focused on the improvement of the whole room (including Buchner) than formally announcing a starter. Spring practice is best suited for it.
"I'm excited to see this competition as we move forward over 14 practices, not to see who becomes the guy, but how much better it makes the room," Freeman said.
Inject Freeman with truth serum, though, and he would likely admit he knows who the guy is and where this will end: with Hartman taking the snaps Aug. 26 in Dublin (and ideally the 11 games after that). But he's in no rush to get there.
2. One early good sign with Hartman
Hartman's fast acclimation became the most pressing spring storyline to follow as soon as Tommy Rees left for Alabama. It didn't become a concern, but it was major change he didn't expect.
The more plays like the Colzie touchdown he produces, the better the acclimation looks. Placing a back-shoulder throw for a touchdown over potential All-American Benjamin Morrison on the first day is the highlight everyone on the offensive staff and outside the Gug should want to see.
Hartman's addition made grand visions for the Notre Dame offense reasonable, not a reach. Seeing big-time throws in practice fuels the optimism. And Morrison allowing a few contested catches isn't reason to panic over him.
3. Already foreshadowing?
Brandyn Hillman being released from his letter of intent and Justin Walters' medical retirement left Notre Dame with six safeties, including two freshmen and two super seniors. Freshman Adon Shuler is out for the spring after having shoulder surgery. Grad senior Thomas Harper is limited due to his own shoulder procedure. It's not a deep position for 2023 and unclear for 2024.
If there's one spot that could use a transfer after the spring, it's safety. Maybe that's a grad transfer for an immediate boost if the current group's progress isn't sufficient. Maybe it's someone who's more likely to help in 2024 and beyond.
"We have to look at our safeties room and say, 'After spring, do we need to get a transfer for the depth of the room?' Freeman said. "That's what 15 practices is going to be able to tell us. That's the beauty of this thing. You're not preparing to win a game on April 22, but really, you're saying where can you look at your roster and positions and say, 'Do we need an addition here?'"
A head coach talking about the possibility for a transfer after one practice feels like a sign he's already close to knowing the answer.
4. Dialed into the defensive line
I previously highlighted the defensive line as the position group with the most to prove this spring. It lost a star and two steady starters. It's lighter than normal on returning rotation players to slide into the starting lineup, which is one reason Javontae Jean-Baptiste arrived via the portal. (He's playing field end, Freeman said).
Freeman is watching it closely too.
"I'm excited for the development of that room," Freeman said.
The question marks have not deterred him from expecting an 8-to-10-man rotation. Eight is the minimum, he said. It could be as many as 10. For either to happen, a lot of limited-experience or entirely inexperienced players have to jump either into the rotation or into a starting job.
Notre Dame has two interior linemen with more than 800 career snaps (Rylie Mills and Howard Cross III). Tackle Gabriel Rubio has only 184, but played at least 20 snaps in four of the final seven games. Defensive end Nana Osafo-Mensah has played 513 career snaps, and Jean-Baptiste had 929 at Ohio State. Jordan Botelho has 271.
That's six returning rotation players or starters. But it's zero starting defensive ends. Botelho started the Gator Bowl, but before that, logged just 79 snaps all year. He was not regularly in the rotation from 2020-22. Jean-Baptiste was not a starter at Ohio State. Nobody else has more than 50 career snaps.
To reach an eight-man rotation, Notre Dame needs two of the previously unused defensive linemen to be contributors. To get to 10, the Irish will require four emergent youngsters. Either way, Notre Dame must see Botelho prove his Gator Bowl performance was no mirage and Jean-Baptiste adjust smoothly. At minimum, they'll need a backup vyper behind Botelho and a fourth tackle.
Notre Dame will name defensive "starters" for every practice, meaning the first-team unit might not be too similar through the course of spring.
"It's going to be cool to see guys who might be twos or two-and-a-halves going with the ones," Freeman said.
The more twos and 2.5s earn starting reps, the better Notre Dame would likely feel about its defensive line depth. Botelho consistently being a starter is important for its ceiling. Freeman knows replacing Isaiah Foskey's production is a group effort. But if Notre Dame wants to reach 2.92 sacks per game again, it needs a disruptive edge presence. The best bet is Botelho.
5. Chris Tyree's move
Chris Tyree averaged 9.5 touches per game in 2022 as a running back. A (not yet permanent) shift to slot receiver likely means that number decreases, simply because a majority of his touches will be catches as opposed to 80 percent rushes. He's also not likely to play 50-plus snaps per game if Notre Dame's receivers ascend like they're expected to this spring.
But seven or eight touches coming mostly from catches in space feels like a better overall deployment of his skill set than 10 to 12 that are mostly run plays. Breaking tackles and tacking contact was not a strength. Straight-line speed and vision in the open field is. Slot receiver caters to it better than running back.
"He has showed in his skill set he can be a wide receiver at this level," Freeman said.
Notre Dame has sufficient running back talent to withstand moving him.
The post Friday 5: Why Marcus Freeman is not in a rush to name Notre Dame starting QB appeared first on On3.