Georgia's upcoming official visits this weekend — What To Know
4 min read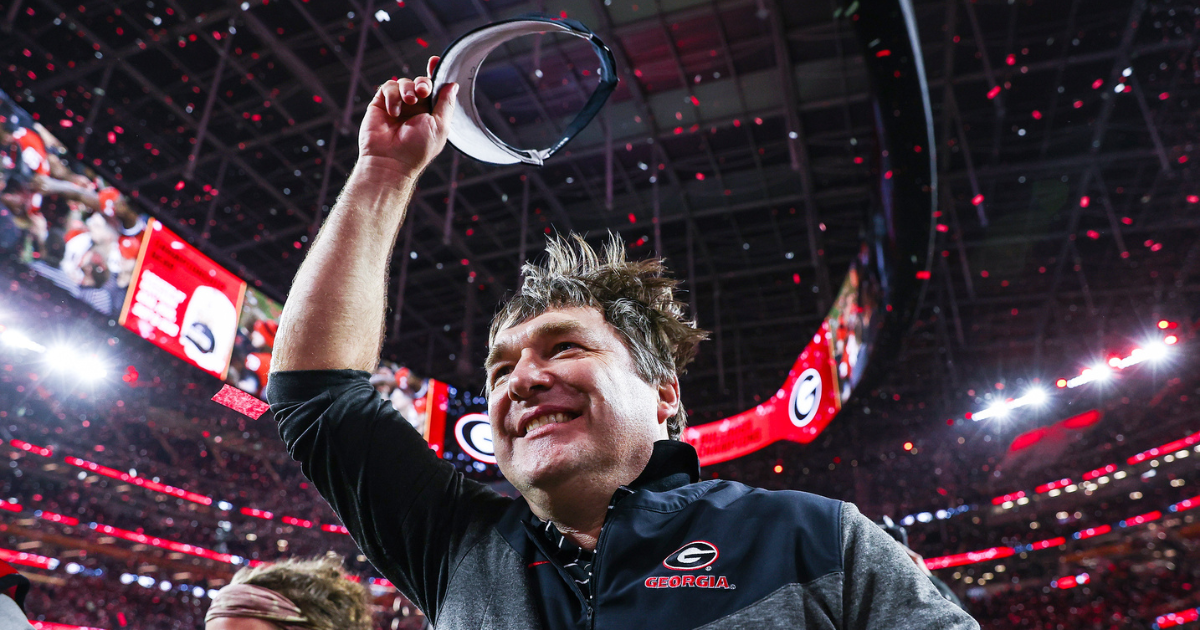 Georgia will hold its annual scavenger hunt this weekend, and it's turned into a star-studded affair through the years, with some of the nation's best descending on Athens for quality time with the staff.
This year, however, has an extra strong feel to it, as the Dawgs are expected to be playing host to the nation's top prospect, Dylan Raiola (more on him HERE), as well as some key official visitors.
Let's take a look at where things stand with those official visitors ahead of the trek.
While many fans are drooling over the prospect of Raiola's visit, there seems to be a fair contingent who are equally excited about the prospect of hosting the nation's No. 1 wide receiver and No. 2 overall prospect in the nation in Smith. 
Committed to Ohio State since mid-December, the 6-foot-3, 198-pound pass catcher has been electric on the 7-on-7 circuit this spring, and he's also managed to make some time for the Dawgs in the process.
Smith took a mid-March trip to Athens during a 7-on-7 stop in the Atlanta area, and he walked away impressed with the offerings of the Bulldogs.
"It was a great visit overall," Smith told On3's Jeremy Johnson following the trip. "I wanted to see more things and meet coach Kirby (Smart) too, but he was on vacation… Georgia is a cool program. They've won two national championships. How can you not like Georgia? They have a great defense. They have a spread offense that can pass the ball and run the ball. They have balance."
Overcoming the Buckeyes for a receiver of this caliber could prove difficult, as wide receivers coach Brian Hartline has established himself as the premier name at the spot in terms of NFL development and draft success. Still, Georgia has a hat in the ring and will play host for the second time in three months this weekend. That's not a bad sign by any means.
Look for the Dawgs to go all-in on Smith, as he's one of the most coveted prospects in the cycle regardless of position. Raiola's expected presence in Athens should also give him something to think about in a big way.
Another top prospect at his position per the On300, Poe is a Texas-based big man on the interior of the offensive line, and like Smith, he made time for the Bulldogs this spring.
A stop as part of a road trip to see several schools, the Dawgs managed to set themselves apart with their approach on the practice fields. 
"The way they practice is unlike any other," Poe told DawgsHQ. "They are extremely competitive but also consistently having fun. It's top-notch."
Currently, the Bulldogs hold a single commitment on the offensive line with Cartersville's Malachi Toliver having pledged his services, but there's no doubt they're seeking to expand on the ranks with a player the caliber of Poe.
Clemson, Texas Tech, Alabama, Auburn are also in the hunt, with those official visits already locked in.
LSU and Baylor remain in the mix, as well, but Georgia will have a chance to set the bar this weekend.
Look for Stacy Searels and company to take full advantage of that opportunity, Poe is a high priority for Georgia in the 2024 cycle.
Turning the focus back in-state, Mikell checks into the On300 as the No. 56 overall prospect and No. 8 overall cornerback in those rankings.
A product of Statesboro High, he's certainly no stranger to Georgia's offerings.
Mikell has put in several visits to the Classic City, but this trip has an added air of importance given that the Dawgs will be able to strike first for a prospect who would round out what's an already outstanding defensive back class for the Bulldogs if all holds.
Currently, Georgia is a heavy favorite for his services on the On3 Recruiting Prediction Machine, with the Bulldogs given a 95.2-percent chance of landing his commitment and one pick already logged (it was from yours truly).
Tennessee, Kentucky, and South Carolina are also heavily in Mikell's ear, but so, too, is Georgia's Fran Brown.
The Bulldogs' cornerbacks coach is in constant communication with Mikell, and he'll have a chance to reinforce the bond this weekend in Athens.
Even with the class being loaded his spot, Mikell is a guy Georgia is very serious about in the cycle. Know his name if you somehow don't yet.
The post Georgia's upcoming official visits this weekend — What To Know appeared first on On3.