Gerard Parker discusses transition to offensive coordinator, identifies role
3 min read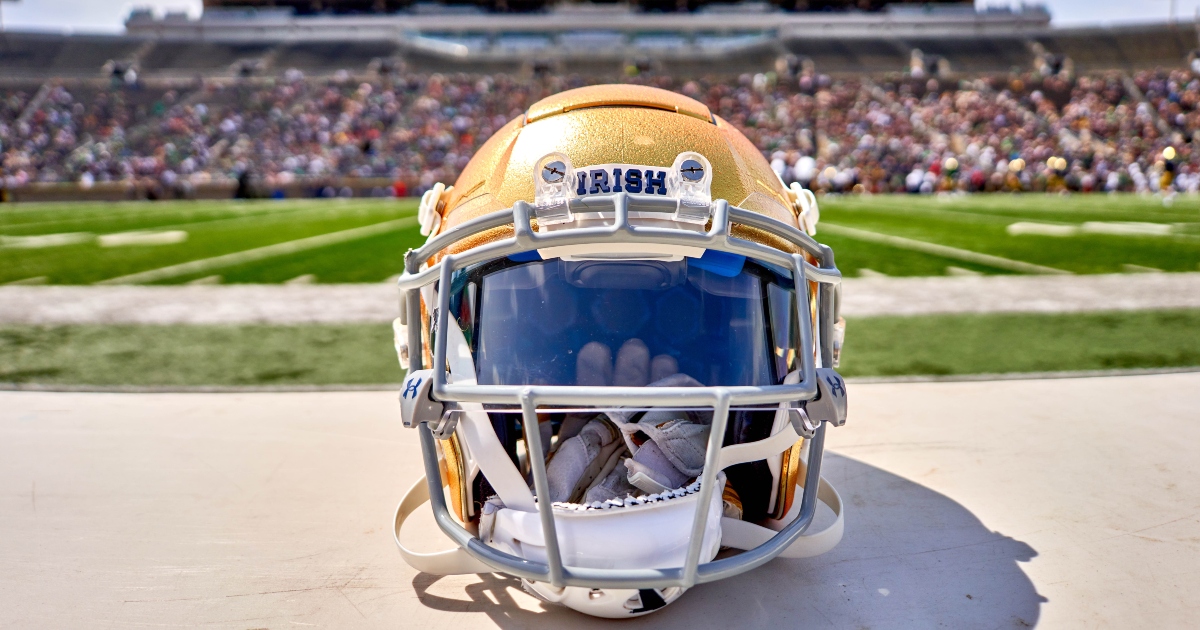 Spring practice is underway in South Bend, as Notre Dame looks to build on the foundation they built last season in their second year under head coach Marcus Freeman. The Irish will be doing so under new offensive coordinator Gerard Parker, who spoke Saturday following their spring practice about if he's been easing into his new role or looking to put a fresh stamp on the offense.
"I think this, in my opinion, I believe the older you get the more you learn, it's not about you as much you know? And I think being married, having kids, and doing this coaching thing for a while tells you that. So it's really not my stamp, it's ours, and that's not cliche I really mean it," Parker explained. "I think as you get it in and you get guys bought in and you build a staff that we've built both in our off the field guys and our on the field guys, we've got a great staff, we really do."
Parker was Notre Dame's tight ends coach last season before being promoted into his new role this season, and still only sees himself as one of many parts that will contribute to the team's overall success moving forward.
"And so my job it to just give great direction, provide leadership, and create a union that everyone feels empowered to do their jobs. So I think if anything I hope that would maybe be my stamp, otherwise I'm just a piece of it. I try to provide good direction and then from there just let these guys do their jobs and let the players do their jobs," Parker said.
Parker was also asked how important communication is in his new role, detailing the importance of flawless communication amongst his staff and players this spring and beyond.
"It's critical, I know that right, I mean it is. And messaging, I think the way we talk, our vocabulary within our position groups and as an offensive unit are critical. How we talk, how we communicate so the terminology is the same across the board allows our guys to feel the unity of our staff and back to them," Parker said. "So communicating those thoughts, our plan, and making sure everything goes flawless in our transitions on the practice field are citical, and the first three days that's on thing we've been very proud of is our transitions and our plan and guys knowing where to go has been pretty flawless at this point."
Some may wonder what the biggest difference between being a position coach and a coordinator is at the collegiate level. And Parker did just that, starting with the differences in time managing and having to stay a step ahead always.
"I think probably the biggest difference is you quickly go, and I've always talked about it, because you try to put yourself in different shoes the older you get. And I think the biggest piece for me is starting to realize that in days off, those days off you have to start thinking about what you're going to do the next day. You can't wait on a plan, you have to be out in front of everybody, because I think with good communication and a good plan people want to know exactly what's happening next. So that's the biggest thing is thinking three days ahead, five days ahead," Parker said.
Parker also touched on the differences in leadership, as he'll look to lead a Notre Dame offense that did struggled at times last season.
"And of course then with leadership there has to be a very very calculated approach to building relationships not with just the tight ends now or saying hi to guys. You want to build a full investment across the offense, let everybody know that their relationship to me and back is very important," Parker explained. "So I think just the investment in people goes up, I want these guys to know we love them, and we care about them, and we want them to do real good we also care about them and I hope they feel that. And that's been the biggest change, you have to do that with 55 guys compared to 10."
The post Gerard Parker discusses transition to offensive coordinator, identifies role appeared first on On3.