Give Me Five: 2024 prospects trending up for the Gators in April
5 min read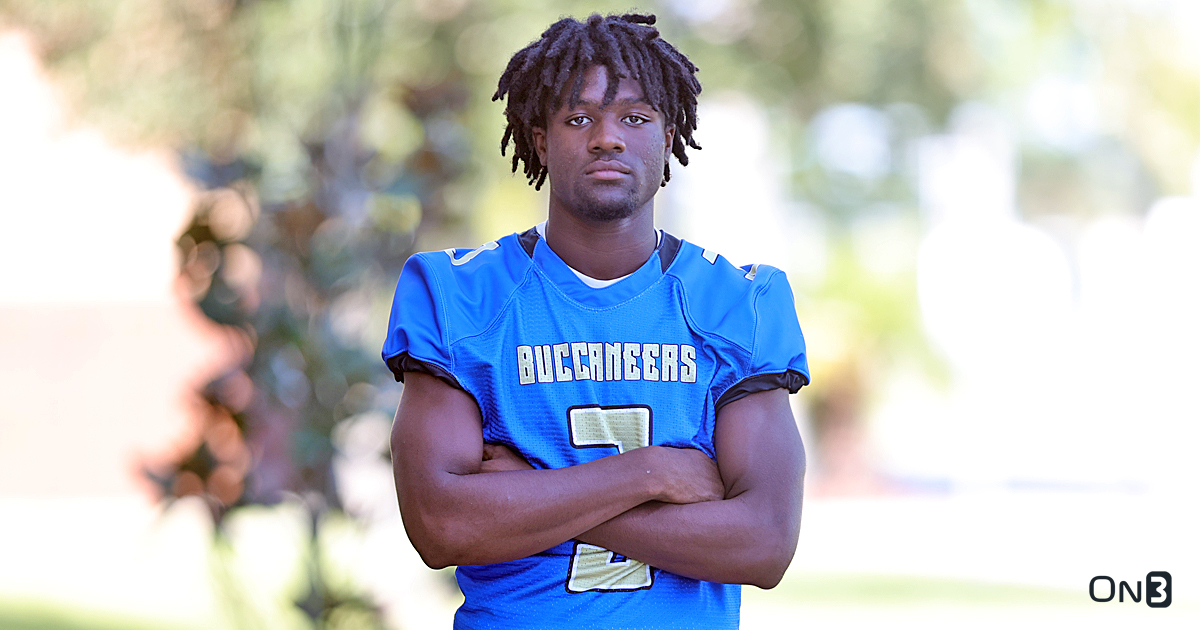 As it stands today, Florida is armed with five commits and ranks fourth in the 2024 Industry Ranking Football Team Recruiting Rankings. The highest-ranked prospect in the class is quarterback DJ Lagway; however, four of the commits are ranked inside the On300 and coveted by the nation's best.
In the latest edition of Give Me Five, Gators Online highlights five juniors who are trending up for UF.
Billy Napier's program offered in January but has made up a significant amount of ground in recent weeks. It's also worth noting that Filsaime grew up in Orlando and has family residing in the Sunshine State. Florida is a state he still calls "home."
Georgia, LSU, USC and Oregon are additional programs on Filsaime's short list; however, Florida is the school I have been hearing the most about in recent weeks. And based off recent intel, UGA is likely the Gators' biggest competition right now.
During last month's visit, Filsaime was highly impressed by Austin Armstrong and believes the Gators will flourish with him being the defensive coordinator. He is also noticing a culture shift and was intrigued by the camaraderie between the players and coaches, Several boxes were checked while he was in town.
Up next for Filsaime is a return trip to Gainesville for the Orange and Blue Game. That is scheduled for Thursday, April 13. That is a date to keep an eye on, UF fans.
Filsaime has not hinted at making an early decision, but I am hearing it's a date to monitor closely. The Gators will be rolling out the red carpet and doing everything they can to seal the deal with Filsaime.
According to On3's Recruiting Prediction Machine, the Gators are trending with odds of 85.9. That comes after I submitted a prediction for the Gators this past Friday.
As it stands today, I don't believe the four-star safety leaves the Sunshine State for college.
Florida, Florida State and UCF are those schools to monitor, while schools like Alabama, LSU, Notre Dame, Tennessee and Texas A&M have offered as well. The Gators, however, are who I'm favoring right now.
The Daytona Beach (Fla.) Mainland star has visited Florida over a handful of times, including twice this year, and is a priority for Corey Raymond. They always say to track the visits and the Gators definitely check that box. According to his profile, UF has received the most visits by a long shot.
This one is not as concrete as others, as FSU and UCF are making a strong case as well, but I believe Florida would be the choice if today was decision day.
According to On3's Recruiting Prediction Machine, UF is at the top with odds of 46.8 percent.
The West Palm Beach (Fla.) Cardinal Newman athlete was offered in January, but the Gators were immediately inserted into his top three.
Florida is also Levy's lifelong favorite school, so there was quite a bit of emotion once the offer was made. Corey Raymond is the coach heavily involved here, while Napier has made his presence felt in recent weeks as well. A return trip to campus is set for this Saturday.
The Gators are primarily recruiting Levy for cornerback but covet his versatility. They believe he could play all over the secondary. Also, this is a prospect on the rise who could unlock four-star status sooner than later.
This year, the 6-foot-1, 170-pound Levy has earned offers from over a dozen programs. Those suitors include Florida State, Mississippi State, Texas A&M, Kentucky, Louisville, Arkansas, Ole Miss, Minnesota and West Virginia.
The offer from the Seminoles is one to monitor as well. Like the Gators, they are also a part of the visit itinerary. The 2024 class features several UF-FSU battles and this could be another one of them.
The Virginia native lands on this list after we learned of a few prospects who do not have a committable offer at this time. Obviously, I like where the Gators stand with the four-star prospect, but there are others who I would have likely put in this spot. That is largely due to their very high interest in the Gators.
Circling back to Jones though, I believe UF is the hot team in his recruitment. He just wrapped up a three-day visit in Gainesville and I'm told the Gators knocked it out of the park with his family. Inside linebackers coach Jay Bateman, who is also a Virginia native, deserves most of the credit for UF's high standing.
Here is the difficult part though: There are six schools Jones has visited at least three times, including Florida. And out of that group, Penn State has played host five times, so the Gators are not the only program with several meetings already in the books.
You always have to wary of those schools in Jones' region, but outside of that area, there is no doubt the Gators are the hot program with him. I am not ready to submit a prediction, although the Gators continue to trend up after making another "big impression" on Jones' family.
Not a whole lot with Jackson; however, with Austin Armstrong now running the defense, the Gators are recruiting Jackson to play JACK, which is an edge-rushing position.
Jackson recorded 12.5 sacks and 22 tackles for loss as a junior, so that is a natural fit for him. And depending on how much he grows, this is a player who could likely play several positions on the d-line.
The 2024 prospect has already set foot on campus nearly a dozen times and most recently visited on March 25. Additional schools are getting a fair shake though, as the likes of Miami, Mississippi State, Ole Miss, Texas, Florida State, Kentucky and Georgia Tech are included in Jackson's spring visit schedule.
Jackson has yet to name a clear-cut leader, but there is no doubt the Gators are trending. Those odds, according to On3's Recruiting Prediction Machine, are sitting at 97.7 percent. Sean Spencer, Kali James and Billy Napier are among those pushing all the right buttons with the hometown product.
In addition to his mother and uncle having graduated from UF, Jackson is former teammates with Gators signee Gavin Hill. There is no doubt he is doing some recruiting as well.
Stay tuned to Gators Online.
The post Give Me Five: 2024 prospects trending up for the Gators in April appeared first on On3.