Good Morning CaneSport 3.23.22
5 min read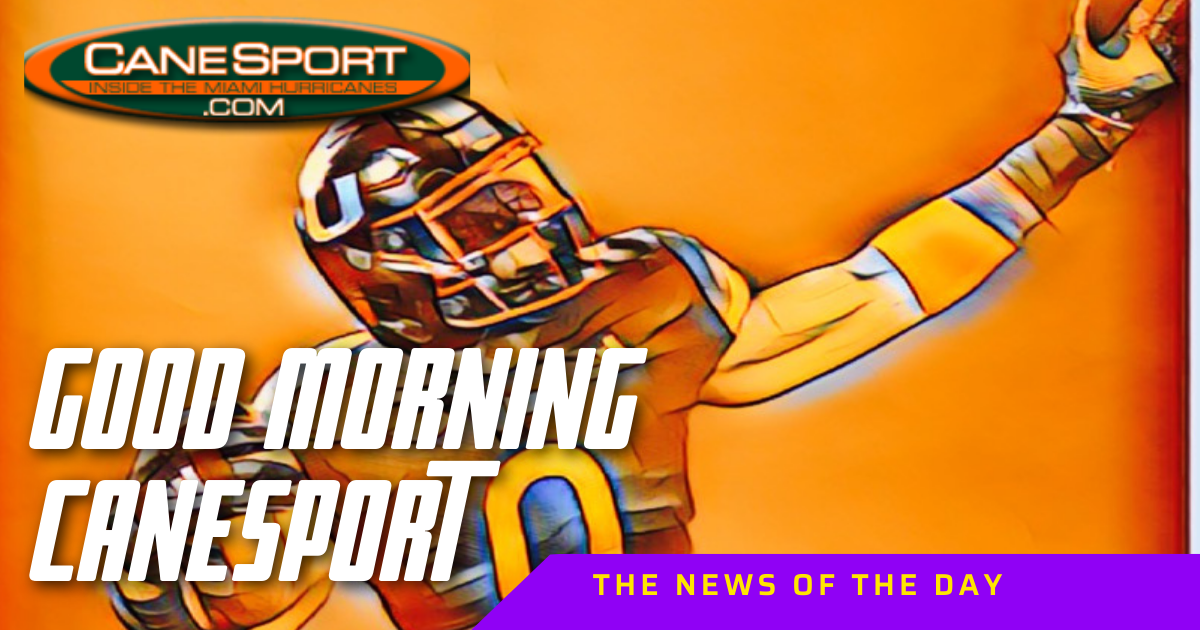 Not a subscriber? Get all of your Miami Hurricanes breaking news and in-depth analysis with a year-long CaneSport subscription for just $29.99 if you sign up before Aug. 31
FOLLOW BREAKING MIAMI HURRICANES NEWS: SIGN UP FOR THE CANESPORT NEWSLETTER
WHAT'S UP TODAY
First up this morning in your Miami Hurricanes news?
Well, from yesterday we had your updates with both the men's basketball team and women's basketball team as they departed for what they hope will be a run to the Final Four this weekend. So don't miss our content on that.
This morning?
Well we will be back on Greentree Practice Field bringing you video of the day's work and will have post-practice updates including with coach Mario Cristobal. So be sure to check back for that later this morning and early this afternoon.
To hold you over till then we have plenty of recruiting news for you.
Miami's top quarterback target in the 2024 class, Air Noland, will visit Coral Gables today for the third time overall and second time this year as his recruitment continues to heat up. See what he's saying.
First up: Miami skyrocketed up Phoenix (Ariz.) Sunnyslope three-star 2024 quarterback Luke Moga's radar after his unofficial visit to Coral Gables in late January — so much that he'll return to visit the Hurricanes this weekend. We catch up with him.
There's also an update with Lafayette (La.) Acadiana 2024 four-star defensive lineman Dominick McKinley. Miami is still pushing heavily for the Louisiana native.
Plus Lagrange (Ga.) Troup County LB Qua Birdsong has emerged as one of Miami linebacker coach Derek Nicholson's recruiting targets, and his message has catapulted the Hurricanes to the top of the 6-foot-2.5, 180-pound linebacker's radar. He'll take his first unofficial visit to Miami April 6.
From yesterday afternoon also be sure to check out our Inside The Lines presentation with high priority S Kennedy Urlacher. He discusses his recognizable last name, his most recent season, musical taste, how he describes himself as a player, where his recruitment stands and more.
There also was an update on Miami Edison defensive lineman Dinnellson Exume, who has an offer and will be one of several prospects the University of Miami will be hosting on campus today as he makes his third venture down to Coral Gables.
The baseball team also hit two home runs in a 10-5 thrashing of FAU. We have your recap and reaction.
And, as always, stay tuned today for any news that may come up.
TODAY'S MIAMI HURRICANES TOP HEADLINES
3-star Phoenix QB Luke Moga high on Hurricanes ahead of visit this weekend: 'I absolutely love Miami'
Four-star 2024 DL Dominick McKinley receiving heavy recruiting effort from Miami coaching staff: 'I talk to them every day'
On300 2024 LB Qua Birdsong picks up Miami offer, quickly sets April 6 Hurricanes visit: 'Miami is definitely my top school'
Newfound offer gives Exume fresh perspective as he visits Miami for third time
Air Noland prepares for major Miami visit this weekend as Hurricanes battle elite programs for 4-star QB
Inside The Lines with Kennedy Urlacher
Miami Hurricanes hits two homers, Pitelli has four hits in 10-5 win over FAU
Miami Hurricanes women's hoops ready for next challenge at NCAA Tournament after knocking off No. 1 seed
Hurricanes basketball team talk heading into Sweet 16 play: Poplar questionable with injury, Houston a thicker "mirror image" of Miami
MESSAGE BOARD POST OF THE DAY
Never thought that UM Basketball …. Posted by ibis333
would provide us more to cheer about than football. Fball is still finding its identity, with new coordinators and wins around the corner. BUT, both men's and woman's performances this year should result in Us being now known as a basketball school too – back to back Sweet 16s for the men's and now with the woman in the 16, the only school with both teams in the 16, i believe. so very proud of the coaches, players and university (and boosters) committed to and realizing this dream
So, the takeway is this: We should be getting better recruits on both squads. The men's team has been winning on a razor: if Omier goes out with injury or foul trouble, we struggle for sure and are simply a better team with him IN. Getting a couple of more big men, some may already be in the pipleline but not game ready, will create balance and allow us to move away some from SMALL ball, an ideal that Coach L is looking forward to.
By the way, as to the woman's game vs Indy, we were AT indy and did ANYONE else notice how bad the refs were for US, they almost cost us the game. Anyone on Las Olas last night may have heard me howling at the moon and TV screen given how biased and ridiculous the foul calls were going. what a crock! It truly reminded me of the old USA vs Russia basketball game in the 80s (i believe) when the foreign refs did the same thing, it was THAT crazy and bazaar. So glad we didnt need to use that as an excuse. WE BEAT INDY AT INDY WITH THEIR OWN REFS, LOL. Heartfelt win, great to see the players and coaches crying for joy (one including the Cavinder Twins being hugged by their dad). GREAT DAY TO BE A CANES FAN. Who would have thought that our need for Canes pride and wins would come from our basketball teams and not (yet) from our iconic football team. That IS next. GOCANES
MIAMI HURRICANES QUOTE OF THE DAY
"I absolutely love Miami. The history, the program and the culture. My mom didn't get to come in January, so I want to make sure she sees it. I also want to meet coach Dawson in person and get his offensive philosophies and how he can use/develop me. …Development and learning is super important to me. I want to see the environment and how the team practices."
quarterback Luke Moga, who will visit Miami this weekend
• Click here for a limited time, register and get 12 months for only $10.00
• Talk about stuff inside Gary Ferman's War Room
• Watch our videos and subscribe to our You Tube Channel
• Listen to our podcasts at Apple Podcasts
• Follow us on Twitter @CaneSport
Advertise with us. Email [email protected]
Lastly, Have a great day!
The post Good Morning CaneSport 3.23.22 appeared first on On3.