Good Morning CaneSport 4.14.23
4 min read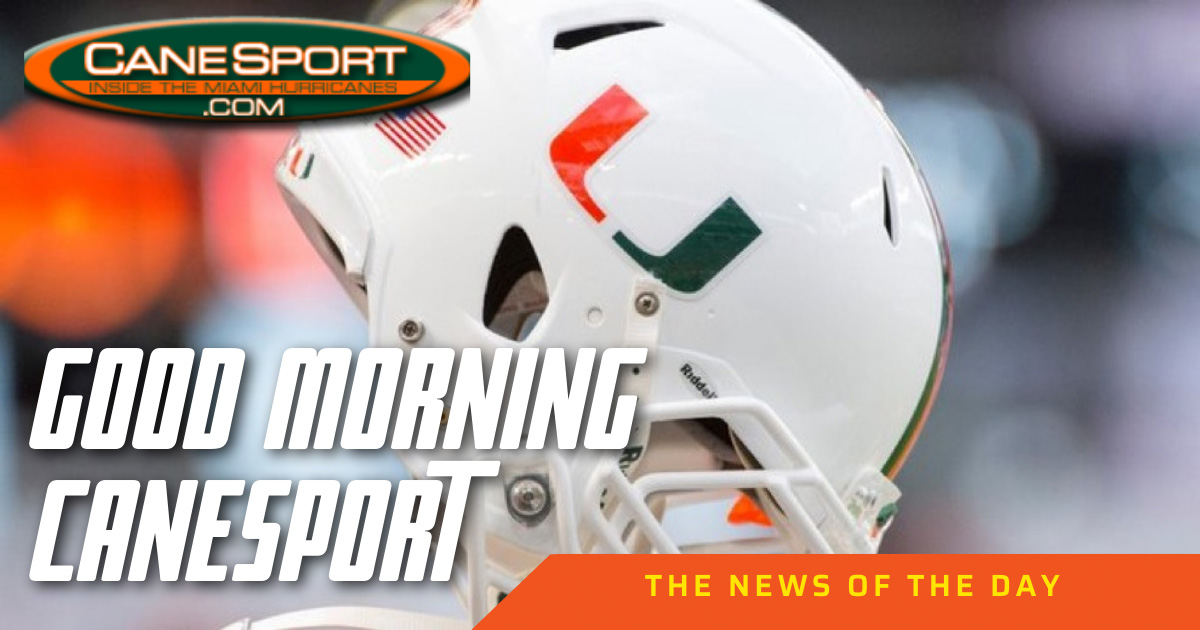 Not a subscriber? Get all of your Miami Hurricanes breaking news and in-depth analysis with a year-long CaneSport subscription for just $29.99 if you sign up before Aug. 31
FOLLOW BREAKING MIAMI HURRICANES NEWS: SIGN UP FOR THE CANESPORT NEWSLETTER
WHAT'S UP TODAY
First up this morning in your Miami Hurricanes news?
Well, the Spring Game is here – it will be held tonight at 7:30 p.m. and we'll have you covered with a game story and post-game feedback, analysis, recruiting updates off visitors there, videos of what the players/coaches were saying afterward, a photo gallery and more.
Today we also take a look ahead to the game with key personnel on offense and defense to keep an eye on tonight that have the most to prove. So check out those items.
Plus from yesterday we had updates with Mario Cristobal and key players Tyler Van Dyke, Kam Kinchens and Matt Lee looking ahead to the Spring Game. So be sure to read those.
In recruiting?
We break down key visitors that will be on hand at the Spring Game, so check that out. And we also have updates on a few of the top rated prospects Miami is really looking to make a splash with.
One of the visitors we also update this morning is Miami PK commitment Abram Murray. Find out what he's saying. Another visitor? King George (Va.) 2024 three-star receiver Mekhai White picked up his Miami offer last month. But now, he's starting to feel like a priority for the Hurricanes. Check out his thoughts.
Then there's another big local target who will be on hand, Miami Columbus DL Dylan Stephenson. Find out where things stand there.
And Fairfield (Calif.) Armijo 2024 four-star defensive lineman Jericho Johnson has been feeling the love from Miami over the last few weeks, so he wanted to return the favor. He will be among the numerous top recruits in attendance at the Spring Game tonight that we've been reporting on.
There also was our recap of the baseball team's game at UNC last night.
And, as always, stay tuned today for any news that may come up.
TODAY'S MIAMI HURRICANES TOP HEADLINES
ANALYSIS: Defensive players with most to prove in tonight's Spring Game
Miami spring game visitor list stacked with priority prospects; plus, the latest intel on Hurricanes recruits
Miami commit Abram Murray making trip down for tonight's Hurricanes Spring Game
Miami Hurricanes making recruiting push for 4-star DL Jericho Johnson, who is set to visit for spring game
ANALYSIS: Offensive players with most to prove in tonight's Spring Game
4-star EDGE target Dylan Stephenson prepares for Hurricanes spring game visit, 7th trip to Miami
Key recruiting storylines to watch during Miami's spring game: Will the Hurricanes impress Justin Scott?
Mario Cristobal: 1s vs. 1s format set for Spring Game, team won't hold back trying to make big plays and show fans the program's progress
Miami Hurricanes QB Tyler Van Dyke after Thurs. practice: This is best everyone has learned offense, Spring Game can show balanced attack
3-star WR Mekhai White expects to schedule Miami official visit on trip for Hurricanes' spring game
Miami Hurricanes center Matt Lee providing leadership, sees an offense progressing vs. a D that's throwing the kitchen sink at it
Miami Hurricanes DB Kam Kinchens on Spring Game: `We want to put the world on notice to see where we're at'
MESSAGE BOARD POST OF THE DAY
Is Mario the next Howard, Jimmy, Dennis or Butch? … Posted by Central17
with 5 losses in his 2nd year with two years of portal and more money/resources than any of those four PROVEN winners ever dreamed of having?
I want Mario to be successful, but all the pre made excuses for him by internet sites make me want to barf! Why should the golden child not have any expectations?,
MIAMI HURRICANES QUOTE OF THE DAY
"I wanted to see what the atmosphere was going to be like there for the game. I'm hoping that I can see them as a potential school for me. I like Miami. They're cool. I wanted to see what they have to offer, so that's why I'm heading up there."
4-star DL Jericho Johnson, who will be among the top recruits at tonight's Spring Game
• Click here for a limited time, register and get 12 months for only $10.00
• Talk about stuff inside Gary Ferman's War Room
• Watch our videos and subscribe to our You Tube Channel
• Listen to our podcasts at Apple Podcasts
• Follow us on Twitter @CaneSport
Advertise with us. Email [email protected]
Lastly, Have a great day!
The post Good Morning CaneSport 4.14.23 appeared first on On3.