Good Morning CaneSport 4.18.23
3 min read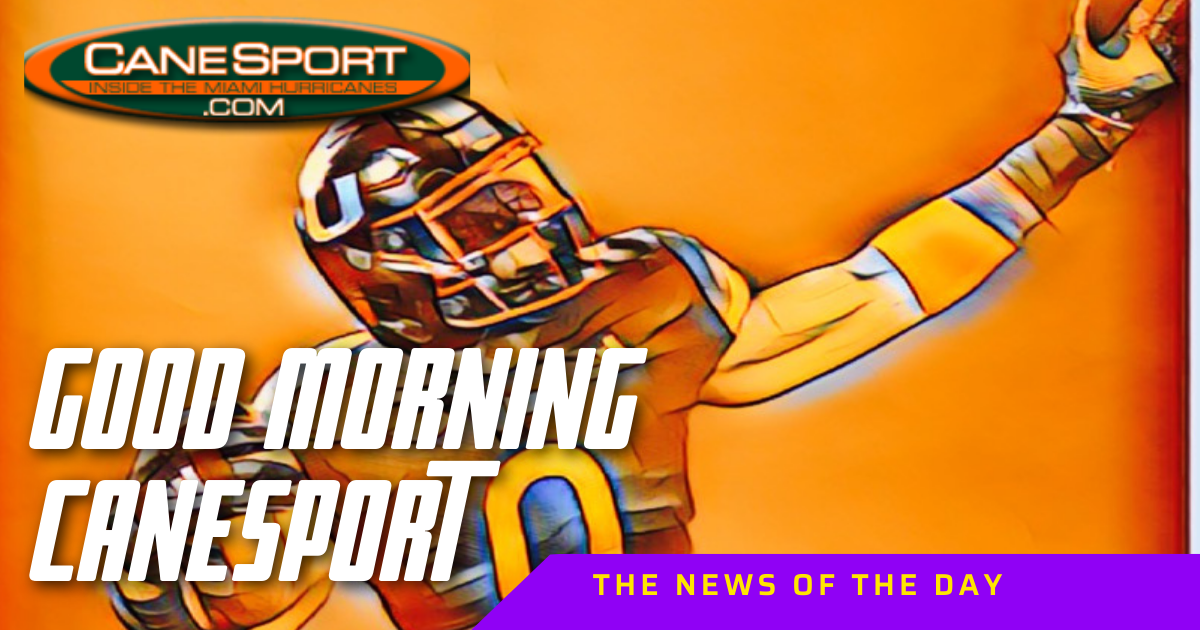 Not a subscriber? Get all of your Miami Hurricanes breaking news and in-depth analysis with a year-long CaneSport subscription for just $29.99 if you sign up before Aug. 31
FOLLOW BREAKING MIAMI HURRICANES NEWS: SIGN UP FOR THE CANESPORT NEWSLETTER
WHAT'S UP TODAY
First up this morning in your Miami Hurricanes news?
There was, of course, the big news of RB Chris Wheatley-Humphrey committing to Miami. We had that breaking news and a closer look at his talent level from his coach … including a heck of an NFL comparison. So don't miss that.
In basketball? Stay tuned later today for Jim Larranaga and Isaiah Wong talking about the star guard's decision to turn pro. We had an analysis of that decision yesterday.
We also have some more football analysis stories for you coming out of the spring.
First up: With Miami's spring practice concluded, it's worth taking five talking points and determining if they are a buy or sell. In other words, am I buying it or not having watched the team to this point?
Then we start our post-spring position by position analysis series with, naturally, the quarterbacks.
And with the portal re-opening now we take a look at what we feel are Miami's biggest position needs for transfer targets.
In recruiting news?
After spending multiple days in South Florida with the Miami Hurricanes, Clearwater (Fla.) International Academy three-star safety Isaiah Thomas believes the 'Canes are establishing themselves as one of his top programs. We feel strongly he will wind up in this class.
Los Alamitos (Calif.) 2024 four-star defensive lineman T.A. Cunningham made two trips to Miami this spring: one to see what Hurricane coaches were raving about, and one to make sure his outstanding first visit wasn't a fluke. The latter was for the Spring Game, and we have his thoughts.
And, as always, stay tuned today for any news that may come up.
TODAY'S MIAMI HURRICANES TOP HEADLINES
RB Chris Wheatley-Humphrey explains decision to commit to Miami Hurricanes: 'They've been telling me to come home'
Coach's Take: Miami Hurricanes land clone of NFL star RB with addition of Wheatley-Humphrey … `rare you see a kid with this dynamic ability'
4-star DL T.A. Cunningham says Miami is 'definitely a place I could see myself'
ANALYSIS: Closer look at post-spring positions that could use help from the transfer portal
Post-Spring Analysis: Miami Hurricanes QB position in good hands with Van Dyke, but question marks remain behind him
The Miami Hurricanes are trending for in-state safety after recent visit: 'They're definitely near the top'
BUY OR SELL: 5 Miami Hurricanes storylines from spring practice
ANALYSIS: Miami Hurricanes guard Isaiah Wong declares for NBA Draft
MESSAGE BOARD POST OF THE DAY
51 Francisco Mauigoa Had a huge spring game and will be the defensive MVP this year … Posted by Polobaby0927
Francisco Mauigoa is the best looking MLB I've seen here in a while , I would say like Shaq Quarterman but he just had the instincts and speed that Shaq never showed . Fans should be excited because we hit a home run with this kid and I'm willing to go out on a limb and say he will be our Defensive MVP. Saving Touchdowns , instinctively blowing up plays in backfield , sideline to sideline he was an eraser .
MIAMI HURRICANES QUOTE OF THE DAY
"It's a genuine connection with the people, the staff, the coaches, everybody here. It's a great place, a great city to be in just in general. It's definitely a place I could see myself at in the next year."
High priority Miami recruiting target T.A. Cunningham after the spring game
• Click here for a limited time, register and get 12 months for only $10.00
• Talk about stuff inside Gary Ferman's War Room
• Watch our videos and subscribe to our You Tube Channel
• Listen to our podcasts at Apple Podcasts
• Follow us on Twitter @CaneSport
Advertise with us. Email [email protected]
Lastly, Have a great day!
The post Good Morning CaneSport 4.18.23 appeared first on On3.