Grant Gibson on NC State: 'This place means the world to me'
3 min read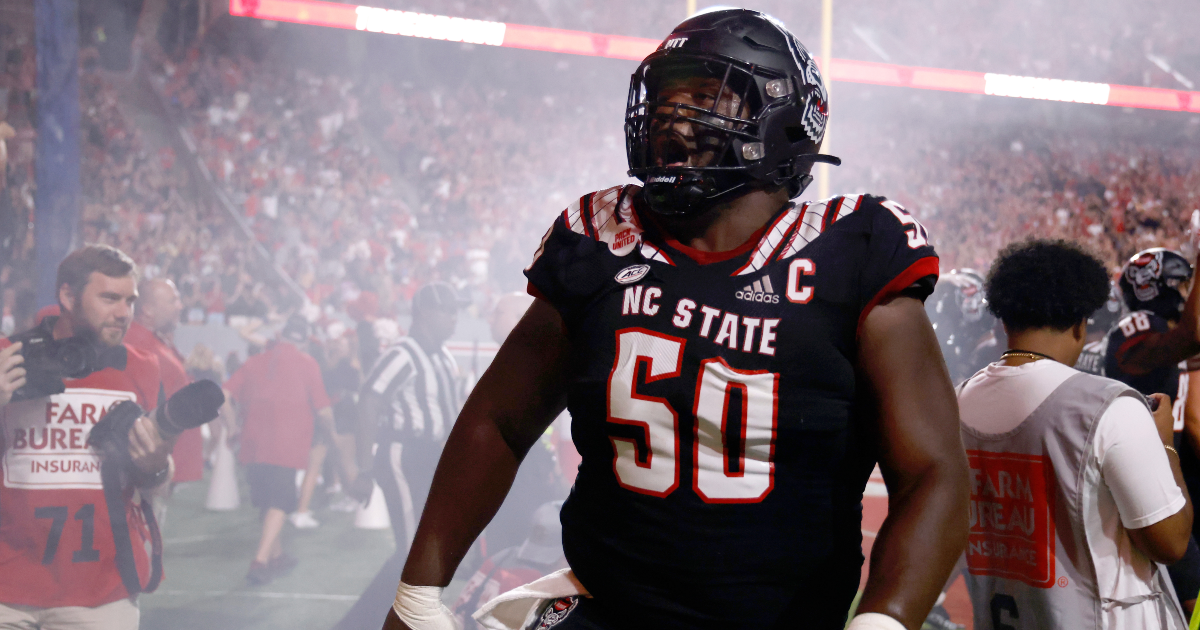 Grant Gibson arrived at NC State in 2017 from Mallard Creek High as a highly ranked defensive lineman ready to make an impact with an in-state program. Over the next six years, he grew into one of Wolfpack nation's most beloved athletes. 
He switched positions to center, developed into a fixture on the Wolfpack's offensive line and established himself as an All-ACC athlete. During that time, he watched Will Richardson, Garrett Bradbury and Ikem Ekwonu all hear their names called in the NFL Draft. 
Now, it is time for Gibson to go through that same process. The lineman is rehabbing an injury that caused him to miss the home stretch of the 2022 season, but he bench pressed at the pro day. 
The night before Tuesday's event resembled the Fridays Gibson spent preparing to take the field with his Wolfpack teammates. 
"It definitely feels like a game," Gibson said. "We've been waiting on this since the end of the bowl game. Literally last night, I'm like 'Wow, it feels like I'm going to go play a game."
Subscribe to The Wolfpacker today with our limited-time $29.99 deal for premium access until 8/31/23
Gibson said his health continues to trend in the right direction. He started running about a week ago and said he has around four months remaining in the rehab process. Overall, the lineman said he was "alright" with his bench press total and attributed that success during the pro day to NC State director of strength and conditioning Dantonio Burnette. 
"He has been awesome," Gibson said. "I've been here the whole time, and he's had a sheet for me each day to just lift off of. That's part of the reason why I felt like I put up some good numbers today. It was because of the plan that he made for me."
Throughout the pre-draft process, the center said he has heard from the San Francisco 49ers, the L.A. Rams, the Carolina Panthers, the Detroit Lions and the New York Jets amongst others. 
NFL Scouts filled the Pack's indoor practice facility for the Pro Day. Gibson was proud of his teammates and said the environment at the facility is a ringing endorsement of the culture head coach Dave Doeren has built in Raleigh. 
"The guys that got to run today, they look fast," Gibson said. "They were flying. . .  It's packed out there. There's scouts all over the place. This program has grown a lot to where people come here to find good players."
After spending so much of his life with the Wolfpack, post-college life is a significant adjustment, but Gibson said he feel blessed to have the opportunity to pursue professional football and thankful for the opportunity at NC State. 
"I've been here for six years, and I get the old head jokes a lot, but it's been awesome just to have the chance to come here and just to see how much I've grown since I stepped foot out here about six years ago," Gibson said. "This place means the world to me, and I wouldn't be who I am today without it."
Gibson hopes to be an athletic director one day and jokingly said he is coming for NC State athletic director Boo Coorigan's job. His time with the Wolfpack helped him grow on and off the field, and he wants to pass that wisdom on to the next generation.
"I think that NC State does a great job of making you grow up and learn a lot," Gibson said. "I feel like my time at NC State has prepped me to be a grown man. There's some people that can't say that about the schools that they went to, but I definitely feel prepped for this next step in my life, and I'm ready to see where it goes."
The post Grant Gibson on NC State: 'This place means the world to me' appeared first on On3.