Greg McElroy sends clear message to Nick Saban doubters: 'Winning a national championship is hard'
3 min read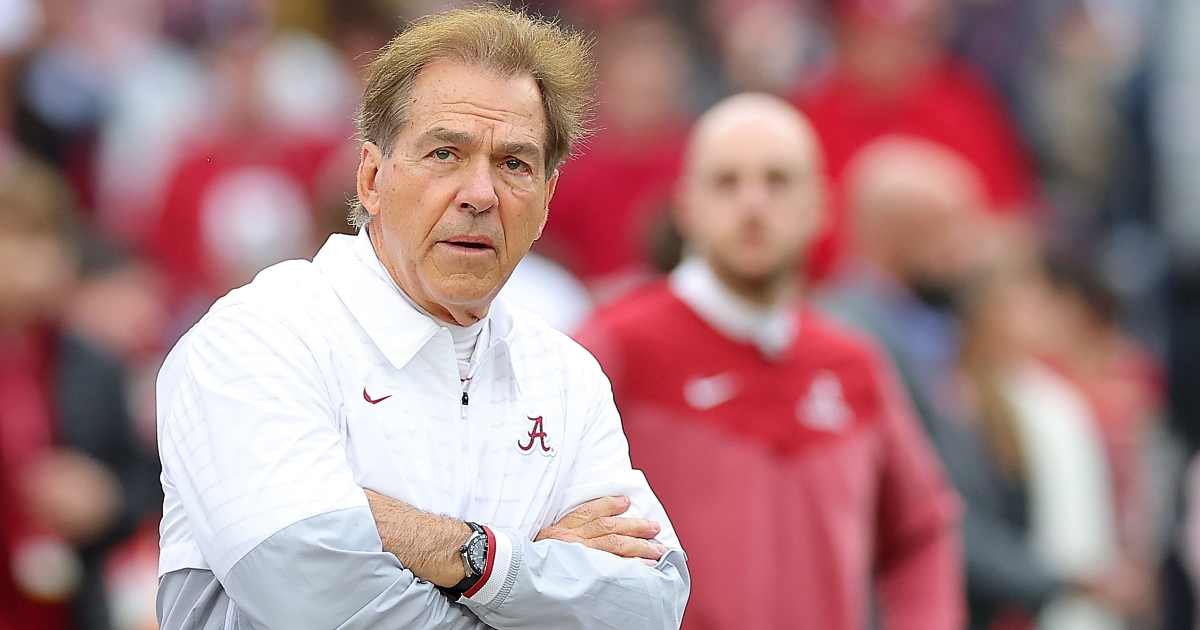 Greg McElroy's faith in Nick Saban has never wavered even after Alabama missed the College Football Playoff last season. The former Crimson Tide quarterback has seen Saban's success firsthand and believes it wouldn't be wise to count out the coach to win a national championship in 2023.
Saban has won six national titles with the Alabama since taking over in 2007 but is in the midst of a two-year drought. Although that might not seem like much, Saban's track record has raised expectations to championship-or-bust levels, and some Crimson Tide fans are starting to grow restless. However, McElroy thinks that judging a season based on whether you bring home a title is a flawed way of looking at things.
"I would say if you bet against them and you doubt Nick Saban's process, I think you need to be prepared to eat crow," the ESPN analyst said on The Hard Count with On3's JD PicKell. "I will always feel that way and maybe that's blind loyalty. Maybe that's just a trust in the program. But I've seen guys come and go. Players come and go. Coaches come and go. And the expectation and the standard remains the same. Winning a national championship is hard. I think a lot of people around Tuscaloosa and around the state of Alabama and around the South East, they look at it as, 'if you don't win the championship it's a lost year.'
"Ultimately, yes, you want to win the national championship. I'm not gonna tell anybody to settle. I'm not gonna tell anyone to be happy with a 10-3. Absolutely not. You want to win the national championship, but there's only one of 132 that can do that every year. So if your expectations and your success is determined exclusively by bring home a national championship trophy, you're gonna be let down a whole lot more than you're excited. I'm not trying to say that people need to reset their expectations, but I think they need to understand that a national championship is not a birthright."
Saban and Alabama came just short of a national championship in 2021, falling to Georgia in the title game. But this past season they dropped a pair of close games in the regular season and missed the College Football Playoff for just the second time under Saban.
The Crimson Tide lose quarterback Bryce Young to the NFL, raising further questions about their ability to compete for a championship this season. However, Greg McElroy went on to say you can never count Nick Saban out and not to be surprised if he ends up hoisting the trophy once again at the end of this season.
"They're gonna be in the mix," he said. "They're always in the mix. It's just when those games get close, as they did at times last year, will they be able to make the two-minute drive? Will they be able to go down the field on a 15-play drive taking seven minutes off the clock and beat Auburn on the road? Will they be able to climb out of a hole and be the team that has the lead when the clock strikes zero? Those are the things. Because the margins, compared to what they were, are smaller. You can't deny that. But it doesn't mean that they don't have the goods to make a run in '23, '24, '25, '26 and beyond."
The post Greg McElroy sends clear message to Nick Saban doubters: 'Winning a national championship is hard' appeared first on On3.