Has Kentron Poitier claimed Florida State's No. 2 WR role with strong spring, impressive showcase?
4 min read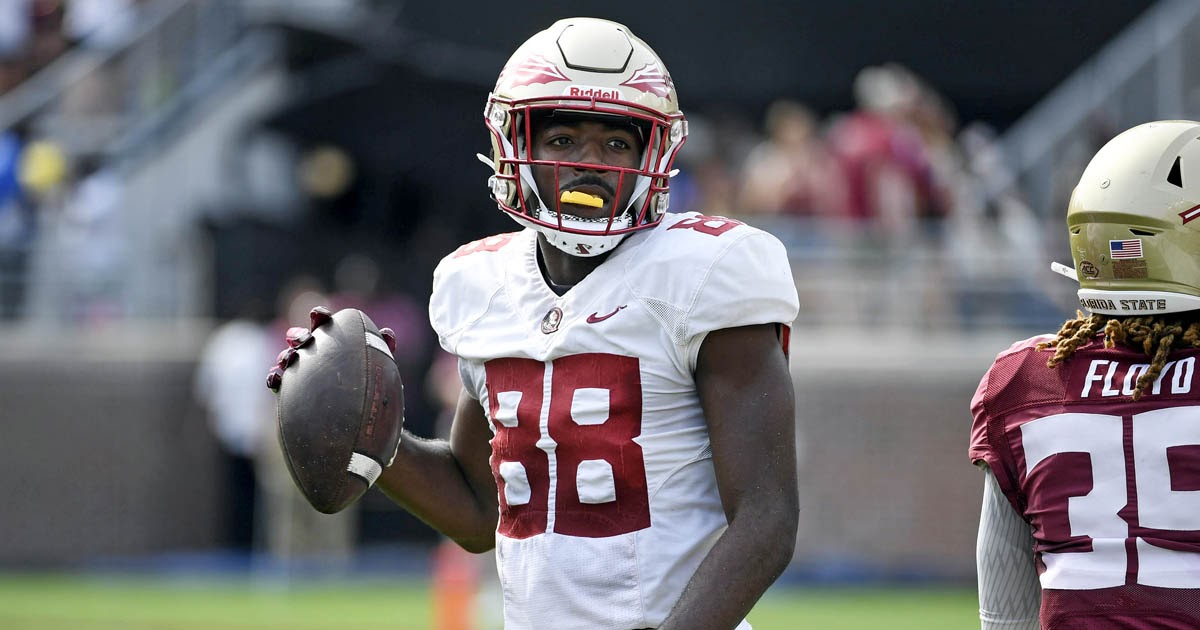 It stood to reason Kentron Poitier was the most impressive wide receiver during Florida State's spring showcase on Saturday. The four receivers who caught more passes than him last season were not participating.
Two of them are no longer with the program — Ontaria "Pokey" Wilson is preparing for the NFL Draft and Malik McClain has transferred to Penn State — and two others were unavailable. Mycah Pittman has missed the entire spring after undergoing hip surgery, and Johnny Wilson was held out as well.
But it's not just the fact that Poitier delivered a big day on Saturday, with three catches for 63 yards, that had head coach Mike Norvell so excited. It's that it was the latest in a long line of strong efforts this spring.
Day after day after day, Poitier has been among the most productive players for the Florida State offense.
"With Johnny not going today, I was excited to see where Kentron would go with that moment," Norvell said. "And he definitely did not disappoint. And it wasn't just with the ball in his hands."
To that point, perhaps the biggest cheer Poitier received from Norvell all day was after his downfield block which helped tailback Lawrance Toafili finish off a 23-yard touchdown run.
"I love seeing that type of effort," the head coach said.
What likely got Florida State fans most excited was Poitier's one-handed catch of a sideline pass from redshirt freshman quarterback A.J. Duffy. The ball appeared to be slightly overthrown, but Poitier leaped, got full extension and pulled it back into his body for a 29-yard completion.
Poitier also ran underneath a perfectly thrown pass from Jordan Travis for a 21-yard touchdown.
"That's another guy that doesn't speak a lot at all, he just comes and works," Travis said. "He's really fire. He's growing into himself and making crazy plays every single practice. It's not just the spring game, it's every practice."
Poitier should be motivated with the opportunity before him in 2023.
When Wilson is available, he clearly is Florida State's No. 1 receiver. But after that, the Seminoles should have a wide-open competition to determine who is No. 2, No. 3, No. 4 and so on.
Pittman is the second-leading returning receiver with 32 catches last season, but it's not certain whether he will be back for all, or even some, of preseason camp. West Virginia transfer Winston Wright Jr. is another strong candidate, and he participated this spring after coming back from a serious leg injury last March, but he hasn't quite shown the form of the playmaker who caught 63 passes two years ago at West Virginia.
Other contenders are redshirt junior Ja'Khi Douglas, redshirt junior Darion Williamson (who was also held out Saturday) and impressive freshman Vandrevius Jacobs.
But none of them have been as productive as Poitier.
"What I like is the consistency that I'm seeing," Norvell said.
It's the continuation of a lengthy track of improvement that started when Florida State signed Poitier as a project in the 2020 recruiting class. The 6-foot-3, 205-pounder was primarily a basketball player until giving football a try during his senior season, and it took him a couple of years to begin working his way into the Seminoles' receiver rotation.
Poitier caught four passes in 2021 and 14 in 2022. But he looks like he could primed for much more than that in '23.
"What you see is the confidence from the quarterbacks trusting him," Florida State offensive coordinator Alex Atkins said. "So if he gets [man] coverage, they're going to him. Because that's how much belief he's given those guys. You know you're doing a good job when it's a critical situation and the QB looks for you. …
"And he makes the plays. It's one thing to go to a guy if he's not making the plays, but 'Tron is making plays. We've seen this all spring."
If Poitier does indeed claim the No. 2 receiver role this fall, it will be the culmination of a somewhat unlikely journey. When he signed with the Seminoles, he was a three-start prospect. Since that time, FSU has landed several higher-rated recruits and highly coveted transfers.
Poitier, meanwhile, has continued rising through the ranks.
"He just kept fighting," Atkins said. "And he's gonna get to showcase what he can do and showcase his talent."
Said Norvell: "He's really setting himself up to have a good season."
Talk about this story with other die-hard FSU football fans on the Tribal Council.
The post Has Kentron Poitier claimed Florida State's No. 2 WR role with strong spring, impressive showcase? appeared first on On3.