Hawkeyes make a statement, sweep Michigan State
6 min read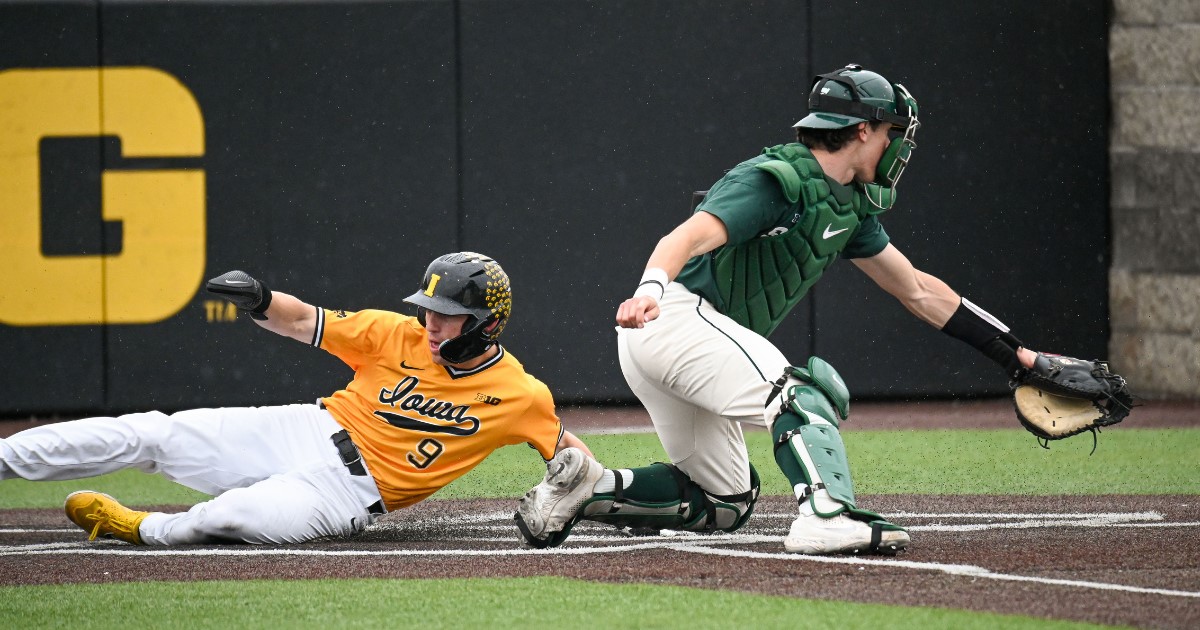 The Iowa Baseball team hasn't made the NCAA Tournament since 2017. They've come painstakingly close the last couple of the seasons, but they just haven't been able to hear their name called on Selection Monday. With each passing day this season, it seems more and more likely that the Hawkeyes will be playing in an NCAA Regional come June. Iowa got a good start on the mound from Brody Brecht and they were able to finish off a statement sweep of Michigan State with a 5-1 victory.
"It feels a lot different this year," said Michael Seegers, who has been on the team for a couple of seasons. "It feels really special just because this whole team can rely on everybody. It's not just a few guys here and there, but it's really just a whole team effort."
After winning the first two games of the series, the ball went to Brody Brecht for a Sunday start and with a weekend sweep on the line. He had allowed 15 runs in 11.2 innings over his last four starts, but pitched like the Brody Brecht that can be the ace of the staff.
An infield single and an eight-pitch walk put some traffic on the bases in the top of the first inning, but Brecht struck out Bryan Broecker with a slider to end the inning. The next four innings were smooth sailing, as he retired 13 in a row, including five strikeouts.
"Part of baseball is a lot of ups and downs, but the way I prepared this week, the way I went about my about business and just being in control and being in a rhythm out there, it paid off," said Brecht.
Things got a little murky in the sixth inning after a missed strike three call led to a leadoff walk for Trent Farquhar. Brecht got a couple of strikeouts, but walked a couple more and Bryan Broecker came to the plate with the bases loaded and two outs. He worked a four-pitch walk and the Spartans got on the board. Jack Whitlock was warming in the bullpen, but Coach Heller stuck with Brody and it paid off, as he struck out Sam Busch to end the inning.
"I wasn't surprised, but it just shows that he continues to trust me and it means a lot," said Brecht. "I think most of the year I've shown I've been able to get out of it and I was thankful that I was able to get out of that one."
Brody allowed one run on one hit over 6.0 innings. He struck eight and walked five, but threw 54 of his 93 (58.1%) pitches for strikes. The outing was a drastic improvement compared to his previous four starts.
"Sean (McGrath) and Brody have been working hard on some stuff. One is just good rhythm and pacing. I thought his rhythm was really good today and when his rhythm is good, he's more competitive with all of his pitches," said Heller. "The other side is Brody just going out there and doing it and believing in himself and attacking and being the aggressor. I thought he did an awesome job with that until the sixth inning. Guy misses a call, should have been strike three and then it started going a little bit, but the great thing was that he stopped it."
At the plate, the Hawkeyes wasted no time giving their starting pitcher some runs to work with. Ben Wilmes led off the game with a triple into the right-center gap and he came across to score on a Brennen Dorighi double to make it 1-0 Iowa right out of the gate.
The lead doubled in the second inning off the bat of Michael Seegers. On a windy day at Duane Banks Field, Seegers barreled up a 1-0 pitch from Nick Powers and took it over the left field wall for a solo home run.
"I knew they were going to keep attacking me with fastballs because that's what their plan was all weekend," said Seegers. "Just seeing the ball well and getting too big and staying through the ball…It definitely felt like it (off the bat). I just didn't know if the wind was going to knock it down."
Kyle Huckstorf joined the triple party with a one out shot into the same right-center gap in the fourth inning. Brayden Frazier drove him in with a sacrifice fly and Iowa made it 3-0. The Hawkeyes never put up a crooked number, but they were able to get runs in multiple innings.
The big insurance came in the seventh inning. Cade Moss led off the inning with a single, while a two out double from Brennen Dorighi put two runners in scoring position. Insert Raider Tello. He came into the at-bat just 2/11 on the weekend, but when the Hawkeyes needed him most, he delivered. Tello slashed a single through the right side to drive in both Moss and Dorighi to make it comfortable 5-1 lead.
"It was one of those days where you felt like you needed to take advantage of every opportunity because of how the wind was blowing," said Heller. "Raider's hit was huge. That bit of insurance was a really good feeling going into the eighth and ninth."
Jack Whitlock relieved Brody Brecht and was excellent out of the bullpen after a tough outing last week against Ohio State. He held the Spartans scoreless over 3.0 innings and racked up five strikeouts to no walks. Whitlock threw 31 of his 42 (73.8%) for strikes and struck out a pair of MSU batters in the ninth to secure the win.
"I was really confident going to Jack today because I knew he was well rested. We worked it out where we didn't have to use him on Friday or Saturday," said Heller. "He did exactly what he does. He pounded the zone with strikes and the slider was really good and change up was good. Just a really good guy to come in after Brody."
Four Hawkeyes logged multiple hits on the day, while Raider Tello led with a pair of RBI's. The offense was just 4/17 (.235) with runners on base, but the pitching staff held MSU to just 3/30 (.100) on the day and 0/10 with runners on base. The Iowa pitching staff held the top offense in the Big Ten to seven runs on the weekend, while the Spartans racked up just six hits between Friday and Sunday.
"It was exciting. It was great to see because anytime you flip things like we did (with the rotation), it doesn't always work out that way," said Heller. "I'm glad that those guys stepped up and it's just great to see them growing and growing with confidence."
Up next for the Hawkeyes…
With the win, Iowa moves to 37-12 on the season and 13-7 in the Big Ten. The Hawkeyes make another mini-jump up to #29 in the RPI and sit at 3rd place in the conference with one week before the Big Ten Tournament. The Tuesday midweek against Illinois-Chicago has been mutually canceled, so Iowa will next take the field on Thursday for the series opener against Northwestern. First pitch is set for 4:00pm on BTN+.
The post Hawkeyes make a statement, sweep Michigan State appeared first on On3.