Hearing set for NCAA infraction case against Tennessee, former coach Jeremy Pruitt
2 min read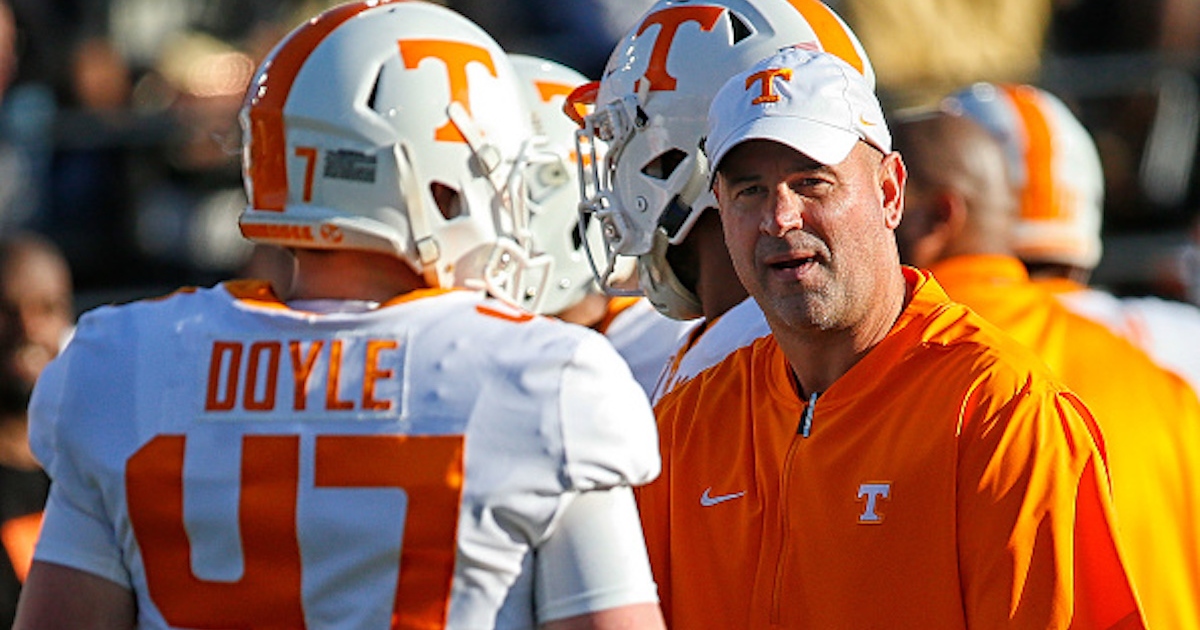 A hearing for the NCAA infraction case against Tennessee and former coach Jeremy Pruitt was reportedly scheduled, according to SI's Ross Dellenger.
Pruitt's Tennessee tenure ended in 2020 after multiple off-the-field NCAA violations. The NCAA handed down show-cause penalties for a number of former assistant coaches and staffers.
Although, that was not a resolution for Pruitt.
"School officials, former head football coach Jeremy Pruitt and former defensive coordinator Derrick Ansley are scheduled to appear before members of the Committee on Infractions later this month, in what's become a somewhat contentious fight between each of the three parties and the association," Dellenger wrote. "The three parties received a letter announcing the three-day hearing, scheduled for April 19–21 in Cincinnati, multiple sources tell Sports Illustrated.
"The case stems from serious recruiting misconduct committed by Pruitt and staff members under former athletic director Phillip Fulmer. The school received its Notice of Allegations in July, spelling out $60,000 worth of impermissible benefits and recruiting inducements provided to prospects over a three-year period by Pruitt, his wife and several football staff members—all of whom were fired in January 2021 after the university's internal investigation uncovered alleged wrongdoing."
In July 2022, Tennessee received a Notice of Allegations regarding 18 violations against the program during Pruitt's time at the helm. It included an allegation of $60,000 in cash or gifts given to football recruits or players by Pruitt, his wife, numerous coaches, staff and boosters. All 18 of the violations are Level I violations. Level I is the most severe infraction on the scale from one through four.
According to Dellenger, reasons remained unclear as to why there was no resolution to the case up to this point. Potential penalties are reportedly in the range of multiyear show causes for those involved to further probationary sanctions from the school.
Former Vols inside linebackers coach Brian Niedermeyer, outside linebackers coach Shelton Felton, director of player personnel Drew Hughes and student assistant coach Michael Magness were handed three to five-year show-cause penalties as a result of a negotiated resolution, Dellenger reported. A show-cause penalty means a school will have to present reasons to the NCAA why it wants to hire one of them to its staff during that time period.
CLICK HERE to subscribe to the On3 YouTube channel today for all of the latest news on college football, recruiting, NIL, more! 
Pruitt and former assistant Derrick Ansley were not part of those resolutions.
Nick Schultz contributed to this report
The post Hearing set for NCAA infraction case against Tennessee, former coach Jeremy Pruitt appeared first on On3.