Hendon Hooker believes leadership is his best trait
3 min read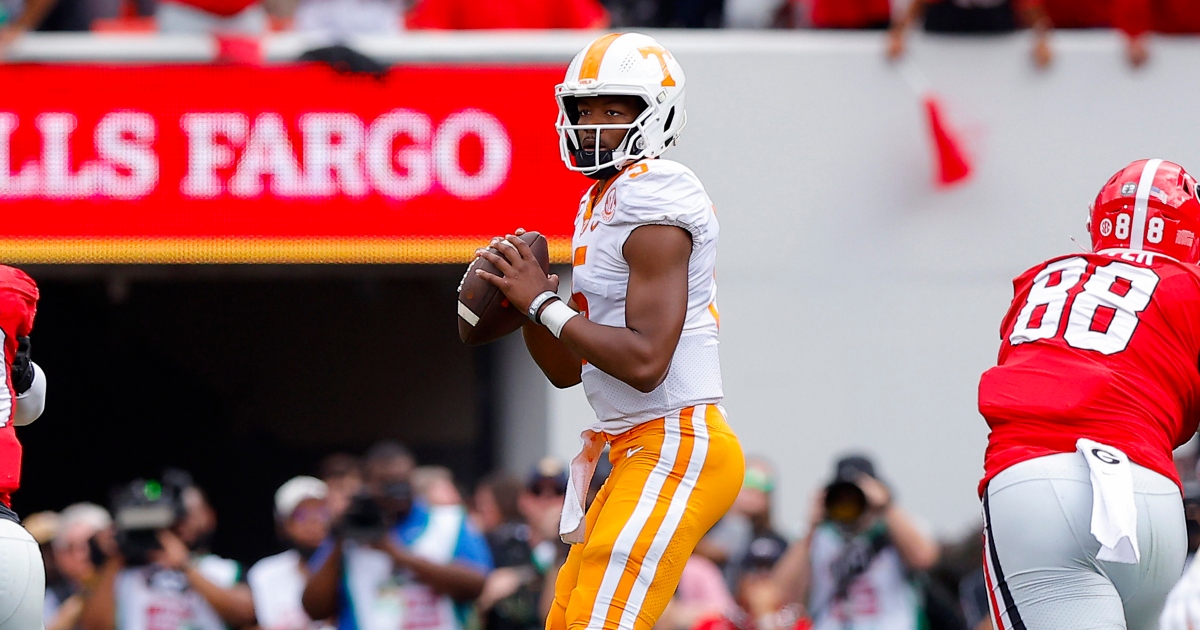 At Tennessee's pro day, former Volunteers quarterback Hendon Hooker was unable to showcase all the skills on the field that had him as a front-runner for the Heisman Trophy before his season-ending ACL injury. But that did not stop him from showcasing the other skills he uses on and off the field. During Tennessee's pro day, Hooker revealed what he believes are his best traits that can be utilized at the next level.
"What I do best is leadership and just being personable, being able to communicate with my teammates at a high level and communicate with others in the building at a high level. The energy that I bring and just the competitive nature as well. I feel like that's the second thing. And then after that would be my accuracy," said Hooker.
A quarterback's ability to communicate across the board is essential to them as leaders. In the huddle, they'll be asked to share the play called clearly and precisely so that the team executes it to the best of their capabilities. Off the field, especially in press conference situations, they need to be able to clearly articulate themselves to media members in a way that suggests they have the confidence and a level of composure required to be an NFL quarterback.
Hooker has shown he can do both recently. Not much is known about his conversations during his visits with NFL franchises, but his draft stock is skyrocketing, so much so that some NFL experts believe he might go within the top 10 picks of the 2023 NFL Draft.
Hooker put together two good years at Tennessee
Due to his unfortunate late-season injury, Hooker has been unable to show off his arm and accuracy the same way his quarterback counterparts have at their pro days. Still, if anyone has questions about what he can do on the field, they need only look at his film from the past two seasons. Before transferring to Tennessee in the summer of 2021, Hooker was a Virginia Tech Hokie and struggled to find consistency in that program. But underneath the tutelage of Volunteers head coach and offensive guru Josh Heupel, he has shown that he is a more than capable quarterback.
After winning the starting job at Tennessee in 2021, Hooker went on to complete 68.2 percent of his pass attempts, connecting on 206 of his 302 dropbacks. He also threw for 2945 yards, rushed for another 620, for 31 touchdowns through the air and five on the ground. In Hooker's second year, he completed 229 of his 329 pass attempts for a 69.6 percent completion percentage. His total yards from scrimmage were exactly the same as he threw for 3135 yards and rushed for 430. Hooker's total TD count went down slightly as he had 27 passing touchdowns to go along with five rushing. But arguably, the best out of all that highlights his level of accuracy would be his ability to limit turnovers. In his two years at Tennessee, Hooker threw just five interceptions.
The post Hendon Hooker believes leadership is his best trait appeared first on On3.