Hey Horka! Assessing the injury recovery for Notre Dame RB Jadarian Price
8 min read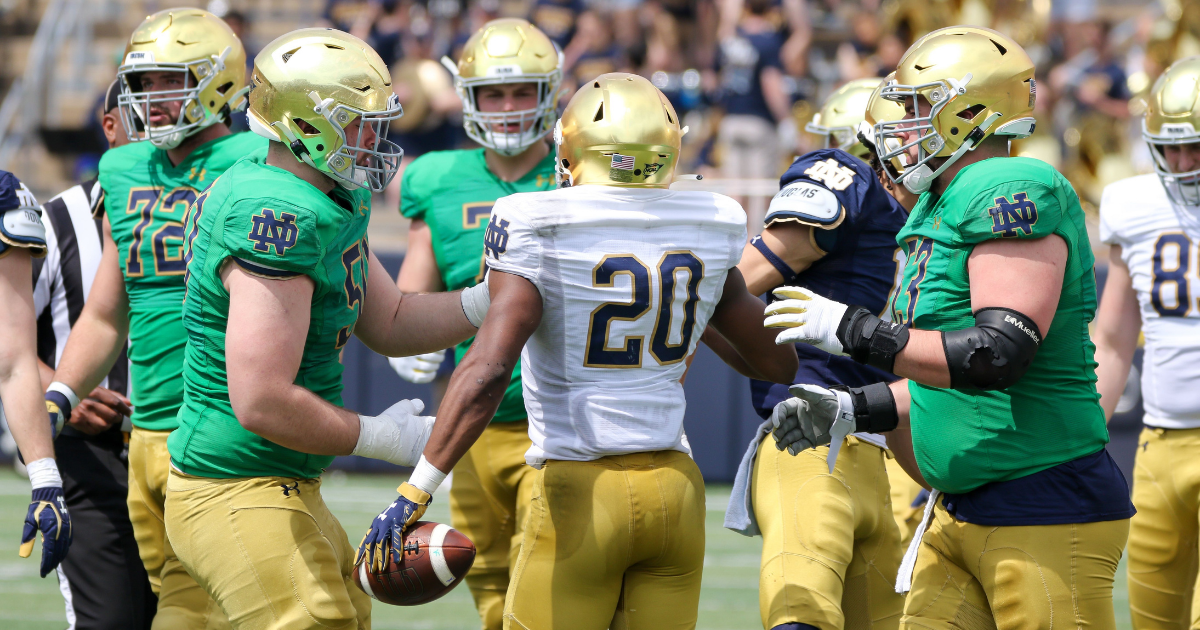 It's an exciting time of year for Notre Dame athletics. The football team is giving its first glimpses into what 2023 entails with the start of spring practices, and the women's basketball team plays in the Sweet 16 on Saturday.
This edition of the Hey Horka! BlueandGold.com message board mailbag column goes into deep detail about the state of both of those Irish athletics programs.
Will Notre Dame RB Jadarian Price be available to practice this spring? — jpm34_NDFI
He's definitely still non-contact, and I'm not sure he will cross that threshold all spring. But if we see him on the field in any capacity, that'll be as much progress as we've seen from him since the injury occurred last summer. He looks stout in the pit. Wednesday he was throwing a heavy medicine ball around with ease. He's not going to be physically lacking from an upper-body standpoint when he makes his return. We'll see how his legs treat him. All in all, if he's running around and doing football related drills sometime this spring, even if they are non-contact, that's a win. I think he might be fully cleared by fall camp.
Assuming Logan Diggs and Audric Estime lead Notre Dame in carries, who comes in No. 3 this year? — IrishAlum2013
My money is on Price making his return from injury and being the team's No. 3 back. Head coach Marcus Freeman said Chris Tyree's move to wide receiver isn't permanent, but he also said Price is progressing very well and is on his way to taking part in football-related activity soon. You can't tell me those two things aren't related.
Price showed he's no worse than Tyree catching balls out of the backfield in last year's spring season. He electrified in the Blue-Gold game. If he can give you what Tyree did as a pass-catching back, and he's clearly fit to run between the tackles better than Tyree given their size difference, what's the use of keeping Tyree in a crowded backfield? Estime and Diggs are clearly the top two backs. Price is a better all-around back than Tyree when healthy. Giving Tyree a last-ditch shot at getting on the field as a WR makes sense in this context.
Was Ron Powlus III's medical redshirt pushed by the Notre Dame staff to free up a scholarship or does he have lingering ailments? — Del2210
Five scholarship quarterbacks is a lot. That had to have had something to do with it. It's difficult to make sense of having a player on scholarship who isn't ever going to see the field in meaningful situations, even if that player is the son of a former starting quarterback in the program. If this happened to any other quarterback who had an identical two years to the ones Powlus III had with the Irish, and that player was without the last name Powlus, we wouldn't be talking about it past one day. He's a good kid with a good family that bleeds Blue and Gold, but for reasons pushed by Notre Dame or reasons of his own, this seemed like a good time to go separate ways.
How do you reconcile Notre Dame paying a $4 million buyout for Micah Shrewsberry but not Andy Ludwig and his offensive line coach? — arrowfan624
It sounds like Shrewsberry was Notre Dame's No. 1 option. Ludwig was not; Collin Klein interviewed first. So that's part of it; doing everything you can to get your first choice. A men's basketball head coach > a football offensive coordinator on the hierarchy of coaches on a college campus, even at a football-first school like Notre Dame. We have to keep in mind Freeman said the buyout wasn't ever the issue with Ludwig, too. Maybe he's doing some damage control there, but part of me actually believes him.
Any chance Nolan Ziegler sees in the field in a capacity other than special teams this year? — Irons50
I'm giving all of the sophomore linebackers a chance to get on the field this season. The Notre Dame coaching staff should too. I get giving the graduate seniors their due, but at some point you have to figure out what you have when those guys are gone.
What are the three most important things for the Irish women's basketball team to beat Maryland in the Sweet 16 Saturday? — Schurm45
1. Take care of the basketball. Don't look as skittish as the Irish did bringing the ball up against Mississippi State.
2. Dictate style of play. Notre Dame likes to get out and run, but this version of the Irish can't win a track meet. Get yours offensively when there are opportunities on the fast-break, but don't let it lead to a back-and-forth game of who can get to the basket the quickest. Let the stellar defense you've played in the half-court take over at times.
3. Corral Diamond Johnson. She went for 31 and had the buzzer-beater in South Bend in December. With how shorthanded Notre Dame is, Johnson can single-handedly beat the Irish. Don't let her.
How do you feel about the defensive line after one practice? — arrowfan624
Freeman sounded optimistic about that group, but they're going to have to prove it to me in August and September before I really change my stance. It's a unit that lost so much. Most people on the board know I'm not overly optimistic on this year's defensive line, but I am also giving Al Washington every benefit of the doubt in developing these guys. He was loud, angry and demanding results on day one Wednesday. He's not going to make it easy on them. I like that style of coaching from offensive/defensive line coaches.
Can Notre Dame women's basketball be a Final Four contender next year with the right transfer portal additions? — joemontana
There is every reason to expect an Elite Eight appearance with genuine hope for a Final Four if a dominant post player is added. I think Hannah Hidalgo is perfectly equipped to run the point for however long Olivia Miles is out. Emma Risch's three-point shooting will be a breath of fresh air. Look for KK Bransford and Cassandre Prosper to improve as sophomores. Maddy Westbeld and Sonia Citron will be viewed as veteran, experienced pieces to the puzzle. Just need to get that dominant post in there with Lauren Ebo leaving, and it's all set.
Which freshman development would help the team more next season; Hidalgo being a 30-minute ACC point guard from the start or Prosper turning into an athletic two-way starter? — jrp3
It obviously all depends on Miles. If she's out for an extended period of time, you'd want Hidalgo to be a really good 30-minute per game player. If Miles is ready to go from the start of the season, Cass Prosper can take this team to the next level with improvement in her game. She's raw, but you see the talent. Once she figures it all out she's going to be very, very good. So in the long run, Prosper is the answer. But then you have to think once Miles is gone for good, Hidalgo is the incumbent floor general. So, in essence, you might have singled out two of the most important players in the team's four-year future.
Is there a timetable for the Miles recovery? — jrp3
I just asked Niele Ivey Thursday. Miles' surgery is pushed back to next week so she can comfortably travel to Greenville with the team this weekend. At this point, the timetable is anywhere from November to January/February. If it's a severe ACL tear, the latter. If it's just a cleanup, which to me is less likely, it's the former.
If it is a worst-case scenario for Miles, what do you make of putting the pressure to start at the point on Hidalgo? — jrp3
I do not think it is dangerous for her development. In fact, it's exactly what I what do. Hidalgo is an absolute baller. She can handle this. And I think she is the type of player who would be better for the immediate reps. It also just makes sense for Notre Dame as a whole. Put Citron back in her more comfortable, natural off-ball role. I think the Irish can get by without getting a guard from the portal. They may get one anyway, but it isn't going to be a serious point guard. It would be a depth add like Jenna Brown was last year. The main portal need is definitely a post player (again).
You said recruiting is the preferred method of signing post players, but what do you make of Angel Reese turning LSU into a national title contender overnight? — jrp3
Obviously, if you can get a player of her caliber from the portal you do it 10 times out of 10. Maya Dodson and Lauren Ebo are not Angel Reese. So the goal has to be get a Reese or recruit a Reese and develop her to that level. All the great champions always have a dominant big player.
South Carolina – Aliyah Boston
Stanford – Cameron Brink
Baylor – Kalani Brown AND Lauren Cox
Notre Dame – Jessica Shephard
South Carolina – A'ja Wilson AND Alaina Coates
It's a guard's game these days. But look at the last five national champions. They all had dominant post players they would not have won it all without.
What did you find notable about what Freeman said and did not say after the first practice? — arrowfan624
I found it notable he's already challenging himself to change the structure of practices and that every one of his 10 on-field assistants were pursued for other opportunities. All things considered, only losing three of them, including one to retirement, wasn't so bad. I think Freeman did a good job of keeping the staff primarily intact.
There wasn't a whole lot he didn't say. He was asked a lot and covered a lot. But he was cautious in anointing Sam Hartman it seemed. He gave him his due, but he was quick to say "Tyler Buchner was pretty good too, you know." So I'm curious to see how his rhetoric on the quarterbacks evolves this spring and into the summer.
What player or position group surprised you the most in the first spring practice? — Iferr21
Wide receivers. The route running of the three early enrollee freshmen was hard to not fawn over. Tyree being in the mix there was obviously at least a minor surprise. Rico Flores Jr. won the day for me overall.
Was Tommy Rees' offense considered complicated? Do you see Gerad Parker simplifying things so the younger players can contribute? — Andrew Gilm
Yes and yes. Complicated isn't a bad thing. In theory, complexity creates confusion which leads to success for the offense. But if your own players aren't picking up on the complexity, there arise the problems. So I do expect Parker to be a bit simpler with the Notre Dame offense.
The post Hey Horka! Assessing the injury recovery for Notre Dame RB Jadarian Price appeared first on On3.