Hey Horka! Why the Notre Dame offense is struggling in spring practices
6 min read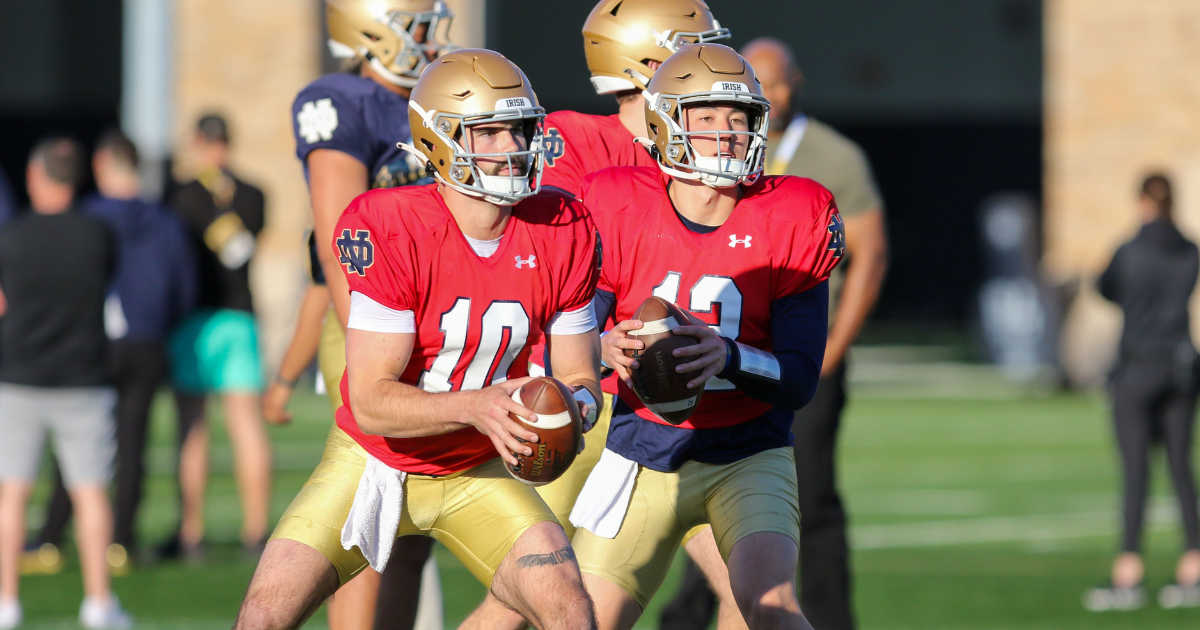 The Notre Dame offense has been far from impressive this spring. Why has that been the case? We take a look at that and much more in this week's edition of the Hey Horka! BlueandGold.com message board mailbag column.
Are the growing pains on offense related to a transition to a new offensive identity or are we finally learning the extent to which the offense was set back by Tommy Rees? — Hond92
It's not a Tommy Rees issue. I had my reservations about the Gerad Parker promotion and I have even more of them now. He's unproven as an offensive coordinator at this level. Rees was too when he got the job, but he was a quarterbacks coach at the same place for a few years before that. He was groomed for the position, and Notre Dame was humming as a program at the time under Brian Kelly. Now things are different. Marcus Freeman is still trying to find his way, and Parker is too. Factor in a quarterback in Sam Hartman swimming in foreign waters, and you get what we've seen this spring. It's getting to the point where it's hard to imagine the situation drastically improving in the next four months. Marginally, and then incrementally throughout the fall? Sure. But you want to be putting a sound product on the field in April too. That does not appear to be the case currently.
What position groups could you see having some outbound transfers after spring practices conclude? — IrishNIN88
Offensive line, cornerback, defensive line.
Who are the freshmen you can see playing right away, one from the offense and one from the defense? — Bsmitty8
Rico Flores Jr. on offense. Unless I'm severely jumping the gun and missing something like many did with Tobias Merriweather, who couldn't earn the trust of the Notre Dame coaching staff in the early going of his freshman season, I just don't see how Flores Jr. is not going to get quality reps at wide receiver this fall. He's a smooth route-runner. He looks more physically built than Braylon James and Jaden Greathouse, which is saying something because both of those players could pass for sophomores or juniors. Flores Jr. has caught my eye every time we've seen him this spring.
It's more difficult to pinpoint a defensive guy, but I'll go with Drayk Bowen. If the overhaul of the graduate student linebackers is going to occur, Prince Kollie and Jaylen Sneed can't do it on their own. Bowen received some second-team reps in Wednesday's practice. He's married to the game. I would not be shocked to see him on the field this fall.
How would you say the quarterback competition is being assessed by coaches and people within the program? — Slevmania
This has gone the way people behind closed doors expected it to. Hartman was never going to be handed the job. Buchner was never going to roll over and give it to him too. Hartman coming in elevated Buchner's on and off the field mentality, and Hartman is going through acclimation pains. So the feedback is similar, and it's not being overreacted to.
The coaching staff knows who both of these guys are. It's impossible to completely put preconceived notions aside. One of these guys has started 45 games and the other has started 3. You let it play out and if Buchner keeps outplaying Hartman, then you start asking yourself why it's happening and you let some of those aforementioned notions go a little bit easier.
The body of work this year alone will ultimately outweigh anything that happened previously. If Buchner is purely better than Hartman this year alone, then at some point you have to say, "The guy with 3 starts is outperforming the guy with 45 starts. That's just a fact. Let's roll with him." It's a long way from getting there, but Buchner is off to a great start in pulling the upset and making it happen.
What has changed from last year's Notre Dame practices? — emas17
Things are a lot more dialed back intensity-wise. There seems to be less of an emphasis on "go go go!" and more of a focus on thinking through periods and assessing what just occurred. There are multiple periods where every position group is going through individual drills while the quarterbacks are huddled up listening to quarterbacks coach Gino Guidugli, for example. Not throwing, not working, just talking things through and absorbing information and feedback about the competitive periods that just took place. All the talk last year was about how there wasn't time to stand around. There is intentional standing around this year. It feels like Freeman wants the players to fully comprehend what is going on.
What does Buchner have to do in the next four months to be named Notre Dame's QB1? — arrowfan624
Buchner's ability to avoid negative plays, unproductive plays and turnovers has been the biggest difference between him and Hartman. Buchner has taken less sacks, thrown less incompletions and tossed less interceptions than Hartman in the portions of practice available to the media. Before even factoring in the positive plays, those three facts give Buchner a severe edge.
Then we get to Buchner making more plays with his feet and just operating the offense more effectively. It's felt like there are more options open to the Notre Dame offense with Buchner running it because of his athleticism and improvising skills. He's throwing the ball downfield better than he was last fall camp. So the answer to your question is this: just keep doing what he's been doing because if he stacks enough practices together like the ones the media has seen, it'll be hard for the Notre Dame coaching staff to not give him QB1 status.
How has the Notre Dame safety play been this spring? Could any corners move to safety? — BSmitty8
I saw DJ Brown get toasted a few times Wednesday, which was concerning. But I also saw Ramon Henderson step up and make a few plays. It's been a mixed bag. Depth is certainly a concern. I think Notre Dame likes Thomas Harper best at nickel and Ryan Barnes has impressed at corner, so it's probably imperative to get a summer portal addition at safety.
What position group could get the most exposed against the elite teams on the Notre Dame schedule? — DeeWhy
Defensive line. The lack of a pass rush will doom Notre Dame in a big game or two.
Will Parker build different playbooks for Buchner and Hartman? — Iferr21
If that were going to be the case, you'd want to name a starter by the summer. I think the struggles this spring have been in part because Parker is trying to figure some things out on the fly. So I think there will be a base offense for both of them, but there are certainly things that can be tailored to each QBs' individual strengths.
What position group will be most paramount to Notre Dame's success in 2023? How much stock do you put in spring games? — jrp3
Given what's happened in the last couple weeks, quarterback. It's the most important position on the field and everyone thought it was destined for success with the arrival of Hartman. So far that hasn't been the case. Plenty of time to turn it around.
I put some stock in what skill players do. Offensive line/defensive line observations are limited because of scaled back intensity in the trenches. But corners and wide receivers can battle just about as hard as they would in a normal game. So I'm looking for defensive backs to ball hawk and for wideouts to make plays.
The post Hey Horka! Why the Notre Dame offense is struggling in spring practices appeared first on On3.