'His resume speaks for itself': 2025 RB Justin Baker talks Kevin Smith, Quinshon Judkins and Ole Miss
3 min read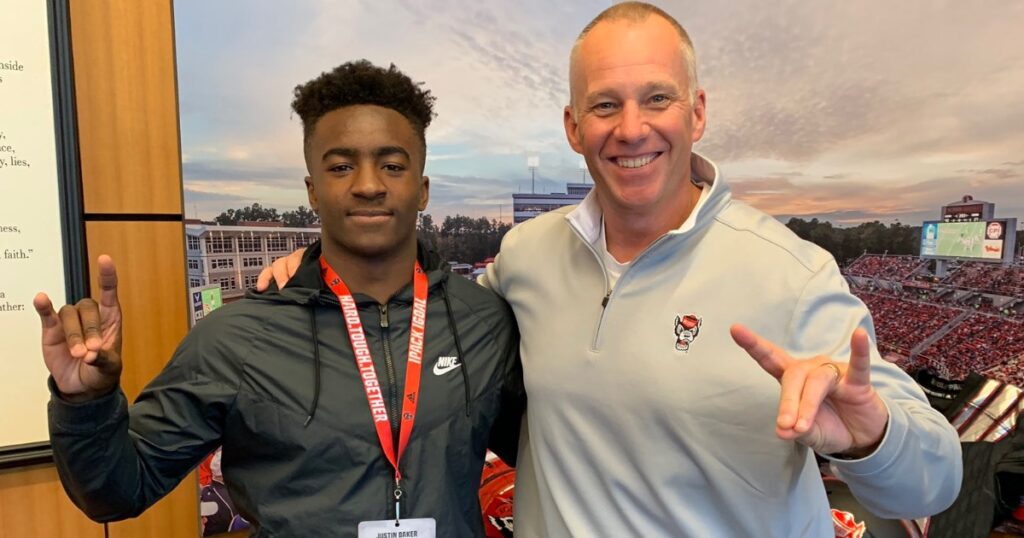 2025 Buford (Ga.) running back Justin Baker took an unofficial visit to Ole Miss last weekend. And he immediately connected with running backs coach Kevin Smith.
"I think it's important for your position coach to have played the position," Baker said. "His resume speaks for itself. And who he has coached is proof that he can make me successful."
As a sophomore, the 5-foot-10, 200 pound prospect racked up 371 yards and 3 touchdowns on 62 carries while splitting time in the backfield with four-star class of 2023 Alabama signee Justice Haynes. Now, heading into his junior season as the bellcow, he is prepared to take on more of a leadership role.
Baker's conversation with Smith ranged from who he has coached to who he is coaching now. And the 2025 cycle's 17th-ranked running back watched Ole Miss sophomore Quinshon Judkins closely while he was at practice.
"I really like his patience," Baker said. "But once he gets to the point of attack, he hits it hard and doesn't waste any time."
The No. 193 overall junior prospect is talking to more than just his potential future position coach. The 22nd-ranked prospect from Georgia is hearing from two other members of the Ole Miss staff.
"Me and coach (Lane) Kiffin text a little bit here and there," Baker said. "And coach (Enrique) Davis offered me while he was at Western Kentucky. That relationship has carried over and we chopped it up while I was in town."
Four-star class of 2025 running back Justin Baker and NC State head coach Dave Doeren.
Ole Miss isn't the only one interested in Justin Baker. Several programs are in the mix early.
"I hear a lot from NC State, Penn State, Georgia and South Carolina," Baker said. "I plan on going to Penn State soon and I've been to NC State already."
The four-star running back met with NC State head coach Dave Doeren during his trip to Raleigh. The two hit it off immediately while in a sit down in his office. He talked with On3's Ethan McDowell about the visit.
"He's real serious," Baker said. "I like that. Not only is he serious, he's also a player's coach too. He's also around the players a lot. Just like coach (Todd) Goebbel, he kept it real with me, and I like their transparency."
Since this meeting with Doeren, Baker has taken trips to South Carolina, Duke and Georgia as well.
The 2025 recruit got to spend a lot of time away from the practice field as well during his time in Oxford.
"Seeing the new facility renderings and what it will look like was cool," Baker said. "Now it is all temporary and the new one will be right there by the facility and close to campus. It's going to be really nice."
Baker tells OMSpirit he will "for sure be back" to Ole Miss in the future. He might possibly be back this summer but he does plan on seeing a game in the fall.
One of his teammates, Cannon Goldin, is a 2025 Ole Miss baseball commit. The two have been close friends since middle school. And he says he is working him to be a classmate once more in college.
"That's my guy," Baker said. "We've been close friends since 6th and 7th grade. He talks to me a lot about the culture, the town and the atmosphere at Ole Miss and in Oxford."
The post 'His resume speaks for itself': 2025 RB Justin Baker talks Kevin Smith, Quinshon Judkins and Ole Miss appeared first on On3.