How is first-year Penn State quarterback Jaxon Smolik starting out during his first spring practice?
3 min read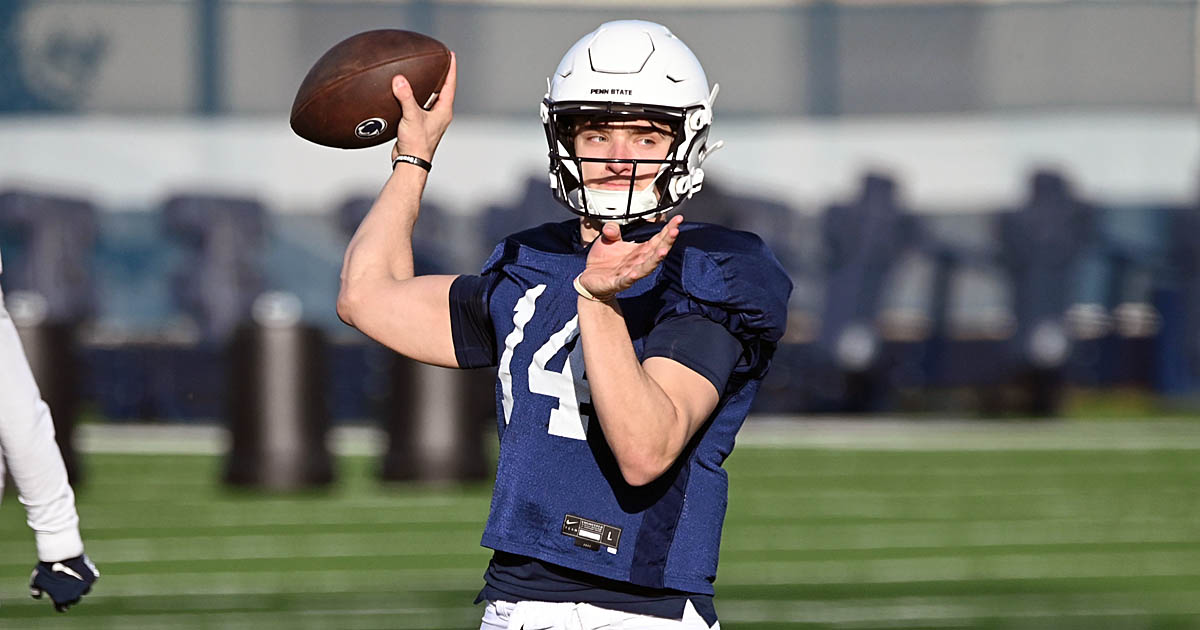 Sean Clifford has spent the last four seasons leading the Penn State football program as its starting quarterback. Now, the torch will pass to either Drew Allar or Beau Pribula, and presumably the former. However, the pair of second-year Nittany Lions are not the only scholarship passers on the roster, of course.
That said, there is only one other one: Jaxon Smolik. The West Des Moines, Iowa prospect saw his recruiting profile rise dramatically last summer following a late invite to the Elite 11 finals in California. Interest from major programs started around then and only picked up after he did fine at the event filled with standouts. Penn State quickly made him a priority. Smolik's rise cost Tulane his commitment. It, and his signature, eventually ended up with the Nittany Lions.
The 6-foot-1, 205-pound graduated high school early and enrolled at Penn State in January. He would later be assigned the No. 14 jersey. It's the one Clifford wore, of course, during his time in blue and white. With Allar and Pribula in front of him, Smolik, too, might need to wait at least two years to compete for the starting job. But, let's not get ahead of ourselves six practices into his first spring in State College. Instead, let's focus on how the former Iowa Class 5A all-state player is fitting in with his new team.
Mike Yurcich breaks down Jaxon Smolik's start at Penn State
Early enrollment is more prevalent by the year at major college football programs. It means that the schools continue to learn how to handle their newcomers who should still be in high school. Each of them, however, experiences the transition to college away from the building, the realities of playing at the next level at it, and also everything from academics to social life, a rigorous workout schedule, and so much more.
It goes without saying that some make the switch better and quicker than others. Smolik seems to be doing just fine so far. At least, third-year Penn State offensive coordinator Mike Yurcich thinks so.
"He's a very poised young man," Yurcich said last week. "He doesn't get real high. He doesn't get low. And that's a really good mentality to have as a quarterback. Because, there's a lot of emotions, and I've seen guys that can ride the emotions, whether it's too high, whether it's too low and it can bring them up or down and really magnify the current situation. So he's able to process information very well.
"He's still trying to get a grasp on the offense. And, I think he's better when he hits the field. And when he was executing in practices one through three, I haven't looked at day four yet, but one through three, you could see that he's a guy that, when he's on the field, he sees it, and he gets it, and he has really good vision. That's a really important trait to have as a quarterback."
Getting a grasp of the offense will take time. And so, too, will mastering other parts of college life. With the Lions only having three scholarship quarterbacks, however, Smolik must be prepared by September to take a game snap should something happen to the two players in front of him. Spring practice is a time when the foundation for that possibility is set. And, through six practices, the construction is off to a good start.
"Being on the blackboard, and being able to spit out information the way we spit it out as coaches will come with time" Yurcich said. "And he's still learning that, and that'll be a transition for him. But I'm very pleased with how he gets on the field and is ready to go and can see the defense and use his eyes very well."
The post How is first-year Penn State quarterback Jaxon Smolik starting out during his first spring practice? appeared first on On3.