How it Happened: Defense gives it away as top-ranked LSU gets by Tennessee 5-2
3 min read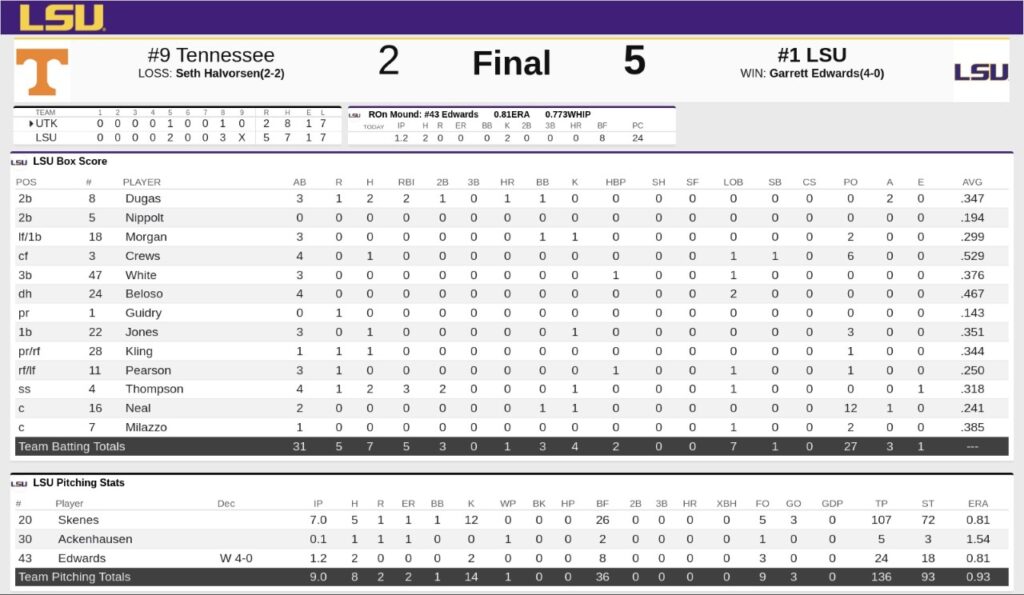 Tennessee had the tying run at the plate twice in the bottom of the ninth inning, but Garrett Edwards was able to hang on as top-ranked LSU picked up a game one victory over 10th-ranked Tennessee, 5-2 on a record-setting Thursday night.  
Jordan Thompson's three-run, bases-clearing double in the bottom of the eighth inning broke a 2-2 tie as the Vols had chances to put the home team away. Seth Halvorsen (2-2) takes home the loss in relief as his fielding error covering the first base bag sparked the rally for the Tigers. Edwards (4-0) is the winner, collecting the final five outs against the Volunteers (20-7, 3-4).
LSU (23-3, 5-2) pounded out five runs on seven hits and took advantage of the costly one Tennessee error in the eighth – all this in front of the record-setting 13,068 fans in attendance at Alex Box Stadium. The Vols managed two runs off eight hits in a losing effort.
These two teams will be back at it Friday for game two of the series, 7 pm eastern time on the SEC Network. How did it happen for LSU's three-run win over Tennessee tonight?    
Scoring Summary
Top 5th: Jared Dickey and Hunter Ensley led off the inning with consecutive singles. Dylan Drieling flew out to centerfield and Dickey tagged up to third to put runners at the corners with one out. Griffin Merritt struck out swinging. Christian Scott singled up the middle, plating Dickey from third base. Maui Ahuna struck out to end the inning.
1 R, 3 H, 0 E, 2 LOB – Score: Tennessee 1-0
Bottom 5th: Jordan Thompson led off with a double down the left field line. Brady Neal struck out swinging. Gavin Dugas sent a two-run home run over the left field wall. Tre' Morgan struck out. Dylan Crews singled to right field. Tommy White grounded out to end the inning.
2 R, 3 H, 0 E, 1 LOB – Score: LSU 2-1
Top 8th: Maui Ahuna singled with one out and moved all the way to third base on a passed ball and wild pitch. Christian Moore singled to centerfield to tie the ballgame.
1 R, 2 H, 0 E, 1 LOB – Score: Tennessee 2, LSU 2
Bottom 8th: With two outs, Beloso reached on a fielding error by Halvorsen covering the first base bag. Kling singled to second base and Pearson was hit by a pitch. Jordan Thompson cleared the bases with a three-run double.
3 R, 2 H, 1 E, 1 LOB – Score: LSU 5, Tennessee 2
The Final Stats
Tennessee's weekly game schedule
Tuesday: Tennessee 5, UNC Asheville 0 | Box Score | How it Happened | Four Takes
Thursday: No.1 LSU 5, No. 10 Tennessee 2 | Box Score
Friday: No. 10 Tennessee at No. 1 LSU | 7 pm ET | SEC Network
Saturday: No. 10 Tennessee at No. 1 LSU | 2 pm ET | SEC Network+
Tennessee in the polls this week
USA Today – No. 9
Perfect Game – No. 9
D1 Baseball – No. 10
Baseball America – No. 11
NCBWA – No. 11
Collegiate Baseball – No. 16
The post How it Happened: Defense gives it away as top-ranked LSU gets by Tennessee 5-2 appeared first on On3.