'I love this player': ESPN draft analysts debate Hendon Hooker's stock, from top five to second round
6 min read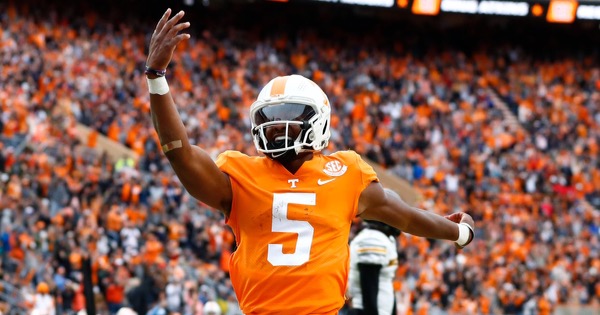 Mike Tannenbaum turned heads Tuesday with the release of his latest mock NFL Draft for ESPN. More specifically, the former NFL general manager projected a stunner with the Seattle Seahawks taking former Tennessee quarterback Hendon Hooker at No. 5 overall.
"OK, this one might raise some eyebrows," Tannenbaum wrote of the pick, "but hear me out. I think Hooker is really under-scouted right now, largely because he's coming off the torn ACL in his left knee. But I love his strong arm and 6-foot-3 frame. Before the injury, Hooker looked great for the Vols. He led the nation in yards per attempt (9.5), threw two interceptions over 11 starts and was a top-10 passer in terms of completion percentage (69.6%). I see a potential franchise quarterback and someone who can lead an offense. Go watch his performance against Alabama if you disagree.
"The Seahawks recently re-signed Geno Smith," Tannenbaum continued, "but this is an excellent opportunity to draft and develop Hooker while also letting him rehab the knee. Smith turns 33 years old this season, and his new contract offers Seattle various outs over the next three seasons."
Hooker, who tore his ACL in November, played two seasons at Tennessee, passing for 6,080 yards, 58 touchdowns and just five interceptions. He completed 68.8 percent of his 632 pass attempts with the Vols. In 11 games last season, Hooker completed 69.6 percent of his passes, throwing for 3,135 yards, 27 touchdowns and two interceptions.
ESPN draft analyst Mel Kiper Jr. has Hooker ranked fifth among quarterbacks in the draft, behind Alabama's Bryce Young, Kentucky's Will Levis, Ohio State's CJ Stroud and Florida's Anthony Richardson. Hooker has an overall rank of 67 on ESPN's list of best available players in the draft, with a draft grade of 80.
On Tuesday, Tannenbaum explained his mock draft with Hooker at No. 5 overall and debated the pick with Kiper and ESPN's Todd McShay:
MIKE TANNENBAUM: "I love this player. Started 37 games (in college), including 11 this year. He was unbelievably productive, especially against Alabama. I thought he played flawlessly (in the win over Alabama). He has prototypical size. If he didn't tear his ACL, we may be talking about the first player in the draft. I don't think there's any holes in his game whatsoever. He throws the ball with a classic motion. He led the nations in yards per attempt. This is not a check-down offense. He's getting the ball down the field. His tape matches his character, which matches his stats. He checks every box."
FIELD YATES: "This is why I love mock drafts. This is why I love the Mike Tannenbaum mock draft because we have a curveball here, Mel Kiper Jr. The fifth quarterback in your rankings goes fifth overall. What do you make of this selection?"
MEL KIPER JR.: "I'll tell you what, Mike has a lot of guts. To pick at five, now you're talking about a guy in Hendon Hooker that I have a second-round grade on. So this would be a shocking first-round pick. One of the more shocking first-round picks in my history, 45 years, Mike. So, hey, I hope it works out, where you're right on this because we would all be talking about this for a long time. And all eyes would all be on Hendon Hooker if he goes this early. Here's a kid that had an ACL, as you said, in late November. Had surgery in late November for an ACL. He's 25 years of age, 26 in January. Think about that offense, quarterback friendly. He had three receivers — Bru McCoy came from USC; Jalin Hyatt had an unbelievable year taking the top off the defense with that great speed, he's going to be a second-round pick; then Cedric Tillman, a consistent player, he's going to probably be a second-round pick. And a veteran offensive line led by Darnell Wright, who really neutralized Will Anderson Jr. in that Tennessee-Alabama game. Had a running game to help out. I love his wheels, I love his legs. He did it at Virginia Tech. He had nine rushing touchdowns with the Hokies in 2020. Love the completion percentage, love the fact that he doesn't throw picks. Coming off the ACL, the age, the fact that it's a quarterback friendly offense, that's why I have a second-round grade on Hendon Hooker."
Todd McShay: 'You can get (Hendon Hooker) at 20, why are we trying to draft him at five?'
TODD MCSHAY: "Onions, Mike T. This takes onions. If you're thirsty with clicks, I think you accomplished your goal here. I get it, philosophically. You've got Geno Smith (in Seattle). You're hoping you get a few more years out of Geno Smith. This could be drafting a quarterback at five. John Schneider, Pete Carrol, the whole contingent from Seattle was at the first three (quarterback) pro days and I'm sure they'll be at Anthony Richardson's on Thursday. To me, Hendon Hooker is a second-round grade for a reason. He struggled at Virginia Tech. Yes, he had the rushing touchdowns. I know they didn't have a great system. They didn't have great support around him. But he was told he wasn't going to be the starter. He goes to Tennessee, has a pretty good year, then this year explodes on the scene. But he's got two receivers that Mel alluded to that are going to be second-round draft picks. And he's got an offensive line that is going to be very solid in front of him. They have a system that spreads things out, makes the reads easier for him. And they also, when you look at it, with pressure, any time there were four rushers that actually got pressure on him, his numbers were really low. Below the average of all the quarterbacks in this class. Versus when they would blitz him, they can't back off with seven to eight defenders and play coverage. So there are some flaws in his game. I like him as a second-rounder. But the question I have for you Mike T, is you can get him at 20, why are we trying to draft him at five? That's the biggest thing."
MIKE TANNENBAUM: "I don't think he'll be there at 20, Todd. Because he has too much upside and too many teams need quarterbacks. When you see Daniel Jones at $37.5 million, when you see the Dolphins exercise the fifth-year option on Tua (Tagovailoa), who has played 71 percent of his snaps, the value of these quarterbacks is too much. And I'll tell you guys two vignettes. I was a the Orange Bowl scouting Tennessee and there's Hendon Hooker in the middle of the field. Can't play, but being involved meaningfully in the huddle. We were down in Mobile at the Senior Bowl, he's in the middle of the field, meaningfully in the huddle. Can't play. We've seen guys tap out in Mobile. This guy has rare character, rare leadership. And when you take the intangibles with the tangibles, I think it sets up perfectly guys with Seattle. Let him sit for a year or two. Aaron Rodgers sat for a year. The Jets, we drafted Chad Pennington, he was third string. It worked out. So I think this is an ideal situation for Hendon Hooker and Seattle."
The post 'I love this player': ESPN draft analysts debate Hendon Hooker's stock, from top five to second round appeared first on On3.