'I see myself as the starter': Jaxson Dart is looking to have a strong second season at Ole Miss
4 min read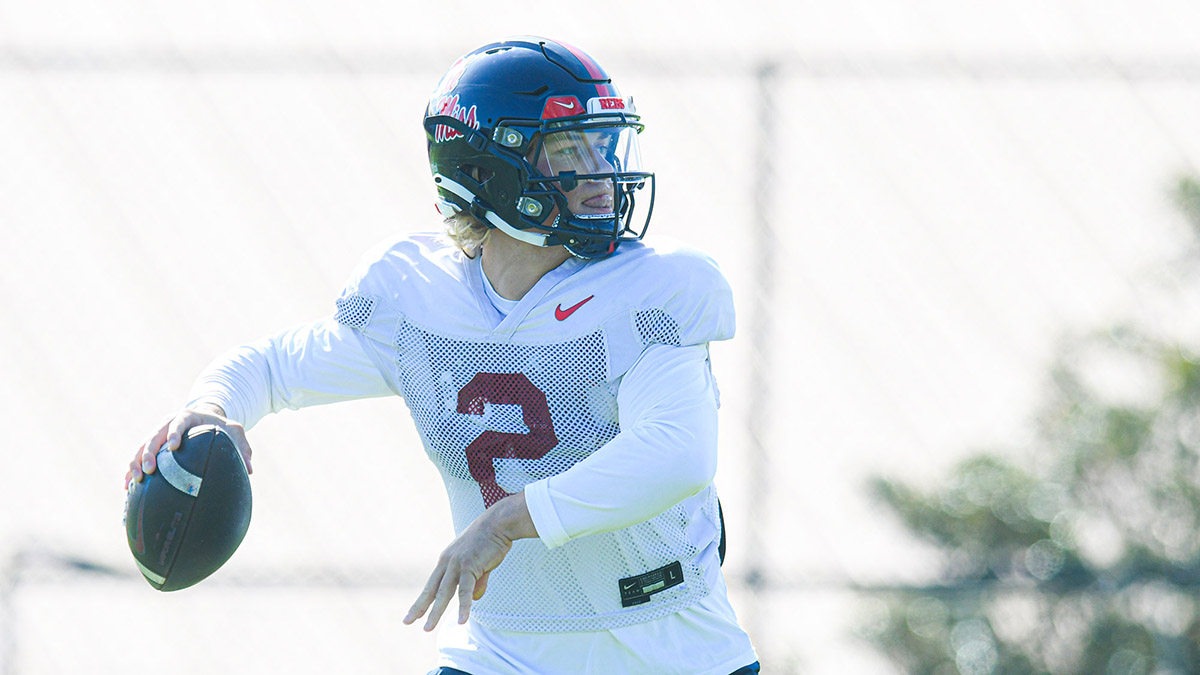 The always fun 1980 and 90s sitcom reference of a freeze frame and the record scratch following a voice saying, "I bet you're wondering how I got here" is something that Jaxson Dart can strongly relate to.
The Ole Miss quarterback is in his second spring at Oxford and for a second straight year he is in a position battle. Only this time Dart is fighting to keep the starting job he already has where this time last year he was in a neck-and-neck, at least publicly, battle with Luke Altmyer.
This year Dart welcomes former Oklahoma State quarterback Spencer Sanders and former LSU signal caller Walker Howard to the Ole Miss quarterbacks room, providing a bit stouter of competition.
For Dart, the approach he is taking this spring also reflects the differences from last year. The confidence level is also higher.
"To be honest, I see myself as the starter," Dart said following Tuesday's practice. "I had year one and I kind of established myself. Have year two and kind of getting more bonds with the guys on the team, being a leader. I feel like I've taken ownership of that. I'm just ready to do my job and I'm loving where I'm at right now. I expect myself to have a great spring and keep performing how I'm performing."
The mentality Dart is taking into the spring is something he also used in the offseason since the end of December.
Over the last three months since Ole Miss lost to Texas Tech in the Texas Bowl much has transpired, including Dart working on himself.
During the holiday break he attending a passing camp, one that head coach Lane Kiffin's son, Knox, was also attending in California. Kiffin has been able to see a change in Dart, physically, as well as how his game is evolving ahead of the quarterback's second season at Ole Miss.
In the first four practices Dart has show increase in his skills, including his passing down field and arm strength. How he is handling the arrival of Sanders and Howard is also impressing Kiffin.
"I think it's been great for him," Kiffin said. "I think it's natural to not want competition around and I certainly understand that but I think it's been really good for him. He's looked great, which is strange to say for a returning starter. He's probably one of our most improved players out there. He looks better mentally, physically, everything. We've been very excited about him so far."
Related: PHOTOS: Ole Miss gets back to work, kicks off second week of spring football in some pads
As the Ole Miss 2022 season went so did the quarterback and his performance. The two nearly mirrored one another.
Through the first seven games as Ole Miss remained undefeated and high in the College Football Playoff rankings Dart was also having a strong debut season.
Dart had 11 touchdown passes and threw six interceptions in the first seven games of the year, but during the final five game stretch where Ole Miss went 1-4 Dart saw his performance drop a little. Of course the competition intensified with the meat of the Southeastern Conference schedule back-loaded on the season.
Dart threw seven touchdowns but was more careful with the ball, throwing two picks the final five regular season games. In the Texas Bowl loss Dart threw two touchdowns but had three interceptions, which put a sour note on the entire season for him.
There is plenty to be learned from that final six game stretch and Dart is applying it to himself and helping do so for the entire team this spring.
"I think how we ended was disappointing. We started off so strong," Dart said. "I think, honestly, we got a little comfortable and we just let our foot off the gas a little bit and I think that was a big eye-opening for myself and the guys on the team. You play in the SEC and you play the best competition week-in-and-week-out there is never a time to let your foot off the gas. Every team has just as much talent or more talent than you and every team has great coaches. I just didn't think we executed the way that we should've."
Watch Dart's full post practice interview below. Video provided by Ole Miss Sports Production.
The post 'I see myself as the starter': Jaxson Dart is looking to have a strong second season at Ole Miss appeared first on On3.