IMHO Sunday: Recruiting takes a national turn
10 min read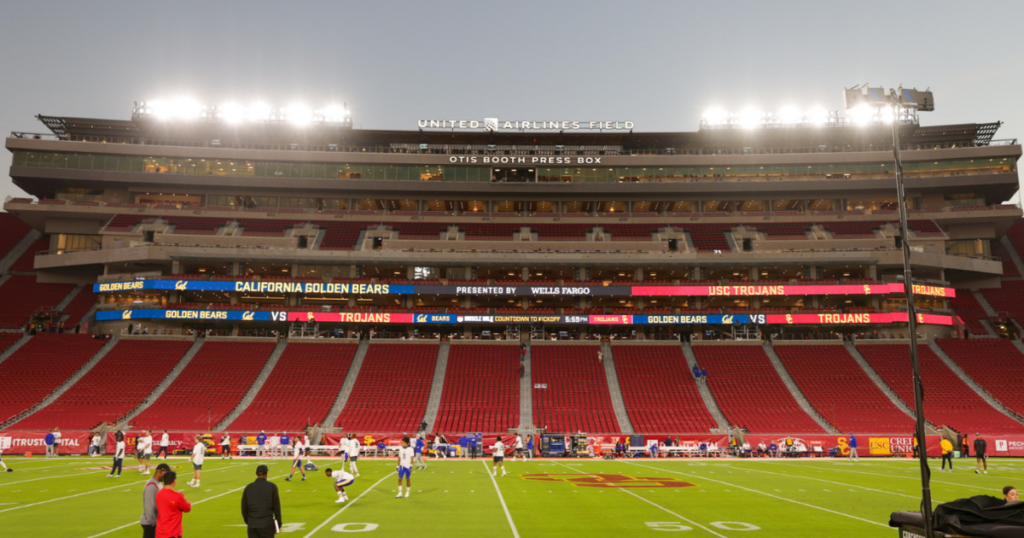 In my humble opinion, cardinal and gold thoughts on what I see, what I hear, and what I think from Los Angeles:
National: When Lincoln Riley's 2023 USC Trojans resumed spring practice early last week in concert with some beautiful Midwest cold and rainy weather, it also marked anticipation for this weekend's unofficial recruiting visitations of players from all over the country. Timing is everything and on cue the weather changed from dreadful on Tuesday to sunny and cool on Saturday, which certainly set the stage for expected high-valued blue-chippers from Florida, Washington DC, Maryland, Texas, Ohio, Illinois, Georgia, Hawaii, Missouri, Nebraska, Indiana, and, of course, California, which saw a visit by offensive lineman DeAndre Carter (cover photo above) from powerhouse Santa Ana Mater Dei.   
National – Part 2: Although this weekend's recruiting visitations are unofficial, it's still pretty easy to get positive vibes by these recruits from: being on the USC campus, interacting with the coaches and players (Can you say Caleb Williams?), and a field trip to the Grand Old Lady (AKA Coliseum), which is a recruiting mecca to behold. At the moment, USC is recruiting at high speed, and it doesn't hurt that the Trojans went 11-3 in Lincoln Riley first season, a reminder that, no doubt, got passed on along the way this weekend. WeAreSC.com, under the guidance of our recruiting soothsayer Scott Schrader, will get our subscribers the latest information and quotes from these important visitors. That information generally contains info on a recruit's future plans on returning to Troy for either another unofficial or official visit, which could include a visit by mom and dad and other family members. Let's be clear in underscoring the importance of mom giving USC a thumbs-up.
The Coliseum is a great recruiting destination for recruits on their official or unofficial visit.
(Photo above by WeAreSC/acscottphotography)
National – Part 3: Although Clay Helton could only drool over the recruiting rush under Lincoln Riley, the one aspect of it all as I was doing my due diligence was seeing how many players were also considering Big Ten universities as a major  option. This is a much bigger deal today than it was last season. Consider the recruiting class of 2024 will be all about the Trojans battling Ohio State, Michigan, Penn State, Wisconsin, and others in the Big Ten not as national recruiting adversaries but members of the conference the Men of Troy will be entering for competition in 2024. It's all hands on deck on Lincoln Riley's national recruiting ship and defending the home turf.  
National – Part 4: We all know that during the Clay Helton era or should we say disaster, Ohio State would routinely come into Southern California and pluck out prospects that would – under normal circumstances – be USC Trojans. Losing linemen was especially a killer. Now in this 2024 recruiting cycle, the stakes are much higher. With the Trojans laying the talent foundation to compete at an elite level in the Big Ten, competing against the likes of Ohio State, Michigan, Penn State, and Wisconsin makes the recruiting stakes a major battle. And let's not forget the potential resurgence of Nebraska. Even with USC and UCLA heading into the Big Ten, don't think these Big Ten schools won't continue recruiting in Southern California or the entire state for that matter. Recruiting could get nasty.
USC's recruiting fortunes under Clay Helton were never as intensive as they are under second-year HC Lincoln Riley.
(Photo above by Harry How/Getty Images)
National – Part 5: And since UCLA is also going to the Big Ten, the Bruins will also be trying to get their share locally and nationally to compete in the new Midwest-based conference, as well. That in itself will make for some potentially fascinating recruiting struggles as the Trojans and Bruins remain not only crosstown rivals but conference foes, as well.   
National – Part 6: It has been smartly pointed out that the current Big Ten schools can sell some of the same things the Trojans are selling recruits. Big Ten rivals can tell out-of-state recruits that they can visit L.A. on their dime. If it's a local SoCal recruit, they can emphasize they'll be returning to the L.A. basin at least once in their Big Ten career. Of course, it really depends on the 2024 Big Ten schedule, which will be intriguing.
What are the chances that storied Michigan comes West to play the Trojans in 2023?
National – Part 7: One of the favorite quotes I like from out-of-state recruits is their reaction to being in L.A. for the first time. Many are blown away by its size, and the many options of things to do. That's why getting a recruit to return on an official visit is so critical, so they can see things they didn't see on their unofficial visit. One of the quotes I like is when an out-of-state recruit is shocked how much better seeing L.A. in person is compared to their perceptions before they got out here. Nothing like a trip to the beach to turn some heads.
Summation: So, we'll see how this large amount of talent from all around the country enjoyed being in L.A. this weekend, a chance to see the USC football program and campus, and getting to view Saturday's final practice of the week. Okay, Mr. Schrader, we await your recruiting stories and quotes; inquiring minds want to know. Oh, you say some stories are already up on the front page?
***********************
The Miller Moss quotebook
USC quarterback Miller Moss
(Photo above by Erik McKinney/WeAreSC)
Trojans backup quarterback Miller Moss knows the pecking order at his position and expressed his perspective of where he's at and his future. Moss said:
"Shoot, well, if I'm going to sit behind anyone it might as well be the Heisman Trophy winner. I think I have a ton of belief in myself as a player. I have a ton of confidence I could go to a bunch of different places and be the guy, but I also know that I have a certain passion for this place and what playing quarterback here means, and I'm willing to see that through. I have a ton of belief in myself that I'll be able to do that."
***********************
From the press box…
(Photo by Keith Birmingham/MediaNews Group/Pasadena Star-News via Getty Images)
Nobody asked me…but: At Tuesday's Pro Day, despite the rain, one of the cool storylines was seeing former Trojans running back Vavae Malepeai participate. In the rainy conditions, he ran a 4.75. Don't know if he can make it, but his big heart certainly makes the cut.    
Nobody asked me…but: To me, another wonderful storyline to Pro Day was the participation of former running back Travis Dye, whose 2022 season was cut short due to a broken ankle. Travis was not happy with his 40 time (4.75), but said he was looking forward to working out next with the Chargers. Here's rooting for a 4.6 in dry weather.  
Trojans' running back Travis Dye (#26) is carted off the field to end his season but returned last week for USC's Pro Day with NFL scouts.
(Photo courtesy of Wally Skalij/Los Angeles Times via Getty Images)
Nobody asked me…but: It wouldn't shock me if former Trojans' tight end Josh Falo made an NFL team either late in the draft or as a free agent. Falo, who performed in Pro Day, was listed at 6-foot-5 and 248 pounds and ran a 4.77 in the 40.
Nobody asked me…but: I realize by design this column is focused on football and for good reason, but I do have an extensive past basketball background: high school, college, and pro. In terms of USC, I have been watching basketball games dating back to the days of the great John Rudometkin and Paul Westphal. That being said, the era of USC men's basketball under Andy Enfield will begin its 11th season in its last season in the Pac-12, and I know one thing: in the previous ten years under Enfield, USC still has not won a regular season conference title.
After ten seasons as the USC Men's head basketball coach, Andy Enfield is still looking for his first Pac-12 regular season title.
(Photo above by PhotoG/Getty)
Nobody asked me…but: There is no way – I think – that a football coach at USC could go 10 seasons without winning a conference title, let alone a shot at a national championship. In terms of basketball, winning 20 games or more in hoops is an accomplishment, but so is positioning your team for 20 wins, which is doable with a weak non-conference schedule. It's what happens in conference play that really counts, and Enfield will be really tested beginning with the move to the Big Ten in 2024. However, before that, one last Pac-12 shot at it. Can he do in year No. 11?  
***********************
The post-game show…
(Photo by Eliot J. Schechter/Getty Images)
More scrutiny: Lincoln Riley said on Saturday he is spending more time with the defense by making more time with players on that side of the line of scrimmage and providing them with an increased "mentality" for that side of the ball.
Defensively speaking: Riley said on Saturday that the defense in 2023 will be more talented, have more size, and have more strength. Of course, the major question: Can they tackle?
USC Trojans head football coach Lincoln Riley says his 2023 defense is more talented, has more size, and more strength.
(Photo above by Luis Sinco / Los Angeles Times via Getty Images)
Barlow effect: One of the big questions this spring is the future of senior running back Darwin Barlow, the former TCU transfer. Some believe that he will be in the portal following spring ball. No so fast, my friends. Lincoln Riley had praise for Barlow and how he has been performing this spring. We shall see what we shall see.
Foreman forward: Lincoln Riley says defensive end Korey Foreman's improvement from what type of player he was from a year ago to today "is not even close." Riley says that Foreman is now able to spend more time on the field because he is not only healthy but has some other stuff in order. IMHO, Foreman, now a junior, probably realizes that if he has plans to play in the NFL, he can't afford to can't afford another wasted season. 
Korey Foreman (#0) has greatly improved from a year ago, according to head coach Lincoln Riley.
(Photo above by Brian Rothmuller/Icon Sportswire via Getty Images)
 Branching out: Even though he was held out last season because of rehab from a lower body surgery, Zion Branch still suited up for games to support his teammates. While Zion is on schedule to play next fall, according to Lincoln Riley he is about 80% back and is participating in selected spring drills but is being held out of contact. A healthy Zion Branch would be a be real bonus for the 2023 Trojans' defense.
Musings with Arledge solo edition: In case you missed it, Chris Arledge does a wonderful interview with former Trojans defensive lineman Dan Owens and offensive lineman Pat Harlow, both tremendous teammates and players during the late 1980s into the early 90s. Both were all-conference and played in the NFL. IMHO, well worth your time watching.

**********************
The Call-in Show…
Caller No. 1, Gregory, do you see anybody going undefeated in Pac-12 play in 2023?
Caller No. 1, it's possible but not probable. There are a number of good to very good teams, and history shows us going through the Pac-12 in recent times is very difficult.
Caller No. 2: Sir, how many fans do you think will be at the spring game on April 15?
Caller No. 2, I'll go with an "announced" attendance of 25,000. Remember, the game will be televised on the Pac-12 Network and some folks would rather not get on the freeway for a Saturday noon kickoff.
How many fans will attend USC's spring game on Saturday, April 15, in the Los Angeles Memorial Coliseum?
(Photo above by WeAreSC/Acscottphotography)
 Caller No. 3: Gregster, how many current USC players do you expect will transfer out of USC after spring ball? 
Caller No. 3, I think I have answered this one before, but I suspect it depends on how some players feel they are positioned on the unannounced depth chart at the end of spring. Since we don't really see a post-spring depth chart, it becomes a player's hunch whether to stay or go. Even Lincoln Riley has indicated there is a possibility of Trojans players leaving after the completion of spring ball, but he doesn't specifically give numbers.  
Caller No. 4: G-dog, overall, what has been your experience in dealing with USC football players over the years?
Caller No. 4, wow, I haven't had a question like that. Since I try not to be politically correct, I will give my perspective on that question. By and large, a majority of USC football players are polite, friendly, aware of representing USC and also mature from year to year. Don't get me wrong, but when you have around 90 players on the team, that's a lot of different personalities coming from all walks of life. There are times, however, when sometimes the adults are more difficult to deal with than the players they coach.  
Trojans 2022 Heisman winning QB Caleb Williams is an excellent representative of USC when it comes to the media and the fans.
(Photo above by Sarah Stier/Getty Images)
Caller No. 5: Gregorio, do you have any pets at home?
Caller No. 5, no I don't. If you have pets, you have to take care of them like children. You have to feed them, take them to the vet, clean up their messes, maybe go for a walk with them. When I was young and at during certain times of my youth, my family had dogs (Goliath & Tiger), a cat (Blue eyes), a turtle (David), parakeets (Cookie), an ant farm, chickens, and some goldfish. When I was married and had kids, we had a dog named Mollie, an Australian shepherd.   
**********************
The last word…
For those that missed last Tuesday's "Inside the Trojans' Huddle Recruiting Special", panelists Marc Kulkin, Erik McKinney, Chris Arledge, and moderator Greg Katz looked at USC recruiting in their lifetime and – by position groups – gave their top three recruits/transfers that lived up to hype, their surprise recruit/transfer that were under the radar, and the names of highly publicized recruits/transfers that never lived up to the hype.
The post IMHO Sunday: Recruiting takes a national turn appeared first on On3.