IMHO Sunday: Spring game autographs matter
10 min read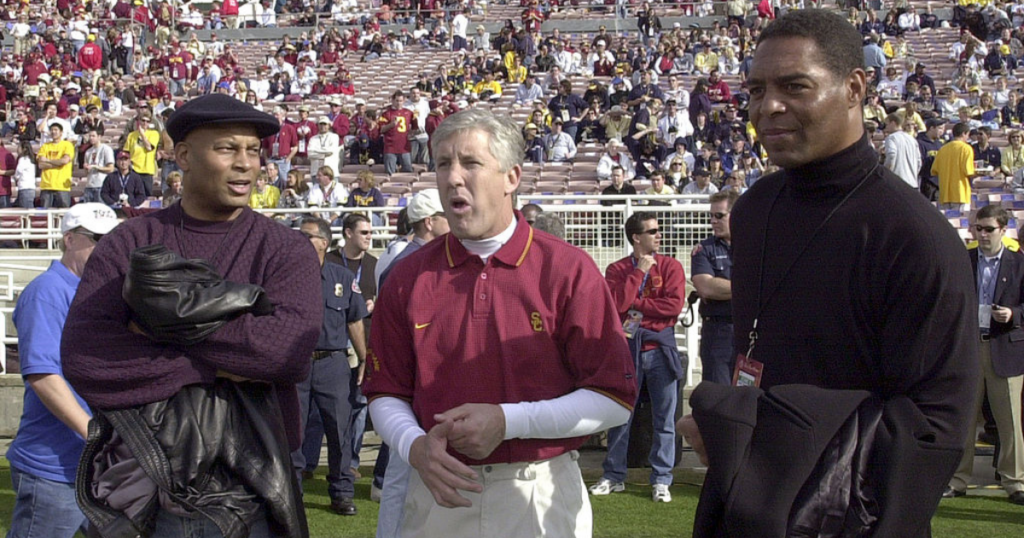 In my humble opinion, cardinal and gold thoughts on what I see, what I hear, and what I think from Los Angeles:
The autograph: If you've been a sports fan since you were a kid, there's nothing more exciting than getting an autograph from your favorite sports hero or nothing more deflating and a lasting memory when you either can't or are rejected by a sports idol in your autograph request.
The autograph – Part 2: In the past going back to the Pete Carroll years, following the conclusion of the annual spring game or showcase – take your pick – players and coaches have remained to sign autographs after a brief cooling off period either on the floor of the Coliseum or in the outside concourse of the Grand Old Lady. Fans – both young and old – had an opportunity to get their favorite Trojans players to sign almost anything that you could press ink into. Getting a quick picture also was a great keepsake.
Former USC head coach Pete Carroll (middle above) had his players sign autographs following the spring game in the Coliseum.
(Photo by Kirby Lee/WireImage)
The autograph – Part 3: Even during the extremely popular Pete Carroll teams that were headlined by Matt Leinart and Reggie Bush the team stayed and signed, even when the lines seemed like they stretched to the moon and wait to get an autograph seemed like forever and a day. There were enough smiles from folks of all ages to stretch from Los Angeles to New York City. Not everybody on a USC team is a Leinart, Bush, or Caleb Williams, so the opportunity for the rest of the team to sign autographs is highly beneficial and self-rewarding not to mention a good self-esteem feeling.
The autograph – Part 4: However, before throwing stones at Lincoln Riley and the powers that be, it could be a more financial reason for the halt in signing autographs – not to mention a big recruiting weekend. It could very well be the new age of players compensation and the NIL that supersedes a free autograph. At first glance at the "no autographs" after next Saturday's spring game, it could very well be that in this new world of college athletes making money, it would be a greater public address fiasco for fans waiting to descend onto the Coliseum floor only to be told there would be a charge and each player could set his own price.
USC will return to the Coliseum for the Spring Game on Saturday, April 15, but there will be no autographs after the spring game.
(Photo above by Keith Birmingham/MediaNews Group/Pasadena Star-News via Getty Images)
The autograph – Part 5: I am not here to condemn the players either on the no autographs edict. However, if it's all about money and compensation, I get that signing autographs for pay is now more than going to a sports memorabilia show to pay for an autograph or photo. When I was 12 years-old, I got a Sandy Koufax autograph after a game at Dodger Stadium for free. Of course, in the transition of life, I lost it. However, when I turned 44, I got Sandy's autograph on a ball in person, but it cost like $80 at the time. I get that times change and it is what it is, but fans are the ones that make the stars the stars no matter when it's a superstar or1 just a player on the team. 
My autographed baseball from Sandy Koufax
(Photo above by Greg Katz)
    The autograph – Part 6: So, it's highly possible that now USC football autographs have turned into a financial conundrum. Yes, players are now entitled to charge for autographs. Players now get money from jerseys or helmets with their names on it. No problem if that is now the way we do things in this day and age. I find it sad because it is such a public relations benefit to bond the fans with the team.
Caleb Williams and Brenden Rice autographed memorabilia for sale at a Dodger's spring training game in Arizona.
(Photo above by Greg Katz/WeAreSC)
The autograph – Part 7: I guess the next question to be raised is the upcoming Salute to Troy celebration. Will those fans, boosters, and or invitees that pay to attend this football gala be able to get autographs from players without an additional charge? Now that would be interesting. Will players get paid for attending Salute to Troy if they plan on signing autographs? This could get interesting.    
Summation: Let me leave you with a quick true story. When I was 12 years-old, my dad took me and my younger brother, Randy, to Dodger Stadium when it first opened. We attended the first opening homestand against the expansion New York Mets. We sat in the field box level in Section 50 near the right field foul line. Before the game, my brother and I raced down to the front row of the field boxes and in those days outfielders took outfield practice with fly balls hit by a fielding coach. Well, after one of the fly balls, a Dodger outfielder named Wally Moon saw I was wearing a baseball glove, and he turned and threw me the ball. I was so excited I ran up about 17 rows to show my dad and he said, "You should have asked him to autograph the ball." Of course, it was too late for that to happen.
Former Dodgers outfielder Wally Moon returned to Dodger Stadium some years ago to throw out the first pitch.
(Photo above by Sean M. Haffey/Getty Images)
Summation – Part 2: In 2008, the Los Angeles Dodgers hosted the defending World Series champion Boston Red Sox in front of 115,300 fans for an exhibition game (a record crowd) at the L.A. Memorial Coliseum. I attended the game with my longtime girlfriend, Sharon. Before the game, there were former Dodgers players signing autographs outside the Coliseum gates. One of those players was Wally Moon.
I wanted to tell Wally, who had the thickest eyebrows I have ever seen, that he once threw me a ball when I was 12 years-old and how much it meant to me. I thought I should finally get his autograph some 46 years later and thought of my late dad telling me to get his autograph. Unbelievably, I got so emotional about it with tears starting to surface, I started to lose it, and told Sharon I can't do it because Wally will think I am a nut case if I break down. I knew I just couldn't handle it, so I never approached him and felt so disappointed in myself not being able to thank him after all these years.
Sadly, I learned in 2018 Wally had passed. I wish I could have told him our story. I do know one thing, autographs or not getting one matters and can last a lifetime. I am living proof of that. Somehow, I wish Trojans fans, especially young ones, could get an autograph of their favorite USC player because it is priceless.        
The Dodgers and Red Sox played an exhibition game in the Coliseum in 2008 and set a major league record for attendance (115,300).
(Photo above by Dustin Snipes /Icon SMI/Icon Sport Media via Getty Images)

***********************
The Ryan Day quotebook
(Photo above by Scott Taetsch/Getty Images)
In a recent podcast interview, Ohio State head coach Ryan Day discussed a number of topics regarding the addition of USC and UCLA to the Big Ten in 2024. Here is what the Buckeyes' coach had to say about recruiting changes when it comes to the Big Ten recruiting in California:
"I think right now, it's (recruiting) probably the same. As we start to play games out there and they start to travel out this way (California), I think it will. I don't think the recruits quite yet feel that. We've played in the Rose Bowl twice in the last five years. So, a lot of those guys are familiar with us. But the more they see the Big Ten teams coming through the California area, it will open up. I still don't think that's going to be a recruiting hotbed for the Big Ten. I still think it's going to be the Midwest area. It'll still be our foundation."
***********************
From the press box…
(Photo by Keith Birmingham/MediaNews Group/Pasadena Star-News via Getty Images)
Nobody asked me…but: First things first. A very Happy Easter Sunday to many of you and a very peaceful and a very reflective week for those of you celebrating Passover.
Nobody asked me…but: There is a lot of talk that recently signed tight end/wide receiver Duce Robinson could be the second coming of former USC All-America wide receiver Mike Williams, although I currently don't see Duce as being nearly as physical as Williams at the same stage.
Is incoming freshman TE/WR Duce Robinson the second coming of former USC All-American receiver Mike Williams?
(Photo above by Chad Simmons/On3)
Nobody asked me…but: Is the No. 1 attraction for the spring game not QB Caleb Williams but electric true freshman wide receiver Zachariah Branch, who shined again Saturday morning in a team scrimmage in the Coliseum, according to Lincoln Riley?
Nobody asked me, but: According to ESPN's Pete Thamel, the Pac-12's expected upcoming TV arrangement announcement won't be announced until the end of this spring or even into the summer. It better be worth the wait of you're a remaining Pac-12 member institution.
Nobody asked me…but: Is the second most intriguing prospect to watch behind Zachariah Branch for the spring game that of true freshman linebacking stud Tackett Curtis, who has drawn the praises to his older teammate?
USC fans are excited to get their first look at heralded freshman linebacker Tackett Curtis at the spring game.
(Photo above : Chad Simmons/On3)
Nobody asked me…but: He may have flown under the spring game radar, but I am extremely looking forward to watching transfer (South Carolina) tailback MarShawn Lloyd run the rock. From one USC to another USC.
Nobody asked me…but: Changing positions in spring ball is always fascinating to me. That's why in the spring game watching freshman redshirt Carson Tabaracci's move from linebacker to tight end, where numbers are low, is intriguing.   
***********************

The post-game show…
(Photo by Eliot J. Schechter/Getty Images)
The announcements: During a post-practice presser, Lincoln Riley hinted that two major announcements for the football programming are forthcoming. Is one possibility the rumor of a new indoor football practice facility? Being in Southern California and if true, the question would be why? Obviously if true, is it to keep up with programs like Ohio State, Michigan and Oregon when it comes to recruiting impressions?
Impressed: ESPN columnist Tom VanHaaren calls Trojans recent signee Duce Robinson "the most intriguing college football recruit in the country."
Is USC freshman tight end Duce Robinson the most intriguing recruit in the country?
(Photo above Chad Simmons/On3)
I didn't now that: When Duce Robinson was a 5-year-old, he played baseball on the McKinney Little League All-Star team. Oh, and by the way, the team was made up mostly of 7-year-olds.
A special thank you: A big thank you to Coach Harvey Hyde for having me on his popular radio show on Thursday night. The coach was great as ever and the hour show centered how the football team and its efforts to reach out to the general public to promote the upcoming season and beyond. 
Oh those rumors: Whatever happened to the rumor of junior Ohio State star receiver Marvin Harrison Jr. considering jumping into the transfer portal and looking at USC?
Whatever happened to the Marvin Harrison Jr. (Ohio State) rumors to USC via the transfer portal?
(Photo above by Carmen Mandato/Getty Images)
Spring has sprung: A reminder, tickets for USC's spring game are free for all fans, but reservations are required. You can get your free tickets (limit is 6 tickets) by going to: https://usctrojans.com/sports/2023/3/28/2023-usc-trojans-football-spring-game-showcase-tickets-fans-information-coliseum-lincoln-riley.aspx
Seriously: Simon Fraser University, the only NCAA football team in Canada, will disband its program. Who knew?
**********************
The Call-in Show…
Caller No. 1, Greg, which fans are the most obnoxious: Notre Dame, UCLA, or Oregon?
Caller No. 1, hands down it's Oregon fans, and it's not even close.  
Caller No. 2: Grego, why do college football fans despise USC and its fan base?
Caller No. 2, easy. Could it be the 11 national championships, eight Heisman Trophy winners, 37 conference championships, 170 first-team All-Americans, a record five players selected first overall in the NFL draft, 519 NFL draft picks, a national-best 14 Trojans in the Pro Football Hall of Fame, and 45 Trojans in the College Football Hall of Fame for starters? USC fans aren't afraid to recite their favorite team's accomplishments. 
USC fans have a lot to crow about why their Trojans are one of college football's most storied programs.
(Photo above by Harry How/Getty Images)
Caller No. 3: G-Man, tell me the rumor of alternative uniform rumors are untrue.  
Caller No. 3, I wish I could guarantee that's one rumor that won't happen. These are unpredictable times, so I sadly can't guarantee it.  The school colors are cardinal and gold and it doesn't get better than that and any additional colors, to me, are unacceptable until proven wrong.  
Caller No. 4: Katz, did you ever get so frustrated that USC wouldn't fire Helton that you hoped our Men of Troy would lose in order to get a head coaching change?
Caller No. 4, in this day and age, I decline to answer that question and invoke my fifth amendment rights.
Trojans fans couldn't wait for the administration to send former USC coach Clay Helton packing.
(Photo by Harry How/Getty Images)
 Caller No. 5: Greger, name a main dish and a fruit that you can't stand to eat or smell.
Caller No. 5, that's easy. No doubt the smell of liver wants to make me vomit, and I have no use for prunes. Prunes are disgusting unless you have a physical need to eat them.
**********************
The last word…
For those that missed last Tuesday's "Inside the Trojans' Huddle" panelists Marc Kulkin, Chris Arledge, Erik McKinney, and Greg Katz analyze the signing of 5-star tight end Duce Robinson, experimenting Raleek Brown in the slot, 2024 recruiting, current spring position group standouts, freshmen/transfer newcomers, greatest USC modern coaching era, and panel answers to viewers' questions.
The post IMHO Sunday: Spring game autographs matter appeared first on On3.