Inside Mattress Mack's decision to make team-wide NIL deal with FAU basketball
4 min read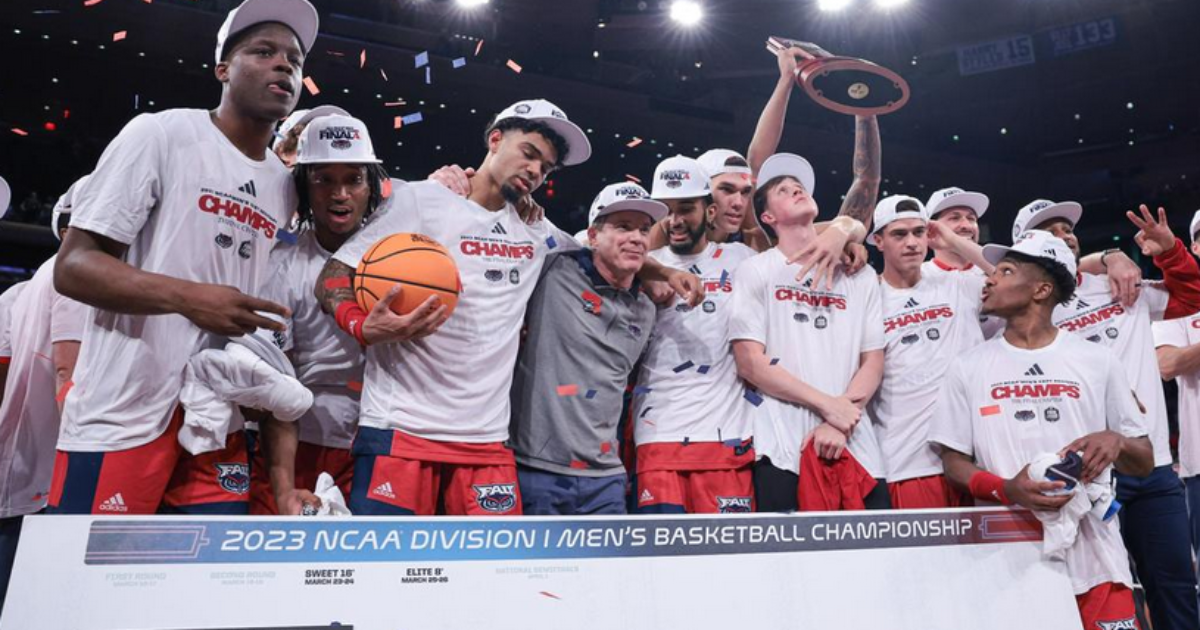 Jim "Mattress Mack" McIngvale has built a reputation for his notoriously large sports bets.
The owner of Houston's Gallery Furniture won about $75 million, believed to be the largest payout in sports betting history, in November when the Houston Astros won the World Series. He also had upward of $3.5 million riding on the University of Houston winning the NCAA men's basketball championship.
With his hometown team out of the NCAA tournament, he's found a new team to support: No. 9 seed Florida Atlantic, which is in the Final Four in only its second tournament appearance. FAU took down Memphis, Fairleigh Dickinson, Tennessee and Kansas State in the past two weeks to get to the national semifinals.
The Owls aren't necessarily a prototypical Cinderella team. They're 35-3 and were ranked No. 25 in the last AP poll released before the Big Dance started. Still, the odds of reaching Houston were long. It's why McIngvale has signed NIL deals with the entire FAU team.
"I like the story," he told On3 on Thursday night. "I love the rags-to-riches, 200-to-1 story. Too many people in this country nowadays say you can't pull yourself up by your bootstraps. That you got to be rich, you got to be this, you got to be that to get ahead. Well, they ain't, and they did."
As part of the agreement with FAU players, McIngvale is providing funds for the athletes' families and friends to make the trip to the Final Four. Since the pilot program was adopted in 2019, the NCAA provides family members of each Final Four athlete up to $3,000 to cover travel, hotel and meal expenses. For teams that make Monday night's national title game, it's extended to $4,000.
For players living out their basketball dreams, though, McIngvale wanted to make sure more than just immediate family members were able to attend. While terms of the deals were not disclosed, he told On3 the cost of the deal is "north of $50,000, south of $100,000."
The Houston-focused NIL collective LinkingCoogs played a role in the facilitation of the deals, co-founder Landon Goesling confirmed. 
"We're going to take the families to dinner and all that," McIngvale said. "You know, the parents get brought in by the NCAA, but the brothers and sisters, aunts and uncles don't. That was the impetus of what we did, to try and get more family members in here and have them get a nice dinner when they're here in Houston.
"It's just really important to me because these are good guys, as is every family member or player in the tournament. I really have a special place in my heart for a 'Rocky' story."
After the Owls landed in Houston on Wednesday, McIngvale said he was able to meet up with FAU coach Dusty May and a few players to introduce himself and extend his well-wishes. 
Name, image and likeness is not new ground for Mattress Mack. In November, he struck a partnership with the Houston men's basketball team through LinkingCoogs. Terms were not disclosed, but he reportedly made a seven-figure pledge to the team.
Following last year's NCAA tournament run, which ended in a regional final loss, each member of the Houston team received $3,000 for an autograph signing at Gallery Furniture. 
Providing travel for families has become a popular NIL activity. The now-shuttered USC collective BLVD flew more than 50 families to games this season. Ole Miss' Grove Collective has a partnership with Wheels Up, providing access to travel opportunities for families to travel to events.
McIngvale is the latest to join the cause. While he is busy entertaining FAU families on Friday night, he'll also be considering whether he wants to put a wager down on the Owls. In in January, he placed a $1.5 million bet at DraftKings for TCU to beat Georgia. He also had another $2 million on the Cowboys beating the San Francisco 49ers in the NFL playoffs.
But he watched the Super Bowl from the sidelines, opting not to put any money down. He could place his first notable wager in more than two months ahead of Saturday's tip.
"I might. I'm cogitating on it," he said with a laugh. "Just depends on where – I may pass on this because I had Houston so heavy. But if I go in, it will probably be on Florida Atlantic. I like those guys."
The post Inside Mattress Mack's decision to make team-wide NIL deal with FAU basketball appeared first on On3.