Inside the commitment: Blake Franks
3 min read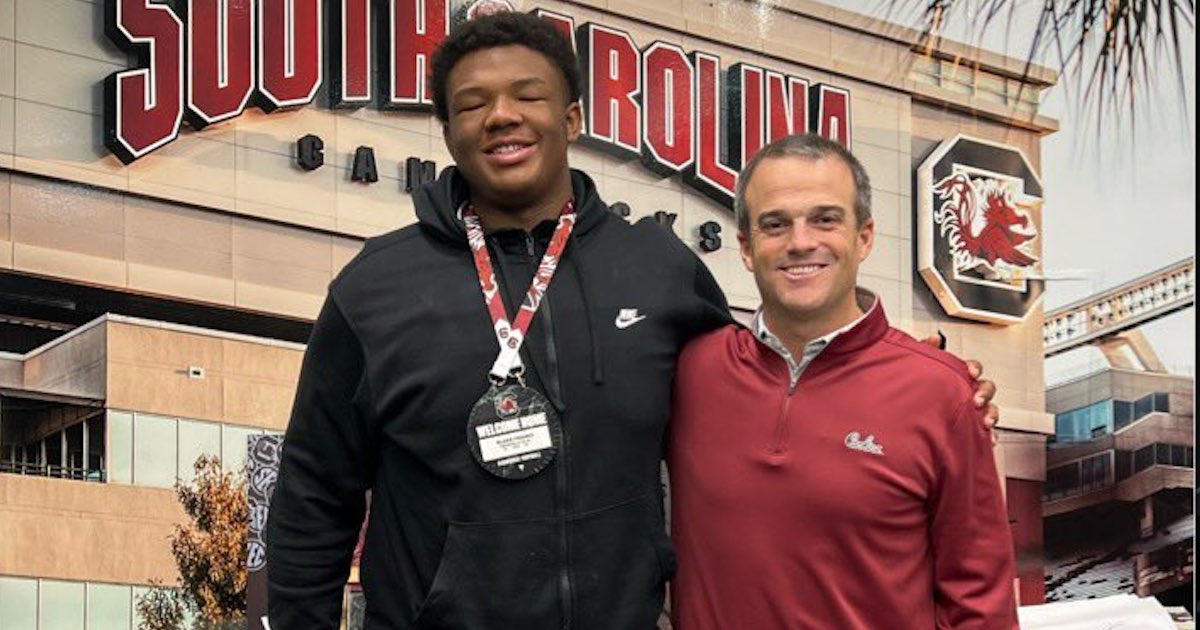 In securing a pledge from in-state offensive lineman Blake Franks, Shane Beamer's program continues stocking talent to a 2024 class that's been among the nation's most impressive.
Zooming into the offensive line specifically, it's becoming eye-opening what the Gamecocks are doing on the recruiting front at the position.
The 2023 class was among the nation's best, bringing in a four-man high school class that included a trio of four-stars.
USC is also off to a great start this cycle, adding Blake Franks to a class that includes Kam Pringle and could also include Josiah Thompson in April.
It will be music to the ears of Gamecocks fans that this addition also strikes a blow to the Clemson Tigers on the recruiting front.
[Subscribe for free to Gamecock Central's YouTube page!]
When South Carolina's staff offered Franks last summer, it came as no surprise. He certainly stood out from a physical standpoint from an early age. Then-offensive line coach Greg Adkins and then-analyst Lonnie Teasley had a chance to work with him in person.
Franks also carried other Power 5 offers at the time. so it's not as if USC was first. Once the Gamecocks jumped in, others continued jumping in, including Clemson.
As this recruitment advanced, it looked for quite some time like the Tigers would win out for Franks' services.
By the time December 2022 rolled around, expectations on both the Clemson and South Carolina side were that Franks would ultimately matriculate to Clemson.
A winter return visit to Columbia had the feel of a "just making sure" trip before an inevitable pledge to the Tigers.
Instead, the Gamecocks turned the tide.
We wrote in February that USC had tightened this race considerably. Behind the scenes, at that point, the South Carolina staff felt good.
It was not completely smooth sailing from there, however. Franks set a commitment date in February, and its leak led to a bit of chaos. He ultimately decided to hold off, which kept the door open for Clemson.
His heart appeared to still be with the Gamecocks. His father also made a spring visit to Columbia, believed to be the first time he'd been on campus. That seemed to be the final piece with everyone else on board.
[Get South Carolina football news and analysis via email]
You always hear that the best programs are player-led, and that same concept can apply in recruiting. Shane Beamer's spoken publicly about how some of the best recruiting efforts for USC have been put forth by other existing commitments.
Such was the case for Franks; the aforementioned Pringle, plus Dante Reno and teammate Mazeo Bennett, all deserve assists here.
USC's offensive line recruiting team – OL coach Lonnie Teasley, analyst Greg Adkins, player personnel assistant Sam Serbay, and director of player personnel Taylor Edwards – paired with Beamer and Carolina's players – has proven to be quite formidable.
The post Inside the commitment: Blake Franks appeared first on On3.